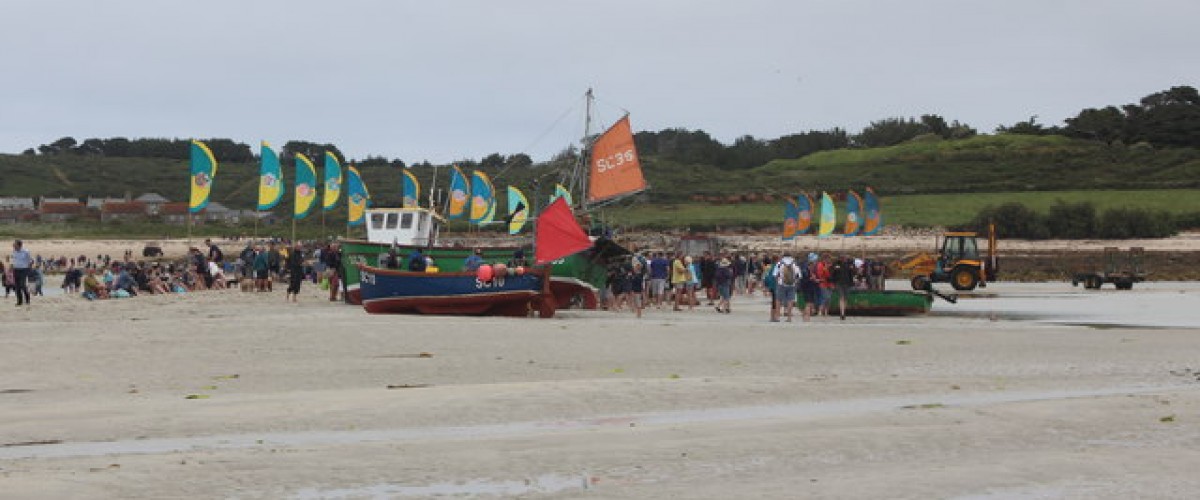 Distance: 1.8 km
Difficulty: Easy
Method: Walk/wade
Wow Factor: 10 out of 10
Location: Isles of Scilly
Terrain: Sand, rocks and puddles
Access: Low tide (Spring)
Height gain: 13 metres
Map: OS Explorer 101
Starting point: Tresco (Beach below the Flying Boat Cafe at GR SV 88900); Bryher (Old Town quay at GR SV 88095 14905)
Accommodation/food:

There are plenty of great places to stay and eat on both Tresco and Bryher. During the Tresco Low Tide events, stalls selling seafood, hot and cold drinks, bubbles and more set up mid-Channel and offers a great party atmosphere. On the islands themselves there are a few favourites:

Tresco – The Ruin Beach Cafe

Bryher – Bryher Campsite; The Crab Shack; Fraggle Rock Bar and Cafe

Look out for:

Bubbles and seafood at the halfway point
A unique walking experience

Route description:

The walk between islands, Scilly, starts in either Bryher or Tresco. From Tresco start from the beach below The Flying Boat Cafe and head south west along the beach to pass between the headland and Plumb Island. After you skirt around the headland continue south west to almost mid-channel using the sandbars to stay relatively dry. Then head north west to reach the quay on Bryher.

Getting there:

Inter-island boats to either Tresco or Bryher leave from St Mary's. Tresco and Bryher also operate their own boat services.