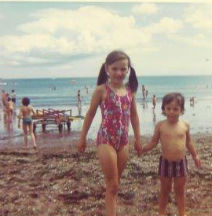 It was the prospect of being stranded on Asparagus Island that inspired me.
I was twelve at the time, it was 1979, and as far as my parents concerned our family holiday at the seaside had taken a turn for the worse when the incoming tide threatened to cut us off from the mainland. But I was thrilled with the idea of exploring my very own lump of rock, surrounded by sea with the remaining picnic to sustain us. What more could a girl of twelve really want?
It all turned into an obsession from there. As a student in the states I found North Carolina interesting but it was the islands off Cape Hatteras that provided a constant draw. Starting work things didn't improve. My holiday time and most of my money was spent on exploring Hawaii, the Andaman Islands, Borneo, Iceland, Sri Lanka, the Canaries, Vancouver Island, Sicily and Cyprus to name just a few and my bucket list was for ever growing
There was definitely a pattern emerging. A yearning to be in places of mystery and legend, places of breathtaking scenery and majestic wildlife. Places where cultures had kept their true identities. Places of peace and of difference.
They were all islands.
Once I realised this and I reviewed my bucket list the Island Project was born. I have come to terms with my obsession now. Three years of walking, cycling, swimming, kayaking or just visiting the amazing gems of the British Isles. With over 6000 islands to choose from this has to be the greatest challenge. Researching how to get to them, finding routes around them and helping others do the same. It has become Islandeering.
I only returned to Asparagus Island last year. It was as exhilarating then as it was in my memories. This time I swam around it on a beautiful calm day in the blazing sunshine. Thoughts of jellyfish and shark attacks pushed far back in my mind. The beach I left behind was seething with humanity and fluttering ice cream wrappers but after just a few metres of swimming out to the island I found my peace and my haven of raw natural beauty. I was twelve again with not a care in the world.
We are experienced mountaineers, sea-kayakers, swimmers and ultra-runners who want to share our experiences of islands with others to enjoy.