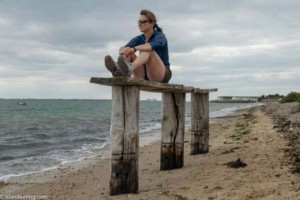 Keep the sea to your left and keep going until you return to the start. It's impossible to get lost, well really lost. You'll have heck of an adventure on the way, in the footsteps of…..hardly anyone else to be honest
'What's all this about then' you might ask. 'It's called Islandeering' we'll reply. Have you heard of many mountaineers that start out to walk half way up a mountain? Probably not. Well we feel the same about islands. We have to go all the way around.
We like to explore the last great wilderness of the British Isles. The outer edge of islands. A lot of it is uncharted. We think this is where the action is – the cliffs, sea caves and surf. It's where we love to walk, scramble, swim and kayak. It's where we love to chill on a beach, experience whales breaching and enjoy the spectacle of bird-filled rock walls. It's where we forage for seafood, watch sunsets and sunrises reach across the ocean and where we love to sleep. Our first unintentional stranding on an island felt like a disaster. Now, many deliberate strandings later, as the ocean closes her path back to the mainland we love the feeling of true disconnection from the frenetic world. We feel peace. Real peace.
We also explore the island's interior and share with you all the special places and experiences each island has to offer.
Is this for you?
Yes, islandeering is for everyone.
There is the adventurous element of islandeering and we are sharing our 170 routes (so far) with you as fast as we can. You may have to improvise a bit. Foreshores and cliffs are wild. Some islands have a coastal path but for most islands you have to chart your own way around for part of the way at least. It's a proper adventure exploring wild places. You'll find the details in the 'islandeering' page for each island.
We also want to share  the best each island has to offer – for kids and families, birdwatchers, history buffs, wildlife enthusiasts and foodies – so that everyone can enjoy these magical mini-worlds. You'll find the details of how to experience the best the island has to offer in the 'activities' page for each island.
This website aims to inspire island adventures for all. We are not going to write them all up though – it's important that some places remain undiscovered and that you can create an island adventure of your own.
How did Islandeering start?
I had a free-range childhood, always delving under rocks in the brook, pushing the boundaries of where I was allowed to cycle and climbing over the fence to discover the undiscovered. There was a defining island moment though. I was twelve at the time, it was 1979, and as far as my parents were concerned our family holiday at the Cornish seaside had taken a turn for the worse when the incoming tide threatened to cut us off from the mainland. But I was thrilled with the idea of exploring my very own lump of rock, surrounded by sea with the remaining picnic to sustain us. What more could a girl of twelve really want?
It all turned into an obsession from there for the next 30 years or so. I quite literally travelled all over the world to experience islands. Then, several years ago, on a sea kayaking trip around the outer edge of the islands of Scilly I had a bit of an epiphany.
"Why do all that travelling when we have places of exquisite beauty, wilderness and adventure right on our doorstep?"
That was it, I couldn't wait to get home and see how many other islands of the British Isles I could get around. To my delight I found there were several thousand islands to choose from with scant information about circumnavigating them.
I'm 170 islands in now and am looking forward to a lifetime of adventure and discovery. I have come to terms with my obsession with several years of walking, cycling, swimming and kayaking the amazing gems of the British Isles under my belt. Researching how to get to them, finding routes around them and helping others do the same has become Islandeering.
We also moved to an island. Over the winter months we retreat to the Isle of Skye where we have a home to sit in front of the fire and watch the storms roll by.
I only returned to Asparagus Island last year. It was as exhilarating then as it was in my memories. This time I swam around it on a beautiful calm day in the blazing sunshine. Thoughts of jellyfish and shark attacks pushed far back in my mind. The beach I left behind was seething with humanity and fluttering ice cream wrappers but after just a few metres of swimming out to the island I found my peace and my haven of raw natural beauty. I was twelve again with not a care in the world. The healing power of islands and the ocean.
In the news 
We've written and chatted to a whole number of folks in newspaper, magazines and radio stations. Here's some of our favourites: