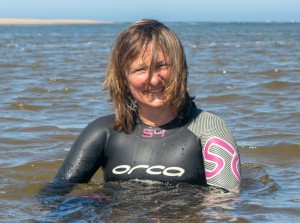 Hi I'm Lisa. Welcome to Islandeering
I'm an islandeer, author and marine conservationist and passionate about sharing what I have learnt from my travels around the islands of the British Isles to help you find an adventure.
I started the project 12 years ago after I had one of those light bulb moments and realised the pure magic that islands held for me. After meeting so many people on their island travels who shared my passion and told me that I must share my experiences so that others could do the same I set up Islandeering.com, where we are passionate about promoting responsible travel to our great British islands. This website grows by the day as we add more information about how to visit the islands and what to see and do.
Since doing that I have been described by the BBC News as "the woman walking on the edge of Britain's hidden islands" and have explored nearly 600 islands of the British Isles in the last 12 years searching for the best places to swim, paddleboard, walk, visit and drink coffee with friendly islanders. I have written the award-winning book "Islandeering; adventures around the outer edge of Britain's hidden islands" and (new for 2021) is "Island Bagging England and Wales".
Being a travel writer I am always writing articles and features for newspapers including The Telegraph, The Guardian, The Daily Mail and The Scotsman as well as magazines including Condé Nast Traveller, Coast Magazine, Country Walking and CountryFile. I also regularly write for websites including Red Bull, AquaPac and Ordnance Survey and was recently interviewed by BBC Radio Scotland and BBC Radio Orkney.
I am passionate about the ocean environment and am Chair of the trustee board for Whale and Dolphin Conservation where we work globally to protect whales and dolphins and their homes. I also love getting people outdoors and, as well as being a personal trainer and Nordic walking instructor, I am a Board member of British Nordic Walking. I am extremely proud to be the ambassador for a number of great brands including Ordnance Survey, the National Outdoor Expo, and McConks Paddleboards.