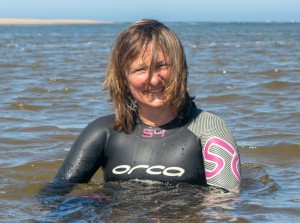 Hi and welcome to Islandeering
Islandeering is for people who want adventure in Britain's wild blue spaces – our rivers, coast, lakes, canals and islands. You will find amazing walks, paddles and swims in the UK's most special places, those recognised for outstanding natural beauty, incredible geology or special and abundant wildlife.
How did we start
With a lifetime of travel to far-flung islands of the world and playing in or near the water closer to home, the idea for Islandeering was born 18 years or so ago on a sea kayaking trip to the Isles of Scilly – when circumnavigating islands fired our imaginations and seeded an idea in our minds. We set out to see how many islands we could circumnavigate in the UK. In a very short time our hobby turned into a complete obsession. With over 600 islands now under our belts, and many more to go, we felt that we should share these adventures with others. We wrote two books – "Islandeering; adventures around the edge of Britain's islands" and "Island Bagging England and Wales". We also share many of our island adventures on this website.
Blue health and blue mind
What we have realised is that being in or next to the water makes us feel so much better – we have since discovered that this is a real thing, backed by new scientific data almost every month that evidences blue health and blue mind. No wonder then that every destination we choose has water somewhere in the mix.
Exciting times ahead
Exciting times are ahead for us as we are in the process of expanding Islandeering beyond islands to include other special blue spaces of Britain. The walks, swims and SUPs we feature are generally protected through designations like National Nature Reserve, World Heritage Site, Marine Protected Area and more. Watch this website grow as we add more outdoor adventures in the UK's most extraordinary places. We are kicking this off with our latest book, "Paddleboarding: 100 places to SUP, Canoe and Kayak in South West England".
In the press
We get a bit of press attention too. Lisa has been described by the BBC News as "the woman walking on the edge of Britain's hidden islands". Our first book won the Outdoor Writer and Photographer Guild's Book of the Year (2021) and our articles regularly feature in The Telegraph, The Guardian, The Daily Mail and The Scotsman as well as magazines including Condé Nast Traveller, Coast Magazine, Country Walking and CountryFile. We regularly write for websites including Red Bull, AquaPac and Ordnance Survey and have been interviewed by BBC Radio Scotland and BBC Radio Orkney. We love researching and writing the Walk of the Week for The Times (Scotland), and have contributed over 35 walks so far.
Lisa and Charlie
We are passionate about looking after our special blue spaces and we try to do our bit. Lisa is the Chair of Whale and Dolphin Conservation, which works globally to protect whales and dolphins and their homes. Charles is the founder of our sustainability practice that works with business, charities and governments. We also love getting people outdoors and, as well as being a personal trainers and Nordic walking instructors, Lisa is a Director of British Nordic Walking and an ambassador for Ordnance Survey GetOutside and the National Outdoor Expo. Charles is an ultra-runner with a number of big races under his belt and a 2023 goal of the CCC Race. He is also a 4-star sea-kayaker, Coastal SUP Leader (training) and was a member of Search and Rescue when he lived in Vancouver.
We look forward to sharing our journeys with you and hope that you will do the same. Now that's us done behind the desk for today – off to find some outdoor blue space.
Lisa and Charlie
Check out our latest books
see what happens when lots and lots and lots of new text is inserted to fill the space
Try one of our blue space walks
Find your next island adventure
Be the first to know about the latest adventures in wild blue space