What do you buy someone who loves the outdoors? Here's our ultimate Christmas gift list for the outdoorsman or woman. It's a selection of our favourite outdoor gear that we use everyday and wouldn't be without. You might want to treat yourself too!
Disclosure: some of the links in this post are affiliate links and if you go through them to make a purchase we will earn a small commission, which helps us fund our island research. Please be assured that we only use links if we fully endorse the product.
1. Barista quality coffee on your adventure
Just imagine, you reach your perfect spot beside the ocean or mountain top, and brew up a seriously impressive double-shot of expresso. It's not a dream. It's Wacaco's Minipresso, a pocket-sized machine to brew hand-pumped espresso when you're on the move. It's equally great for nomadic working and weekends away when you are not sure if you can get café quality coffee. Your espresso is created with up to 18 bars of pressure generated through hand-pumping for gorgeously smooth, rich cremas served in the built-in espresso cup – all you need is access to hot water. We prefer the Minipresso over the Nanopresso because we can use the Minipresso Tank+ to make a longer espresso in one press (and you can load up three pods to go)!
2. Your own pop up café
Turning a great day out into an awesome day out for us generally means having a cuppa in a special place (with a whopping slice of homemade cake too). We never leave home without our Jetboil Flash which is everything you need to boil water fast and efficiently. It's well-priced, has a colour-changing heat indicator that lets you know the water is ready before it boils over, includes a one-litre insulated pot, piezoelectric ignition, and a secure connection between burner and pot. Perfect for a quick brew. Only use good quality gas canisters such as Jetboil's and MSR as others don't have the right mix of gas to burn efficiently and quickly; they also run out faster!
3. Inspiration for adventure
2020 has been a bit of a testing year for many so let's make 2021 a year for new adventures. If you are looking for inspiration why not explore a new island from our book "Islandeering: adventures around the edge of Britain's hidden islands" – contact us for a signed copy – 'Charlie at Islandeering.com'. Price £16.99 and free postage anywhere in UK. There are plenty more ideas from Wild Things Publishing.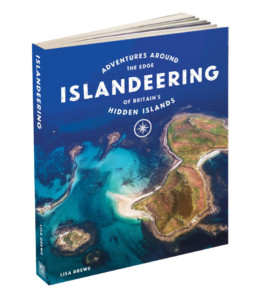 4. The layer you've been missing
The Rab Borealis Jacket (for him or her)  is an incredibly lightweight (308g) softshell jacket for days on the ocean or a mountain top. It is ideal for the warmer months when you need the extra protection in strong sunshine (UPF 50+), wind and light showers. Its two-way stretch material combined with its lightness means that you'll never feel constricted and with excellent breathability you'll stay comfortable when active. Two large chest pockets are well positioned to provide easy access when wearing a rucksack and have plenty of room for map, compass, snacks and phone. We find it perfect as an outer layer in the summer or as an extra layer under our waterproofs in the cooler months. We use it for hiking, cycling and trail running and have found its build to be completely robust. Honestly, this is the layer that you have been missing and it packs down to almost nothing.
5. A mountain guide on your wrist
The Garmin Fenix 6 range is the ultimate smartwatch for the outdoors with mapping and GPX waypoint functionality, amazing long battery life and a robust build for the toughest of mountain climbs, trail runs, XC skiing, hiking and just about any other outdoor sport. Its GPS and heart rate meter even work under water and it simply can't be beaten for outdoor tracking. There are excellent features for fitness bods but let's stick to why it's the best watch for the outdoor enthusiast. The Fenix 6 Pro uses topographic maps, which aren't as good as say Ordnance Survey, but they are definitely a massive help along with the ability to upload GPX routes from third party apps. The battery life is a huge plus with 42 hours or even weeks of GPS tracking in certain modes without charging – a great advantage for multi-day runners or hikers and the solar edition will add three further days of smartwatch use.
6. You can never have too many beanies
This ocean beanie is a real hand-knitted beanie with a beautiful wave pattern and multiple colours made of 100% merino wool. £30 with £1 of this going to RNLI. Amy, Chief Knitter, has already donated £1000 to the Treaddur Bay and Oban Harbour RNLI. Check her FB page for designs https://www.facebook.com/amy.goolden and DM her with your order. These are very much in demand so you might have to join the queue.
7. There's a gadget for everything
'Those who need to be ready for anything take one of these with them everywhere. Since 1897, the Swiss Army Knife has been a trusted tool of adventurers around the world. Whether you're exploring the city, the ocean, the mountains or even space, the Swiss Army Knife is the companion you can count on' – that's what Victorinox, Swiss Army say and we couldn't agree more.
With blades, screwdrivers, bottle and can openers, corkscrews, gutting blades, fondue forks, metal saws, pliers, rulers, scissors and tweezers to name a few of the tools, we can't think of any task outdoors that a Swiss Army Knife can't do. They aren't just for hairy guys either – I've had one since the age of 12. They now also come in all sorts of groovy colours and patterns. Our favourite is the Climber Knife, not too bulky but has all the basic functions you would need for a day out on an island
8. McConks SUP Adventure board
Stand Up Paddleboarding has taken the world by storm and is now the fastest growing sport worldwide and it's easy to see why. Family friendly, numerous health benefits, and affordable it will also give you unparalleled access to some of the most amazing blue space.
We are proud to ride our McConks paddleboards. They have been voted number 1 SUP by the SUP community, they are designed in the Cotswold's, they're enormously robust, high quality and they are very fairly priced. We use the McConks '14' Go Further Paddleboard' for exploring islands, coast and rivers. It is designed for speed and stability in tough conditions and with two luggage areas, there is plenty of space for your gear (and our spaniel who also loves to ride). You can even attach a kayak seat where needed. Weighing 11kg, this is a lightweight double skin touring board that is rugged enough to cope with Iceland in winter, or the Zambezi in summer rains. It'll give you access to new places and also new friends – there are loads of meetup and local groups out there all with that laid back vibe of the surf-community. Check out https://mcconks.com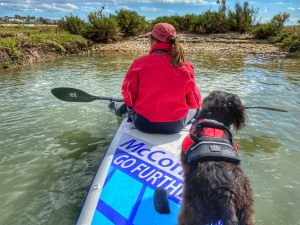 9. Discover your local places
Unearth amazing walks and breath-taking scenery while discovering Britain at its best. Whatever your adventure, an Ordnance Survey map will take you to new places. Whilst we always take a paper map with us (along with compass) we also use the OS App to plan our trips https://shop.ordnancesurvey.co.uk/apps/os-maps/, which at £23.99 for an annual subscription is a great deal. With the OS App, you can also download the free Greenspace Layer to discover greenspaces across Britain, including Country Parks, Nature Reserves and Access Land as well as publicly accessible parks, playing fields, sports facility, play areas and allotments for rent. Greenspace is Britain's most comprehensive catalogue of accessible places.
10. Sock it to 'em
Often bought as an afterthought any hiker or runner will tell you how important great quality socks are to a comfortable day out. How dull most of them are though in their drab browns and greens. Not anymore. Stance socks are a brand of socks that have become a global sensation. They combine cool designs, vibrant colours and a high level of functionality – each pair is a work of art. Stance socks cost between £12 and £16 per pair on average. Maybe a little more than your basic pair of socks but you are getting so much more. They are right and left-foot designated for perfect fit, feature mid-foot arch support, entirely seamless so you never get irritating wads of fabric under foot when you're in the middle of training or hiking. Their tough design will endure even the most gruelling of workouts. In our mind this staple of Christmas gifts has now got a whole lot more exciting for the outdoor enthusiast in your life (get a pair for yourself too – you won't regret it).
11. Video like a pro
The iPhone 12 Pro is one of the most advanced handsets for photographers currently available with its great variety of imaging features. It features a triple camera unit, including an ultra-wide f/2.4 camera, a wide f/1.6 camera and a telephoto f/2 camera. Meanwhile, the front-facing TrueDepth camera features a 12MP sensor as well. The Pro model has a LiDAR scanner, which will mean faster focusing in low light situations. The killer feature is the new Apple ProRAWfile format which means users will be able to combine the great computational photography effects Apple is known for with the power of RAW files – giving you much more scope to deeply manipulate your images in editing software and really get your images into shape. Did I say its also phone!
12. IOU a day outdoors
The ultimate gift has to be spending time outdoors in your favourite place, with your favourite people (with cake and coffee thrown in for good measure). Why not write an IOU to give your special person that amazing day outside. Doesn't have to cost a things and there's plenty of ideas on OS Getoutside at https://getoutside.ordnancesurvey.co.uk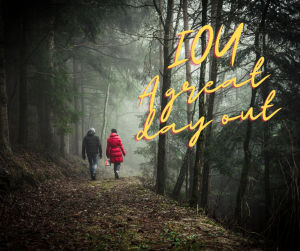 We hope that helps a bit and from all of us at Islandeering, we wish you a very Merry Christmas and a fun and adventurous 2021