Berneray's has two main beaches along its the east and western edges
West coast – 5km of white sandy bliss where the horizontal stripes of cobalt sea, white sand and green machair stretch out like a vast Hebridean flag. The beach is backed by a large dune system No wonder the Thai tourist board used a photo of this beach to market one of their own. Bird cries and the powerful Atlantic surf are the only sounds along this stretch of paradise. It is truly spellbinding. There is plenty of space to wild camp. Park in the Community Hall at the end of Borve road, adjacent to the machair. The west beach is a 15 minutes walk across the machair.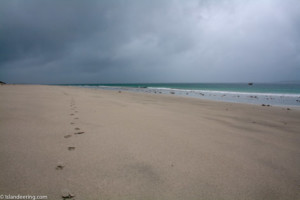 Beasedaire beach – along the north east coast this 1 km or so white-sand beach is easily accessible from the minor road and has generally has gentler seas than the west coast. Stay in the Gatliff Trust hostel, an original black house, or camp on the machair adjacent to the beach. Park as per west coast access above.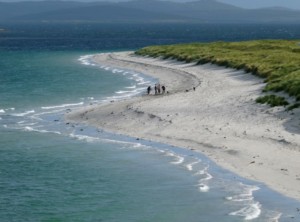 The full islandeering route, that includes both beaches, can be found in the book, Islandeering: adventures around the outside edge of Britain's hidden islands