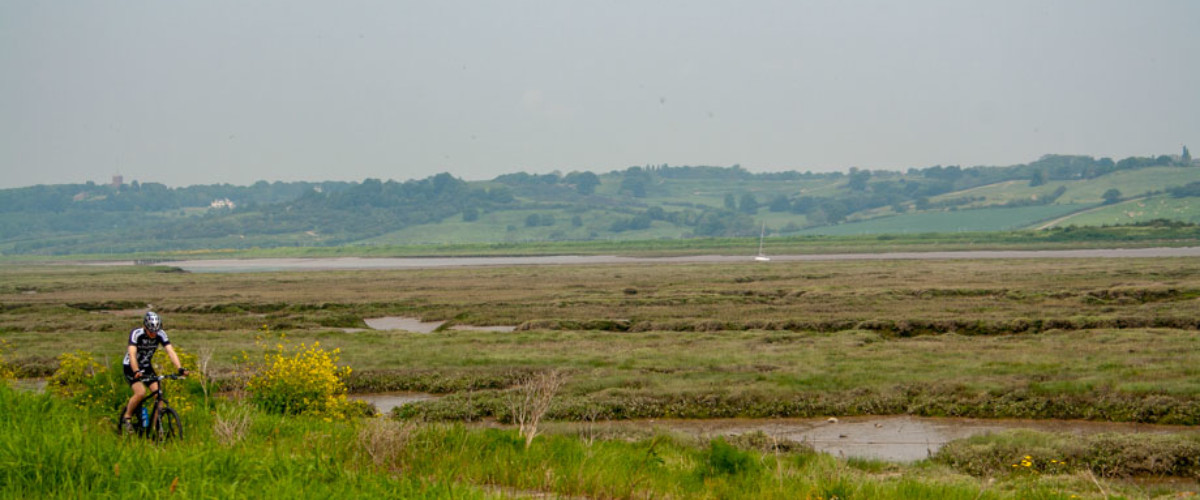 Distance: 26 km
Difficulty: 1
Method: Walk or cycle (gravel, mountain bike)
Wow Factor: 7 out of 10
Key Facts
Location: Essex
Size: 1840 hectares
Terrain: Marked tracks
Access: Road bridge
Height gain: 100 metres
Map: OS Explorer 175
Starting point: Benfleet Station. Lat/Long 51.543932, 0.561434; GR TQ 7771485891
Accommodation/food:

Lobster Smack Inn, Windjammer pubs; Labworth Café and Concorde Beach Café

Island Summary:

Quirky, independent and defined by the Thames Estuary Canvey lies on the north bank of the Thames between Basildon and Southend on Sea, just 25 miles from London. Most of the island lies below sea level and, despite being the fourth most populated island of England, it has a surprising amount of open space and two important nature reserves. Wild marshes, ancient inns, arty promenades and music royalty make a great day out from London.

Look out for:

Trail running
Bugs & birds Canvey Wick and Canvey Marsh

Route description:

This clockwise walk or bike ride is on a flat well-marked trail along the sea wall that protects the island. Much of the route follows the creeks through the peaceful green marshes of the north and along the glistening bird-filled mudflats that are exposed at low tide in the south. A colourful section along the seawall of the Thames, with its art-deco café and murals, is followed by a fascinating insight into the island's petrochemical heritage and Britain's first nature reserve for bugs at Canvey Wick.

Getting there:

Rail: Benfleet station. Road: M25 to Junction 29; A127 east (Southend-on-Sea direction) for 13 miles; A130 south on to Canvey Island; at first roundabout, left to Benfleet station.
To see this map cookies and javascript must be enabled. If you are still having trouble after having checked both of these please contact us using the link at the top of the page
Welcome new readers
Take a look around the site. Learn about islands you may never have heard of. Take up the islandeering challenge and find a pioneering route, or simply see what each island has to offer for a more chilled out visit. Go to 'islands' and find something that inspires you.
Become an islandeer
We have a lot of fun here, as we continuously find new islands and meet plenty of great folks along the way. So you'll want to follow along. You can get new routes and adventures, latest blogs and news by using the email box below. Tune in to our Facebook and Instagram pages to see where we are going next. For the richest experience though, just keep checking the website for the latest.