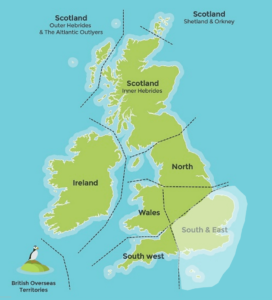 Surprising havens of peace and beauty the islands of the south and east fabulously juxtapose the hustle and bustle of some of Britain's most densely populated areas. On these islands you'll truly escape the rat-race.
The three natural harbours of Portsmouth, Langstone and Chichester shelter the very different islands of Portsea, Hayling and Thorney. Freewheel the easy bike lanes of Portsea and travel through marvellous maritime history in the UK's only island city. Meander through the leafy lanes of Hayling from the historic oyster beds in the north to the very coast where windsurfing was invented. For complete solitude though cross The Great Deep to Thorney where you may be rewarded with an osprey resting on the sands of Pilsey before it heads home to Africa in this most magical of wildlife havens.
If you want to see everything England has to offer in one tiny place then jump on the ferry and head out to the Isle of Wight. It has it all. Rose covered cottages and medieval manor houses, England's oldest theme park, dinosaur hunting, high chalk downs and bird-tastic salt marshes. There are red squirrels in the ancient woods, Mediterranean plants and upbeat sailing centres and towns. If you want some peace and quiet thought you'll have to pick your time – this is a festival island and they seem to celebrate everything.
Moving on south, almost arriving in France, you'll encounter the Channel Islands. Unbeatable for old time charm, the ghosts of wartime occupation and an island easiness that has attracted those seeking a quiet shelter for their fortunes. Here you'll get a strong sense of the bucolic island life alongside a quiet, understated sophistication.
Then for something completely different – the salt of the earth islands of the Thames Estuary. Yes Sheppey and Canvey are industrial yet their wild spaces are hauntingly beautiful and home to more migratory birds and bugs than you can believe is possible. These islands of extremes are definitely not to be missed.
The islands of Essex sit above the creeks and muds of intricate tidal estuaries with ever changing landscapes. Travelling to each is like taking a gentle step back in time. Mersea and its pretty weatherboard cottages is a mecca for lovers of oysters, rollmops and prawns and for holiday makers that have discovered this secret gem just across The Strood. To say Northey Island is laid back is an understatement. It's horizontal. With its big skies, salt marshes and access only at low tide it is a retreat that you only usually dream of. That can't quite be said of Foulness Island – often dubbed as 'Essex best kept secret'. Just a missile's throw from Southend this is the island where the MoD restricts access and uses as a test base for its military hardware. A thriving community of bone fide islanders have lived amongst the MoD's order and its booms, bangs and smells with a quiet acceptance and tradition for many years. Wallasey then completes the tour of Essex. This island is still being built, or rather rearranged, by the RSPB with the spoils of Crossrail's tunnels in London. Fingers crossed that the anticipated spoonbills appreciate it.
Moving on to the coast of Suffolk and Norfolk the islands of Havergate and Scolt Head share huge reputations for birdlife but the access to both couldn't be more different. Boats to Havergate are rare whilst Scolt Head can be reached by wading on certain tides and many intrepid families make a daily pilgrimage. Be-decked with rubber dinghies, kids, dogs and picnic hampers they arrive to pack in a few hours of swimming and sunbathing on the miles of glorious sand before returning with the tide to complete their true swallows and amazons day out.
These islands are true wild spaces to escape the clatter and clamour of everyday life.