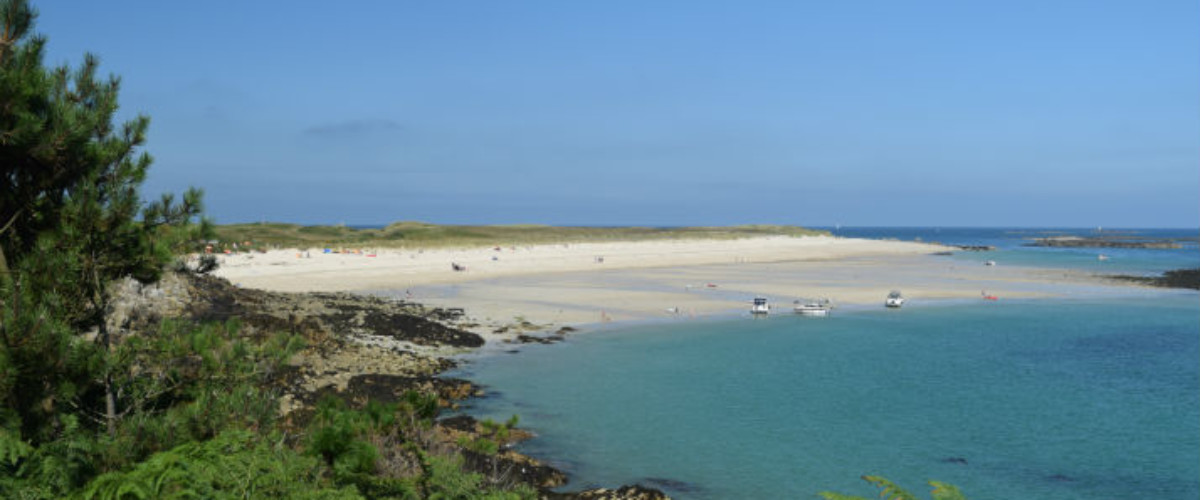 Distance: 6.4 km
Difficulty: Easy
Method: Walking
Wow Factor: 8 out of 10
Key Facts
Location: Channel Islands
Size: 200 hectares
Terrain: Easy terrain coastal path
Access: Trident ferry from Guernsey
Height gain: 147 metres
Map: Bailiwick of Guernsey: States of Guernsey Official Map Starting point Herm quay near Ship Hotel
Accommodation/food:

Mermaid Tavern, Ship Inn and White House Hotel; and the Seagull campsite

Island Summary:

Herm has it all really. It's easy to get to, has a couple of astoundingly beautiful beaches and is surrounded by crystal clear waters that almost disappear at low tide to reveal the vast expanse of rocky reefs that protect it. This comes packaged with all of the creature comforts you are likely to need with a pub, two cafes and a hotel and a restaurant or two. Not bad for only being one and a half miles long and half a mile wide.

Look out for:

Swimming opportunities at Shell Beach and Belvoir Beach

Route description:

This civilised two-hour round island route is like a walk in the park (with a bit of hill climbing). It's easy and enjoyable with plenty of café stops on the way yet the diversity of this small island will surprise you at every turn. The rugged south-coast cliffs give way to the fabulous sandy beaches and dunes of the east. The west coast reveals the best of the colour and bustle of St Peter Port over the water. And then to finish? An indulgent stop off in the friendly Mermaid Tavern for a swift one or two.

Getting there:

The scheduled Trident ferry service from St Peter Port, Guernsey.
Profile
Minimum elevation:
No data
Maximum elevation:
No data
Duration:
No data
Welcome new readers
Take a look around the site. Learn about islands you may never have heard of. Take up the islandeering challenge and find a pioneering route, or simply see what each island has to offer for a more chilled out visit. Go to 'islands' and find something that inspires you.
Become an islandeer
We have a lot of fun here, as we continuously find new islands and meet plenty of great folks along the way. So you'll want to follow along. You can get new routes and adventures, latest blogs and news by using the email box below. Tune in to our Facebook and Instagram pages to see where we are going next. For the richest experience though, just keep checking the website for the latest.