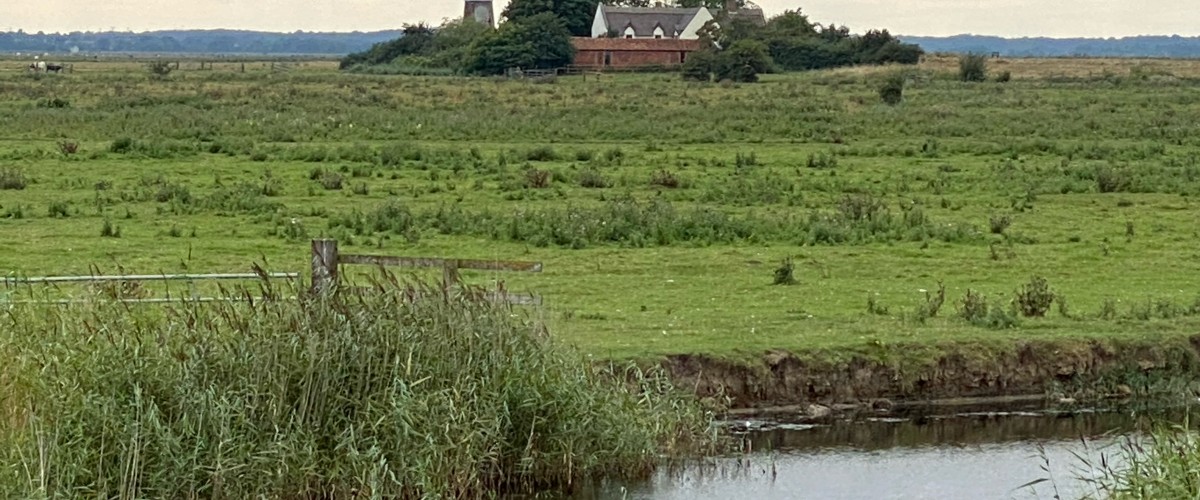 High Point: 5m
Population: 2
Size:
Wild Factor: 8 out of 10
Overview: Haddiscoe Island offers a unique landscape in the heart of the Norfolk Broads, being an inland island consisting of approximately 800 hectares of marshland and a scattering of remote houses. It is separated from the mainland by the tidal River Yare, River Waveney and the New Cut. The area is rich in wildlife, with Chinese water deer frequently seen, together with marsh harriers, herons, geese and owls to name a few. Cattle graze freely during most of the year. The historic pumping mills are the only features on the horizons that idyllically punctuate the huge Norfolk skies and stunning sunsets. This is an island far away from the hustle and bustle of the Norfolk coastal towns, and it can only be accessed from the beautiful riverside village of St Olaves.
Type of island: inhabited
Location: Norfolk
How to get to Haddiscoe Island: St Olaves is half way between Great Yarmouth and Beccles along the A143
Getting around Haddiscoe Island: there is public footpath around the whole perimeter of the island
Best time to go to Haddisco Island:
this circular walk in the Norfolk Broads can be completed at any time of the year. In the summer months the path may become overgrown with long grass, so timing your walk when the grass has been cut will make your walk easier. For wildlife lovers spring is a good time to see damselflies and swallows; summer for the marsh harrier and the purple sea lavender; autumn for migrants like warblers; and winter for waterfowl and geese.
Access to Haddiscoe Island:
the only point of access to the island is from St Olaves along the A143, following the footpath signs west of St Olaves Bridge or beneath Haddiscoe Cut Bridge
Dog friendly: Yes
Food and drink:
The historic Bell Inn, St Olaves offers good pub grub and has a lovely garden alongside the River Waveney; Priory Farm Restaurant, St Olaves offers excellent traditional food in a an atmospheric, converted barn
Accommodation on Haddiscoe Island:
Camping:
Reedham Ferry Complex – pub and riverside site on the Norfolk Broads with a short drive to Haddiscoe island. Lots of space and access to the river for paddle boarding, fishing etc.
Motorhomes:
Priory Farm Caravan and Motorhome CL site located in St Olave's at the start of the walk. Located on the edge of Hillside Animal Sanctuary with electric hook up, water and waste disposal and best of all the most beautiful views over the surrounding grazing paddocks. The site is dog friendly. No children. Right next door to Priory Farm Restaurant which is locally renowned for good value food and a 2 minute walk to Norfolk's oldest recorded pub situated on the banks of the river Waveney.
Accommodation:
Red Mill – £600 – £1500 per week – a renovated windmill on Haddiscoe Island with plenty of character, overlooking Berney Arms, the water and marshes. A perfect place to get away from it all.
Best things to do on Haddiscoe Island: 
Walk the 20 km circuit of the island
Explore the historic mill
Post walk pint at the Bell Inn, reputedly Broadland's oldest recorded pub
Nearby islands: whilst you are there, why not explore:
Scott Head Island, Norfolk
Look out for:

Marsh harriers
Chinese water deer
WW1 bunker next to St Olaves Bridge
St Olaves Priory - 14th-century ruin with amazing vaulted ceiling
Join our Islandeering community
We continuously find new islands, rivers, lochs, canals and coast to walk, SUP and swim in and meet plenty of great folks along the way. Join our community to get new routes and adventures, latest blogs and news by using the email box below. Tune in also to our Facebook and Instagram pages to see where we are going next.