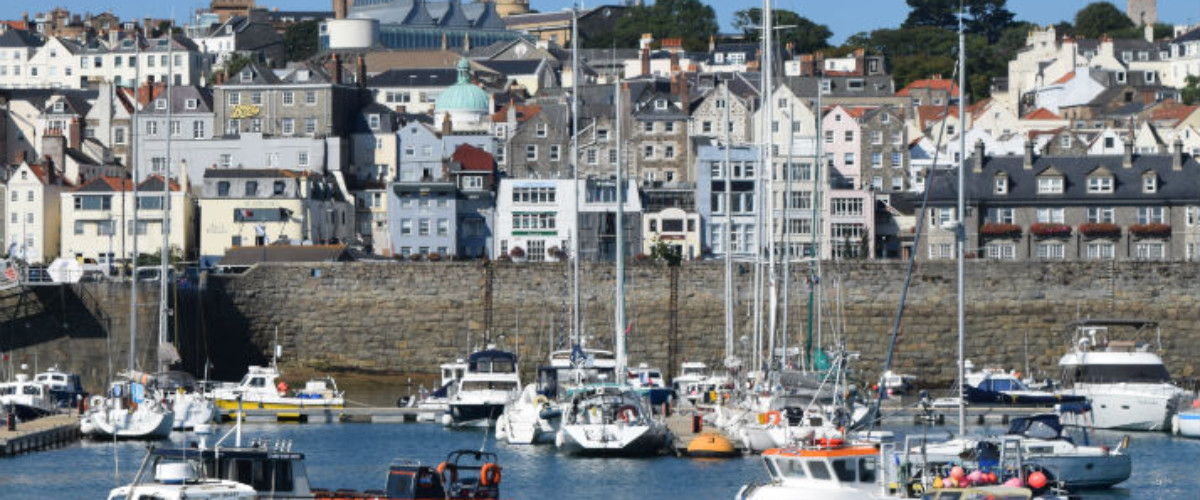 High Point: Guernsey Airport terminal, 107 metres
Population: 62,792
Size: 6500 ha
Wild Factor: 5 out of 10
Overview: The second largest of the Channel Islands, Guernsey is resolutely British yet it feels Mediterranean. From pretty St Peter Port with its glittering, cosmopolitan marina, leafy, cobbled streets and lush botanic gardens to the coastline's gloriously expansive golden beaches, hidden coves and cliff tops dotted with World War II fortifications there is plenty to explore. It is part of the Bailiwick of Guernsey along with sister islands of Alderney, Sark, Herm, Jethou and Lihou and many small islets and rocks. A centre for tourism and international finance, its famous icon is the Guernsey cow prized for its rich creamy milk. There are activities galore on the island with a coast path, waymarked cycle routes, sea swimming and every water sport imaginable. Easy to get to with frequent ferries arriving from Portsmouth, Poole and St Malo; regular flights arrive from a range of UK and other European destinations. Guernsey is the hub for inter-island transport with frequent services to Jersey, Alderney, Sark and Herm. A full range of accommodation is available.
Type of island: inhabited
Location: Bailiwick of Guernsey, Channel Islands
How to get to Guernsey: Condor Ferries from Portsmouth to Guernsey. Direct flights arrive from many European destinations.
Getting around Guernsey: On foot. Walking on Guernsey is one of the best ways to see its many attractions and beautiful coastline. The island is criss-crossed with a fine network of paths, including the spectacular 63 km circular Guernsey Coast Path. Bike. Cycling on Guernsey is a great way to explore the miles of quiet green lanes (ruettes tranquilles) of the island which have a maximum speed of 15mph.  There are hundreds of route possibilities, with 11 'Official Routes', that visitors can take to explore the island. They range from flat western and northern coastal rides to quiet country lanes and leafy valleys on roads that take in many of the island's visitor attractions and great pitstops. There are also many places to hire bikes. By bus. You can get almost anywhere with Guernsey's Buses which links the island's main locations and attractions with the central bus station at St Peter Port. All bus fares have a fixed price of £1 per journey, no matter the distance you go, although if you take the round-the-island coastal bus route and don't get off before the end of the circular route, you will be charged £5.
Best time to go to Guernsey: the best months for good weather in Jersey are June, July, August, September and October with the warmest months being July, August and September. The coldest months are January and February and the rainiest are January, October, November and December. The best months for swimming are August and September
Dog friendly: Guernsey is a dog friendly destination. No doggy passport required and plenty of dog-friendly accommodation
Food and drink on Guernsey: Guernsey is becoming a gastro-destination, with an abundance of local produce, from chillies to gin, fresh seafood and international cuisine – all celebrated at the Guernsey's Food Festival. There are beach cafés, upmarket restaurants, farm stalls and homegrown garden stalls – all offering plenty of local character and flavour.
Accommodation on Guernsey: Guernsey's accommodation offers a full range of accommodation from fantastic hotels, self-catering, holiday cottages and camping accommodation
Contacts:  Visit Guernsey Information Centre, email enquiries@visitguernsey.com. Tel 01481 223552
Join our Islandeering community
We continuously find new islands, rivers, lochs, canals and coast to walk, SUP and swim in and meet plenty of great folks along the way. Join our community to get new routes and adventures, latest blogs and news by using the email box below. Tune in also to our Facebook and Instagram pages to see where we are going next.