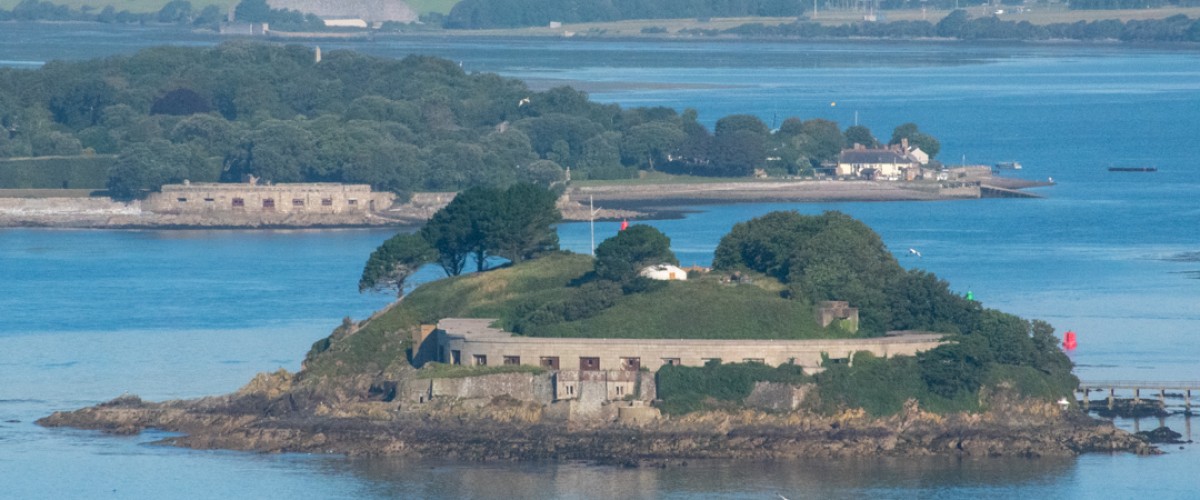 High Point: 25 metres
Population:
Size: 2.6 ha
Wild Factor: 8 out of 10
Visit Drake's Island This fortress island sits 500 metres away from the city of Plymouth in the Plymouth Sound and has only recently opened to the public. Named after Sir Francis Drake, who sailed from Plymouth in 1577 to circumnavigate the world and became the island's governor on his return. Fortification began in 1549 as a defence against the French and Spanish and continued through to World War II. In the 1980s it was run as an adventure centre but today it is privately owned with tours of the derelict Napoleonic-era military buildings and tunnels available along with seasonal events.
Where to find Drake's Island Drake's Island is located in Plymouth Sound
How to get to Drake's Island Drake's Island can be reached by ferry from Mount Batten pier, Plymouth booking here at £23 per adult
Getting around Drake's Island upon arrival at the island there are guided walks that take in most of the island and its buildings
Best time to go to Drake's Island Drake's Island is open from March to October for general visits and also offers seasonal events for Halloween, Bonfire Night, Remembrance, Winter Solstice, Christmas and even Ghost Hunting
Is Drake Island dog friendly: Yes, well-behaved dogs kept on a lead are welcome
Food and drink on Drake's Island: there is no food and drink available for general tours on Drake's Island. The nearest pitstops are in Mount Batten, Plymouth on the mainland (where the Drake's Island ferry leaves).
The Galley Kitchen at Mount Batten in Plymouth is a step above a Greasy Spoon cafe serving up great breakfasts to boatyard workers, beach goers, and coast path walkers. The small breakfast is very adequate, the medium breakfast is huge (sausage, egg, mushroom, bacon, tomatoes, fried potato, beans and bread). If you are brave go for the doorstep lunch sandwich!
Clovelly Bay Inn is an authentic and traditional waterside pub in the quaint fishing village of Turnchapel just a short walk from the Mount Batten Ferry. Great portions and a large range of ales located on the South West Coast Path.
Where to stay near Drake's Island – we love Drakes View Camping, Staddon Heights Golf Club, The White House, Plymouth PL9 9SP; tel. 07831 225440
What to do near Drake's Island
Wild swim from Firestone Bay where bouys mark the safe swim zone
SUP in Plymouth Sound – see Paddle Boarding South West England for routes
Walks around Plymouth – coming soon
Nearby islands: 
Looe Island – details here
Burgh Island
Join our Islandeering community
We continuously find new islands, rivers, lochs, canals and coast to walk, SUP and swim in and meet plenty of great folks along the way. Join our community to get new routes and adventures, latest blogs and news by using the email box below. Tune in also to our Facebook and Instagram pages to see where we are going next.