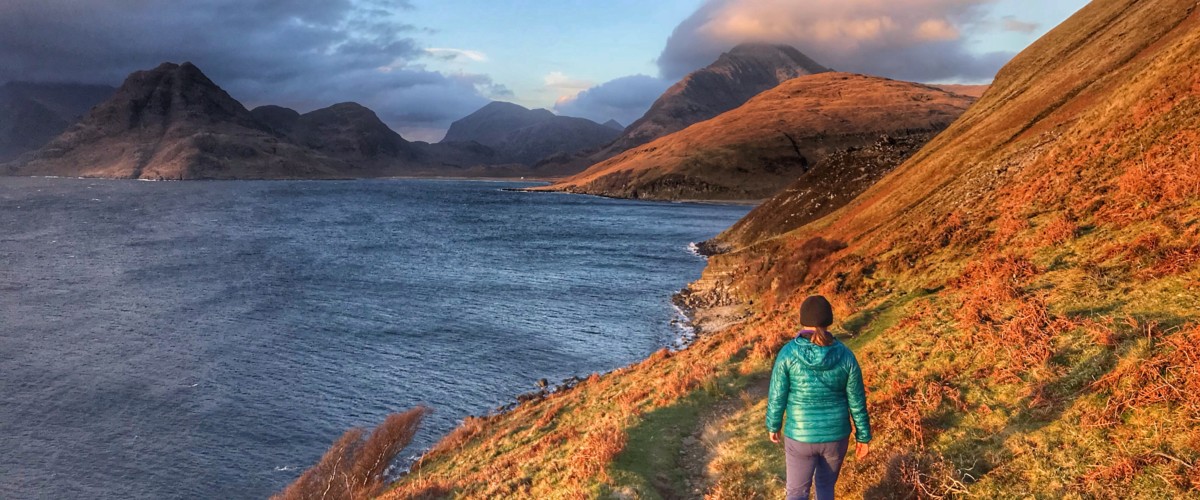 57.503447, -6.215837
Coral beach
White sandy bay; wild swim spot
Caora Dubh Coffee
Best coffee in the Highlands
Flora MacDonalds House
Birthplace of Flora MacDonald
Distance: The Skye Trail 128 km
Difficulty: Moderate
Method: Walking; trail running
Wow Factor: 10 out of 10
Key Facts
Location: Inner Hebrides
Size: 165,600 ha
Terrain: Mountain; moorland
Access: Road bridge
Height gain: 5206 metres
Map: Harvey Maps, The Skye Trail. Ordnance Survey 408 Skye, Trotternish and The Storr 409 Raasay, Rona and Scalpay; 410 Portree and Bracadale; 411 Skye Cuillin Hills; 412 Skye - Sleat
Starting point: Rubha Hunish (Grid Ref: NG640038)
Accommodation/food:

The full route requires a combination of wild camping with overnight stays in villages or bothies.

Rubha Hunish – The Lookout (Bothy)

Flodigarry has a hotel and an independent hostel.

Portree has a choice of shops, hotels, B&B's with a campsite at Torvaig on the northern edge of town.

Sligachan has a hotel, campsite and bunkhouse.

Elgol has a choice of B&B's along with a small shop. There is also a B&B in Torrin.

Broadford has a choice of hotels, B&B's and a well-stocked Co-op supermarket.

Island Summary:

Every superlative is used to decribe Skye's dramatic landscapes, seascapes, history and legends. There is quite literally a lifetime of exploring here. For the adventurer the Cuillins mountains are arguable the best in Britain, there are caves to explore, secluded beaches and forest trails to run. The island is blessed with some of the finest dining and incredible seafood and has the full facilities expected of holiday makers of all types. This is my home island.

Look out for:

The magical Quirang
Sea eagles, otters, dolphins
The dramatic Old Man of Storr
The mythical Loch Coruisk

Route description:

At the moment there isn't a waymarked round island route on Skye. For this reason I have included The Skye Trail instead – a long distance footpath travelling most of the length from the north to south of the Isle of Skye, traversing mountain, moor and coastal regions. Starting on the northern tip of the island at Rubha Hunish the route passes the significant attractions of The Quiraing, Trotternish Ridge, Old Man of Storr, Portree, the Braes, Loch Sligachan, Glen Sligachan, Camasunary Bay, Loch Coruisk, Elgol, Kirkibost, Loch Slapin, Torrin and the Marble Line to reach Broadford.

We plan to run the Skye Trail Ultra in 2020, so I have included the GPX download provided by The Walking Englishman (visit his site here for more details and great walks)

Getting there:

Road bridge from mainland Scotland. More detail on travel to and within Skye is available from www.isleofskye.com.
To see this map cookies and javascript must be enabled. If you are still having trouble after having checked both of these please contact us using the link at the top of the page
Welcome new readers
Take a look around the site. Learn about islands you may never have heard of. Take up the islandeering challenge and find a pioneering route, or simply see what each island has to offer for a more chilled out visit. Go to 'islands' and find something that inspires you.
Become an islandeer
We have a lot of fun here, as we continuously find new islands and meet plenty of great folks along the way. So you'll want to follow along. You can get new routes and adventures, latest blogs and news by using the email box below. Tune in to our Facebook and Instagram pages to see where we are going next. For the richest experience though, just keep checking the website for the latest.