A visit to one of these wild beaches has to be a must do on Skye. From pristine white beaches and black volcanic sands to hidden rocky inlets and island adventures there is something for everyone – whether looking for dinosaur footprints, foraging, walking, swimming and paddleboarding. Here are some of our favourites.
Image credit "Coral beaches, Skye" by rjshade is licensed under CC BY 2.0.
Aird of Sleat (Camas Daraich)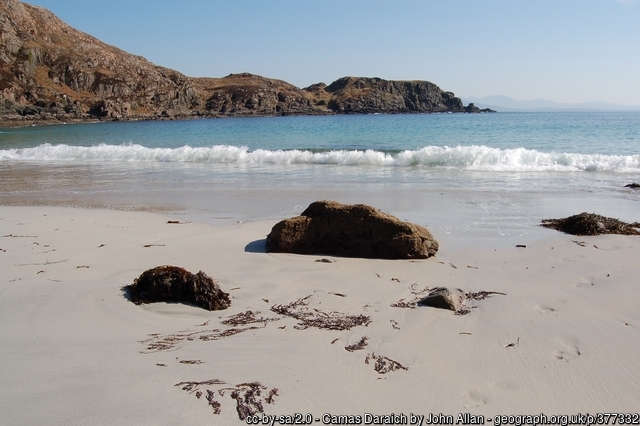 Almost the most south-westerly point of the Isle of Skye this pristine white sand beach and turquoise waters is a firm favourite. Its rocky perimeter is perfect for scrambling and rock pooling, and clear waters are perfect for swimming, snorkelling and paddle boarding. There are great views of the Knoydart peninsula and mountains of Rum and Eigg. All in all a great day out for the whole family, approached by a beautiful 4 km walk (round trip).
Where is Camus Daraich, Skye Point of Sleat, grid ref. NM 5670 998
Start Point Car park at Aird of Sleat road end, IV45 8RN (Grid ref. NG 589 007)
Directions to beach From the car park go through the wooden gate next to the farm gate and follow the track uphill. Continue on the track as it winds through the moorland, then descends to a stream, cross the wooden bridge and turn left to take the steep, rocky path signed to the Point of Sleat. Follow the fence to reach a path between two hills and take the clear path left to the beach at Camas Daraich.
Getting there South of Broadford on A87; right onto A851; at Armadale, just before ferry, turn right onto minor road to Aird
Refreshments Macnamara and Bothin Bar, Calgary; The Shed Cafe, Armadale Pier
Claigan Coral Beach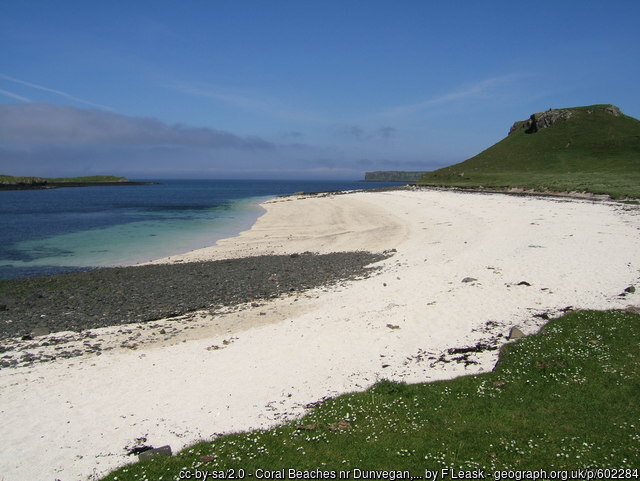 The most well-known of all the family beaches on Skye but still possible to have it almost to yourself if you time things right! On the north-west of the island, north of Dunvegan, this beach is made up of tiny fragments of sun-bleached coral-like seaweed (Red Coralline seaweed known as Maërl) which makes the water look tropical in the sunshine. The beach is great for a swim or beach-combing for the huge variety of pretty shells. The small hill near the beach, known as the 'Ghrobain', is a short climb with great views. There is also a small tidal island, called Lampay, that can be accessed from the beach on lower Spring tides.
Where is the Coral Beach Skye A 10 minute drive from Dunvegan Castle, and the car park is about a 2 km walk from the beach along a track. The car park can get very busy, and is approached by a single-track road.
Start Point Car park at Claigan, IV55 8WF. Grid ref. NG 231 537
Directions to beach From the far end of the car park follow signs to 'Traigh' through the gate and follow the track until it descends to parallel the coast. Continue for 1km.
Getting there A87 north from Portree; left A850 to Dunvegan; follow signs to and beyond Dunvegan Castle, continue to the end of the road at Claigan
Refreshments Excellent Dunvegan Community Cafe (opposite the church)
Staffin Beach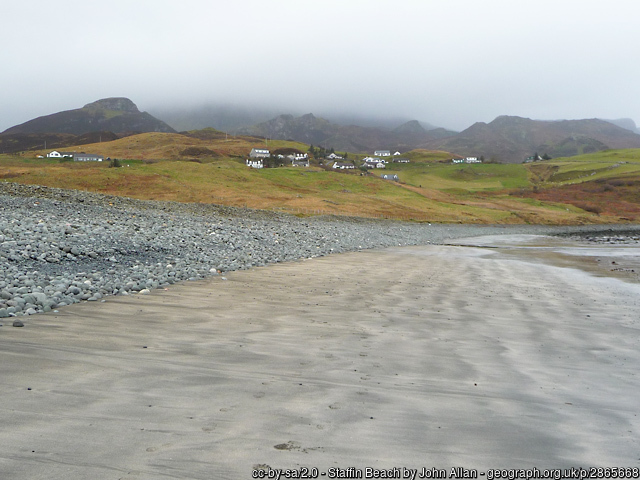 A beach surrounded by spectacular and rugged scenery, including the Quirang and Trotternish Ridge, on the northeast coast of Skye. This sandy beach is ideal for families, is nice and sheltered with a gentle slope into the water, and has a boat slipway and boat trips nearby. It has achieved recent fame after the discovery of fossilised dinosaur footprints of a three-toed Hadrosaur in a flat mudstone to the right of the large boulders on the beach.
Kilt Rock and the Mealt Falls viewpoints are closeby.
Where is the Staffin Beach Staffin on the Trotternish Peninsular on the north east coast of Skye
Start Point An Corran car park, IV51 9JT. Grid ref.  NG 49151 68502
Directions to beach Short walk from the car park
Getting there North of Portree on the A855; in Staffin turn right following brown signs to Staffin Slipway and Beach. Bus number 57a from Portree to Staffin (ask for Columba 1400 stop) and walk the short distance to the village and beach.
Refreshments The excellent Hungry Gull, Staffin – fabulous food, good vegan and GF selection
Talisker Beach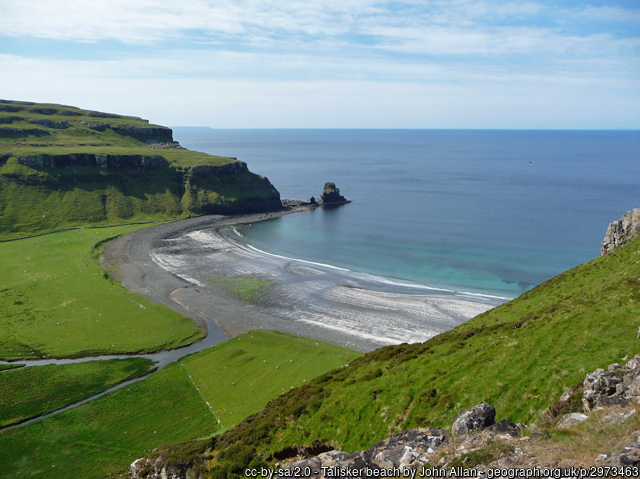 On the west coast this is a beach of grey sand and rock and possibly the only place to surf on the island. Surrounded by spectacular cliffs, a waterfall and sea stack this is an inspiring place to spend time, with golden eagles often spotted soaring overhead. At low tide it is possible to scramble over the rocky shoreline to the left of the beach to reach the base of the sea stack. The vibrant village of Carbost is nearby with the Talisker Whisky distillery, great coffee at Caora Dhubh, the Oyster Shed and the Old Inn.
Where is Talisker Beach on the west coast of Skye, near Carbost village
Start Point Tiny park area (space for only 4 cars) at Talisker, the end of the road from Carbost. Pleas park responsibly 
Directions to beach 1.5km walk from the parking area along a good farm track
Getting there Leave A87 at Sligachan, head west on the B8009 to Carbost. At the village turn keep left to follow signs for Talisker
Refreshments Carbost: the bustling Old Inn, Caora Dhubh Coffee, the Oyster Shed | Satran great food at Cafe Cuillin
Glenbrittle Beach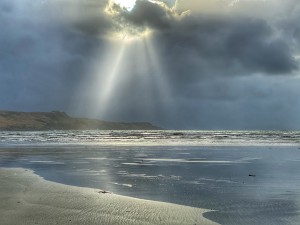 At low tide this is one of the best beaches on Skye. Lying in the shadow of the Black Cuillin it will never fail to impress – whatever the weather, and is a great place to catch a rainbow. The black/grey sands stretch endlessly, with views out to the Isle of Rum.
Where is Glenbrittle Beach on the west coast of Skye, near Carbost village
Start Point Glenbrittle car park, IV47 8TA. Grid ref. NG 409 206
Directions to beach directly accessed from the car park
Getting there Leave A87 at Sligachan, head west on the B8009 towards Carbost. At Merkadale turn left to follow signs Glenbrittle and the Fairy Pools. Continue to the end of the road at Glenbrittle Beach
Refreshments Glenbrittle excellent bread, coffee and cakes at Glenbrittle Campsite Cafe | Carbost: the bustling Old Inn, Caora Dhubh Coffee, the Oyster Shed | Satran great food at Cafe Cuillin
Elgol Beach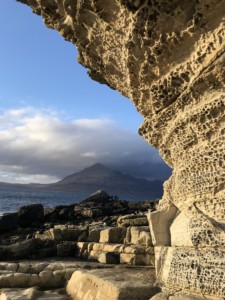 One of the most atmospheric beaches on Skye. Located on Loch Scavaig with an impressive backdrop of the Black Cuillin and the mystery of Loch Coruisk lying just beyond it is definitely off the beaten path but easily accessible. With otherworldly rock formations and magical views of the Small Isles, this is one of the best places to watch a Skye sunset.
Where is Elgol Beach South east Skye
Start Point Elgol viewpoint car park, IV49 9BJ. Grid ref. NG 51873 13598 
Directions to beach directly accessed from the car park
Getting there Take B8083 from Broadford, signed to Elgol and continue to village
Refreshments Elgol The Elgol Bistro | Torrin great soup and sarnie Amy's Place; Mrs Mack's Farmshop, great local takeaway food on the beach
Ashaig Beach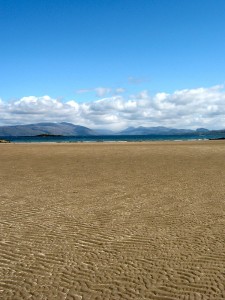 At low tide this is an expansive beach of soft white sand and heavenly rock pools with the majestic Red Cuillin as the backdrop and views ahead to the peaks of mainland's Wester Ross. There's plenty of wildlife to spot including oystercatchers, geese, eagles, and seals on the many reefs. Photo credit "Ashaig Sands" by Falling Sky is licensed under CC BY-NC-ND 2.0.
Where is Ashaig Beach East coast of Skye, south of Broadford
Start Point  Parking places alongside A87, Harrapool, IV49 9AQ. Grid ref. NG658 230
Directions to beach 5km walk to beach. From car park walk alongside A87; left on lane signed towards Waterloo. End of lane, turn right onto footpath that cuts through saltmarsh. Continue over footbridge to road-head at Breaknish. Turn left onto the lane, next right onto another lane, then left again onto lane. Follow to end of lane then follow directions to beach and burial ground. There is a much shorter route to the beach but very limited parking.
Getting there A87 south of Broadford
Refreshments The Coffee Bothy Broadford
Inver Bay, Raasay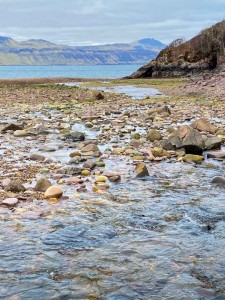 A beautiful, secluded bay on the Isle of Raasay, just a short ferry ride from the Isle of Skye. One of the best views of the Cuillin, plenty of sand at low tide and a delightful walk down through magical woodland to find it. It was a favourite of the Royal Family who have visited on the Royal Yacht Britannia.
Where is Inver Bay West coast of the Isle of Raasay
Start Point Roadside parking space, Brae, Isle of Raasay, IV40 8PE. Grid ref. NG 561 417
Directions to beach From parking spot walk through gate and keep straight across the field to another gate that heads down through the native woodlands.
Getting there Ferry from Skye (leaves from Sconser north of Broadford) to Raasay. From Ferry terminal drive north to Brae.
Refreshments Raasay Hotel (seasonal)
Varasaig Beach (Orbost Beach)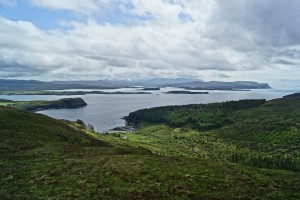 Relatively unknown to visitors this is a gem of a beach of shimmering black sand that is great to visit at low tide. Located on Loch Bharcasaig off the larger Loch Bracadale there are good views across to uninhabited Harlosh Island and the Cuillins beyond. With walks through forestry on the Orbost Estate there's plenty of wildlife to spot including golden and white-tailed eagles. Photo credit "Isle of Skye: From Ollisdal to Orbost" by Yssso is licensed under CC BY-SA 2.0.
Where is Orbost Beach West coast, Skye
Start Point Car park near farm buildings, IV45 8ZA . Grid ref. NG 257 432
Directions to beach From car park, turn right and walk along lane, past Orbost House to find the beach
Getting there A863 south of Dunvegan; turn right following signs to Orbost
South East Sleat Beaches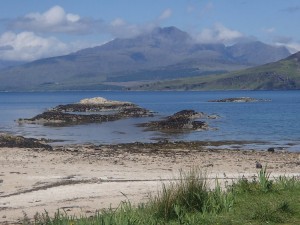 Several wild beaches are strung along the east coast of the Sleat peninsular, each boasting fabulous sunsets, great views of the Cuillin and lovely wild swimming. The road climbs winds through delightful woodland on a stunning loop of the peninsular.
I'm not going to say any more – you need to explore yourself or ask a local!