The Isle of Skye is a foodie paradise, offering a wide range of delicious locally produced ingredients and dishes. From freshly caught seafood, estate venison and island-grown vegetables to whisky, beer and bread Skye offers something for every palate and pocket. Whether you are self-catering, looking for a picnic or buying gifts to take home there are plenty of options to purchase direct from the producer, local farmers' markets or visit one of the many independent shops. This is the definitive guide to where you can source locally produced food on Skye.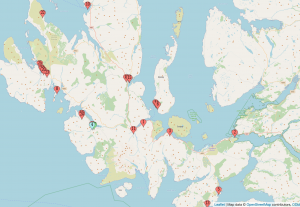 Seafood & Fish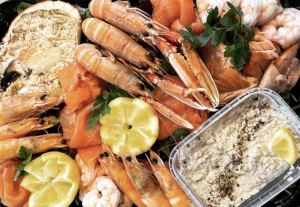 1. Sconser Scallops, Sconser
Sustainably grown in a seabed fishery in Loch Sligachan and diver-harvested these super-succulent and tasty scallops are a real treat either at home or in one of the many great Skye restaurants. You can buy and collect from Sconser Scallop where a minimum order is £25, which is for 10 large 'live in the shell' scallops. They are harvested to order, so give at least 48 hours notice (harvesting is weather-dependent) – and don't forget to bring a water-proof container/cool box otherwise you'll get seawater all over your car!.
Find out more about buying scallops on the Isle of Skye
Try Sconser scallops cooked up in a delicious dish in anyone of these excellent restaurants on Skye
The Three Chimneys | Loch Bay Restaurant | Sconser Lodge Hotel | Coruisk House | Dulse & Brose Restaurant | Bosville Hotel | Marmalade Hotel | The Dunvegan | Raasay House Hotel | Cuillin Hills Hotel
2. Arnie's Traditional Fish and Chips, Kyle of Lochalsh
Amazing fish and chips served from a van on Skye Bridge and other locations throughout the island. Using fresh local fish there's usually a choice of cod, haddock, lemon sole, monkfish scampi, scallops, hake, halibut and salmon – all superbly cooked and great portions. We think they are the best fish and chips in Skye.
Find out more about Arnie's Traditional Fish and Chips
Always check where he is first, tel. 07766 529907
3. Isle of Skye Smokehouse, Broadford
Designed to look like a traditional Scottish cleit, a stone-walled building with peat roof, local alder wood is used to fire this smokehouse and impart its delicious taste. Along with the secret 6 spice blend used to cure salmon, trout and more the hot and cold smoked fish here is delicious. Take a tour to learn more about the curing process and finish with a tasting of this delicious produce.
Book a tour and tasting at the Isle of Skye Smokehouse
Contact directly, tel. 07703 021321; email john.corfield@skyesmokehouse.co.uk.
Isle of Skye Smokehouse products can be purchased on the island at: Aros Centre (Portree) | The Top Shop (Broadford) | An Crubh ( Sleat)
4. The Oyster Shed, Carbost
Rustic seafood shed with views over Loch Harport and to the Black Cuillin's jagged peaks in the distance. Choose from oysters, mussels, crab, salmon, scallops, lobster and more served hot with chips – or pick up frozen seafood and local game to cook at home. Availability widely varies so check before you visit.
Tel. 01478 503141
Meat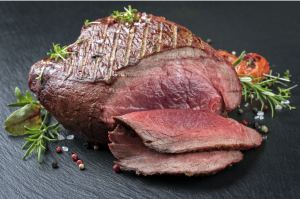 5. Fearann Eilean Iarmain Estate Venison, Isleornsay
Venison from this beautiful 23,000 acre estate that spans Sleat and Strath is a treat for summer BBQ's and winter stews. Venison mince/diced/steaks/fillets, burgers and sausages are usually available frozen, with generally more availability from October onwards, from the Gaelic Whisky and Gin shop, adjacent to the Hotel Eilean Iarmai.
Tel. 01471 833266 to check on availability
6. Raasay Estate Venison, Isle of Raasay Community Stores
There are a few local foods that can be picked up on a trip across to the Isle of Raasay – venison, island honey and vegetables growing in the walled garden of Raasay House. All can be found at the Raasay Community Stores, but do call to check availability.
Tel. 01478 660203
7. Skye Freerange Meat, Dunvegan
Quality free range poultry, beef and lamb produced on a croft on the north west coast of the Isle of Skye. Available direct from the croft or Armadale Castle Market
Tel. 01470 521274
8. Isle of Skye Black Pudding, Harlosh
MacLennan's Isle of Skye Black Pudding is made to a family recipe in small batches in Harlosh. Traditional and lightly spiced it's a great accompaniment to shellfish, poultry and meat as well as a key ingredient for a Scottish Breakfast.
Skye Black Pudding is stocked at the following: Armadale Stores | An Crùbh Shop, Camuscross | Atholl Filling Station Shop, Dunvegan | Buth na h-Abhainn, Broadford | Carbost Community Shop, Carbost | The Dunvegan Deli, Dunvegan | Isle of Skye Wholesale, Portree | Just Hooked, Portree |
Mrs Mack's Farm Shop, Torrin | Raasay Stores, Raasay | Rankin's Supermarket, Uig
email: marag@skyeblackpudding.com
Fresh Vegetables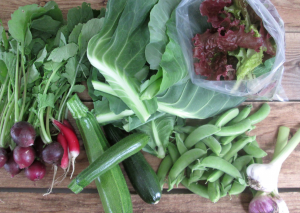 9. Raasay Walled Garden Veg Shack, Isle of Raasay
During the summer months the community garden volunteers at Raasay House produce wonderful fresh produce. Choose from salad leaves, carrots, artichokes, cucumbers, courgette, strawberries, spinach, potatoes, rhubarb. You name it, they'll likely grow it. Buy from the honesty stall near the Raasay Garden entrance or Raasay Community Shop.
Visit Raasay House and find out more about Raasay Community Gardens
Beer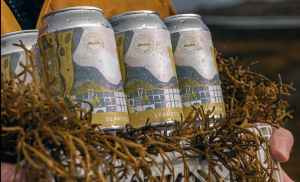 10. Isle of Skye Brewery Company, Uig
With Yer Ben, Black, Blonde, Red, Young Pretender, IPA, Cuillin Beast, Blaven, Tarasgear and Craft Lager to choose from there's a few day's-worth of tasting to enjoy – and a beer for every palate. It's great to visit the brewery and shop in Uig, or bottled-beers are available in most of Skye's food stores.
Find out more about Skye brewery
Tel. 01470 542477
11. Cuillin Brewery, Sligachan
A microbrewery producing traditional and experimental beer in the shadow of the Cuillin mountains at Sligachan. Using water from its namesake river the beers use innovative ingredients found locally – seaweed, seasalt and rhubarb. The seasonal brew, Over the Sea to Skye (an oat stout matured in whisky barrels from the Raasay Distillery) is always in demand along with its traditional beers Old Bridge red ale, Pinnacle and Black Horse. More eclectic brews include Seaweed IPA; Coffee Milk Stout; Rhubarb and Seasalt Sour.
Find out more about Skye brewery
Tel. 07795 250808
Whisky and gin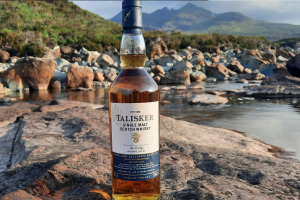 12. Talisker Distillery, Carbost
On the shore of Loch Harport visitors will find the home of the famed Talisker Distillery. Using water from springs in the nearby of volcanic basalt, Talisker has a very distinct flavour. Distillery tours (charges) take place daily throughout the year (less frequently in winter). They detail the history of the distillery and reveal how Talisker is made. The distillery is in Carbost; close to the bucket-list destinations of the Fairy Pools and Talisker Bay.
Find out more about this Skye whisky distillery
Tel. 01478 614308 Open all year; under-8s are not permitted
13. Torabhaig Distillery, Torabhaig
Located in a restored handsome old farmstead at Torabhaig this traditional distillery with its copper stills opened in 2017 and produces Single Malt Scotch Whisky. A tour takes you behind the scenes, with a popular Whisky and Chocolate Pairing Tour on offer with local chocolatier, Chocolates of Glenshiel.
Find out more about this Skye whisky distillery
Tel. 01471 833447 for tours and opening times
14. Raasay Distillery, Isle of Raasay
Another relatively new distillery to Skye on the beautiful adjacent Isle of Raasay. With stunning views from its distillery windows across to the Cuillins of Skye it's hard to pull yourself from the plush seats after a tasting and catch the ferry back. Whisky tasting tours and Raasay Gin – one of my favourite tipples. There is a cafe in the distillery, plus rooms to stay overnight.
Find out more about Isle of Raasay Distillery 
Tel. 01478 470178
15. Isle of Skye Distillers, Portree
The first commercial gin distillery in Skye, it houses two traditional copper stills and produces the well-known Misty Isle Gin with its 11 botanicals sourced from the island – including a mystery one sourced only from 'high altitude'. There is also a gin school here where you can have a go at crafting your own favourite tipple.
Find out more about Misty Isle Gin
Tel. 01478 611746
Baking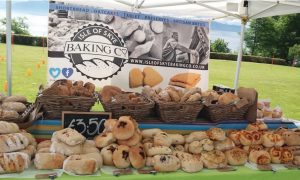 16. Taigh Ailean B&B, Portnalong
A great concept for B&B with goodies left in the porch to stave off the hunger pangs of guests and locals before heading off into Carbost for dinner. With a porch pick up, local chef Elanor bakes up carrot cake quiches, pates, scones, muffins, brownies and more. So if you need to stock up for a walk to the Fairy Pools this is your stop for picnic heaven.
Find out the day's special bakes
Tel. 01478 640271
17. The Bread Lab, Carbost
Easily the best bread on Skye, Marcie uses organic flour and spring water to produce loaves of Beremeal, white, granary and pumpkin, rye and more. She fires up the oven every Wednesday for pick up at the Bread Lab on Thursdays. Althouogh she may have a few left over, she generally bakes to order.
To order call/text Marcie on 07920 112878 (on Tues/Weds for pick-up on Thurs)
18. Isle of Skye Baking Company, Portree
Fudge crumble shortbread, lemon and poppyseed torte, plum scones, and breads of every design and flavour baked in Portree. Takeaway available from the Portree store or from mainland farmers markets.
Find out more about the Isle of Skye Baking Company
Tel. 01478 612669
19. MacKenzies Bakery, Portree
In Protree's busy Market Square this bakery is popular with tourists and locals alike. Try their amazing chocolate brownie doughnut, vast Empire biscuit, huge Rocky Road and fresh sandwiches, with decent coffee to wash it all down too.
Find out more about MacKenzies Bakery Portree
Tel. 01478 612028
20. Dunvegan Bakery, Dunvegan
Super-friendly and the top place for treats this is the oldest bakery on Skye that bakes delicious homemade cakes, bread & pies. The corn bread and apple turnovers are heavenly, and the chocolate cake to die for.
Find out more about Dunvegan Bakery
Tel 01470 521326
21. Janns Cakes, Dunvegan
Don't be fooled by 'cakes' in the title – along with their great home-made bakes which are delicious and huge they also serves great curry, homemade soup and more. Everything at Janns is organic, so it gets a big tick from us.
Find out more about Janns Cakes
Tel. 01470 521730
22. Donny's Tablet Shed, Geary, Waternish
Scottish Tablet is a traditional Scottish sweet – a sugary confection made from sugar, condensed milk, and butter, which is boiled then allowed to crystallise. It's tempting to say it is a bit like fudge, but tablet is much grainer and brittle in texture. Made to Donny's own special Scottish Tablet recipe.
Find out more about Donny's Tablet Shed
Tel. 07826 444145
Other local foods
23. Isle of Skye Sea Salt Company
Natural sea salt made from the mineral-rich sea waters of Loch Snizort, using only the sun and wind to evaporate the water to leave behind pure sea salt crystals. You can buy Skye Sea Salt in many local independent shops, or online. It is also used by many of the top Skye restaurants: Cuillin Hills Hotel |
Kinloch Lodge | The Three Chimneys. It is also a key ingredient in many artisanal products from chocolate and ice cream to cured meats.
Find out more about Skye Sea Salt
Tel. 07751 306601
24. Local markets
Along with independent shops Skye's local products can be found in markets held in various locations across the island. Here are a few to consider:
Made in Minginish Artisan Market, Portnalong (see 24 on map)– along with locally-made crafts there is all sort of produce made on this fabulous peninsula that's home to Talisker Distillery. Try Sheena's chilli jam or Janice's legendary cheese scones
Armadale Castle Market, Dunvegan (see 25 on map) – held on the 2nd Saturday of the month from May till September. Locally reared meats and baked goodies from the isle of Skye Bakery are always on offer.