Nestled off the west coast of Scotland, the Isle of Skye is a mesmerising tapestry of rugged landscapes, ancient castles, and breathtaking panoramas. Known for its enchanting beauty and tranquillity, Skye has become a sought-after destination for nature enthusiasts, adventure seekers, and those on a bucket-list holiday. Whether you're drawn to its dramatic landscapes, cascading waterfalls, or glowing Northern lights the Isle of Skye offers top Scotland accommodation and some of the best Scottish cuisine. We have a home on Skye, and these are some of our top picks.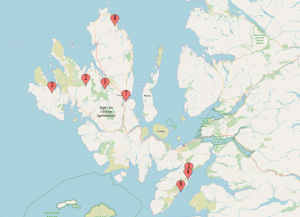 1.Kinloch Lodge: remote and refined Skye bolthole
Located in Sleat at the head of Loch na Dal this luxury hotel, a Macdonald clan's 16th-century hunting lodge, offers stunning mountain and loch views. It features elegant and luxurious rooms, a Michelin-starred restaurant focussed on local food, and a cosy lounge with a welcoming fire.
Our top tip: go out with the hotel's ghillie and learn new foraging skills
Local highlights: you won't be able to drag yourself away from this hotel! If you do though, you are well located to explore Armadale Castle, drive the South Skye Loop and Broadford it a relatively short trip away.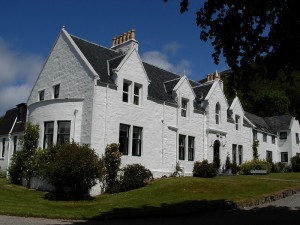 Kinloch Lodge Reviews, information, availability and booking
Photo credit: "Kinloch Lodge" by Mathieu B. is licensed under CC BY 2.0.
2. Edinbane Lodge: Best for local Scottish cuisine
Edibane Lodge, a 500-year old former shooting lodge, is the place to go for a real Skye foodie treat. Set above Calum Montgomery's four-AA-Rosette restaurant stay in one of 4 cosy and well-appointed rooms and wake up to the sounds of nature.
Our top tip: try the 10-course 'Taste of Skye' dinner menu
Local highlights: well located to explore the Waternish and Trotternish peninsulas; and sits between Portree and Dunvegan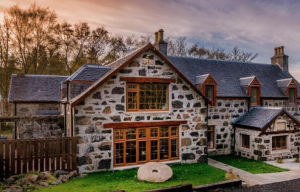 Edinbane Lodge Reviews, information, availability and booking
3. The Three Chimneys & The House Overby: Gastronomy & astronomy
Situated in wild and remote Colbost, overlooking Loch Dunvegan, this renowned restaurant also offers luxury Scandi-style rooms in a beautiful setting. Its restaurant focuses on using local, seasonal ingredients to create exceptional dishes. The lack of light pollution here makes it a top spot to stargaze and experience the seasonal Northern lights, so staying over is a treat.
Our top tip: immerse yourself in the Isle of Skye foodie experience by booking the communal 'Kitchen Table' for a birds-eye view of the chefs at work
What's near by: The hotel is on the way to Neist Point Lighthouse; and Dunvegan Castle is a short distance away.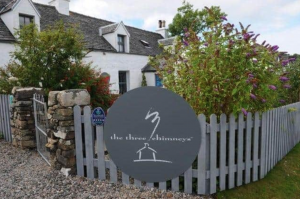 The Three Chimneys and The House Overby Reviews, information, availability and booking
4. Duisdale House Hotel: ship-shape and best for wildlife
A former 1860s hunting lodge, this boutique hotel has a distinctly nautical theme reflected in the décor, menu, and the fact that you can moor your yacht on its private moorings. Overlooking the calm waters of Loch na Dal in the Sound of Sleat it boasts beautiful views out to the looming peaks beyond. Spot eagles, otters, deer and seals on an organised 4×4 wildlife watching adventure or wander around the beautiful 35 acre gardens that stretch down to the shoreline.
Top tip: grab the Sea-view Delux Suites for spectacular sea views
Local highlights: try a tipple at nearby Toravhaig Distillery; the hotel is well-located for all south Skye attractions and close to Broadford.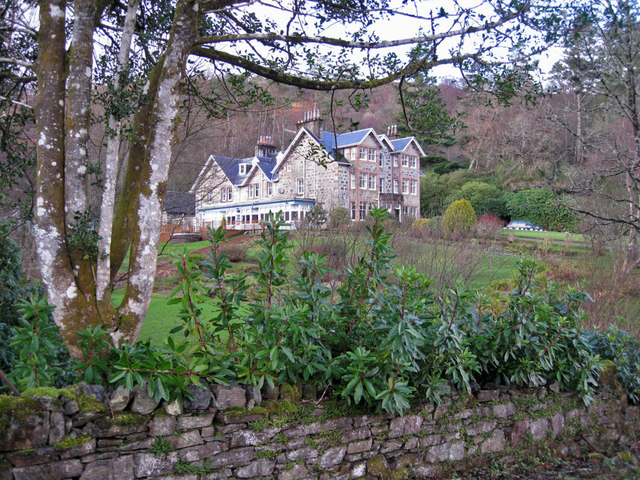 Duisdale House Hotel Reviews, information, availability and booking
5. Skeabost House Hotel: Big on country sports
Situated on the banks of the River Snizort, this elegant hotel and restaurant offers fly-fishing, a raft of country pursuits and one of Scotland golf course where you can stay onsite. The wood-panelling and vast leather armchairs add a touch of luxury in this one-time hunting lodge. Offering a diversity of luxurious rooms, suites and stand-alone lodges, with beautiful views and 23 acres of woodland, it's exclusive yet right on Portree's doorstep.
Top tip: ask for whisky on your breakfast porridge to fortify you for the day
Local highlights: all the highlights of Portree, and well-located to explore all of Skye's biggest attractions within easy day trips.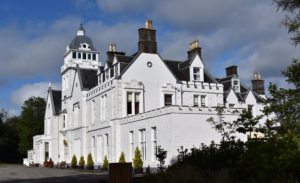 Skeabost House Hotel Reviews, information, availability and booking
6. Toravaig House Hotel: Intimate and spirited
Located in Sleat, all the rooms in this intimate luxury hotel are named after Hebridean islands, with Harris Tweed throws on the beds. The hotel can arrange all sorts of activities from fly-fishing to simulated deer stalkings and a private tasting of a whisky flight in the lounge. Breakfasts are delicious and cream teas and sharing platters are served all day. Evening meals are served in its sister property, Duisdale House Hotel (free shuttle).
Top tip: Toravaig Distillery is right next door
Local highlights: it's a great base to explore the South Skye Loop and is only a 10 minute drive from the Armadale ferry to Mallaig on the mainland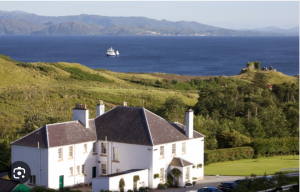 Toravaig House Reviews, information, availability and booking
7. Cuillin Hills Hotel: most popular luxury hotel in Skye
This 200-year-old hunting lodge, converted into a hotel in the 1950s, is often quoted as the best hotel on Skye with luxurious rooms, fabulous views, and great staff. Overlooking Portree harbour and looking across to the Cuillins in the distance the public rooms are full of Scottish class whilst the modern bedrooms are stacked with all the mod cons of an urban hotel. The restaurant and bar are always full of international travellers and there is a great vibe to the hotel.
Top tip: Nespresso machines in the rooms
Local highlights: Portree is in walking distance; easy access to the highlights of the north of the island including The Quirang, Trotternish Ridge, Fairy Glen and more.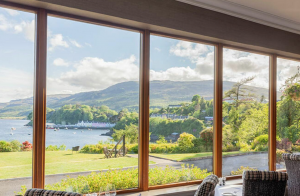 Cuillin Hills Hotel Reviews, information, availability and booking
8. Flodigarry Hotel: Sumptuous outdoors and in
A spectacularly-located hotel with fabulous service, stunning food and drink in the north of Skye. Backed by the mountainous Trotternish peninsula and close to coastal and hilltop routes this is a walker's paradise. The extravagant rooms are individually designed suites with a South East Asian twang. The bar is feted as one of the most attractive in Skye, and the well-rated restaurant has stunning sea views.
Top tip: Don't miss the full Scottish breakfast
Local highlights: The Quirang, Trotternish Ridge walks and driving the north loop of Skye
Flodigarry Hotel Reviews, information, availability and booking
Please note there are affiliate links are in this blog – this hasn't altered our selection in any way. If you click on them the small commission enables us to continue our work on this website which is is 100% funded from our own pockets.