North Uist offers some tempting stops for the foodie (and hungry cyclists). Here's our favourites: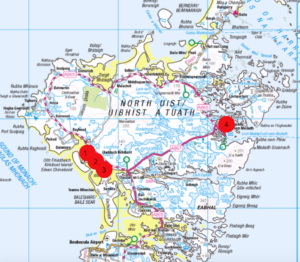 1. Westford Inn – 'I love North Uist' I stated to the local rooted to his stool at the well-stocked bar. His serene reply, 'And North Uist loves you back' is possibly the warmest pub welcome I'd ever had.  I had just cycled around the whole island and had spotted the Georgian building against a backdrop of machair, white sands and pale blue ocean.  Packed with locals, cyclists, walkers, shooting parties and travellers alike it's a stark contrast to the peaty wilderness outside. This lively oasis offers traditional music nights, a vast range of gins, Isle of Skye real ales, local venison and seafood dishes. The scallops and salmon, smoked on a traditional peat fire just down the road, are described by Pru Leith as 'the best in the world'. A must for any Hebridean traveller. At the back of the pub the bothy, overlooking Kirkibost Island, offers a comfortable en-suite double room. Best to make the most of it if you are heading west, the next stop is the USA.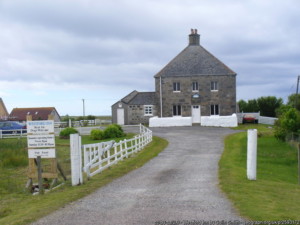 2. Claddach Kirkibost Centre – a great cafe within a unique community-run project which provides a range of services for the benefit both of the local community and visitors alike. Also has a gift shop selling locally-made products and sells food produced under the Hebridean Kitchen brand. Free wifi and a full programme of walks and talks and much more (Image by Aline Ponce from Pixabay)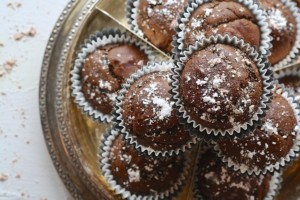 3. Hebridean Smokehouse – they claim that they are the home to the 'best Scottish smoked salmon and shellfish' and I don't think they are far wrong. They source salmon, sea trout and scallops from local waters and use locally-cut peat and beechwood to smoke them. I can personally vouch for their peat-smoked scallops and fish but also don't miss out on their whisky barrel oak-smoked salmon, smoked fish pates and Hebridean gravlax.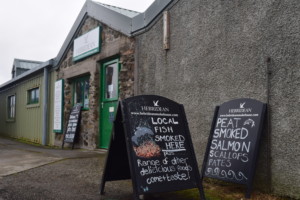 4. Taigh Chearsabhagh Museum & Arts Centre – another local community resource with a great cafe, regularly changing art exhibitions, live music events all located on the shoreline of a marine Special Area of Conservation close to the ferry in Lochmaddy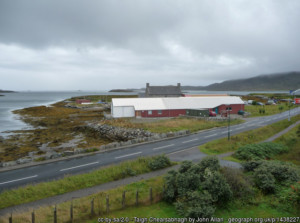 Details of a fabulous cycling circuit (or drive) around North Uist describing all the points of interest on the way can be found in the book Islandeering: adventures around the outside edge of Britain's hidden islands