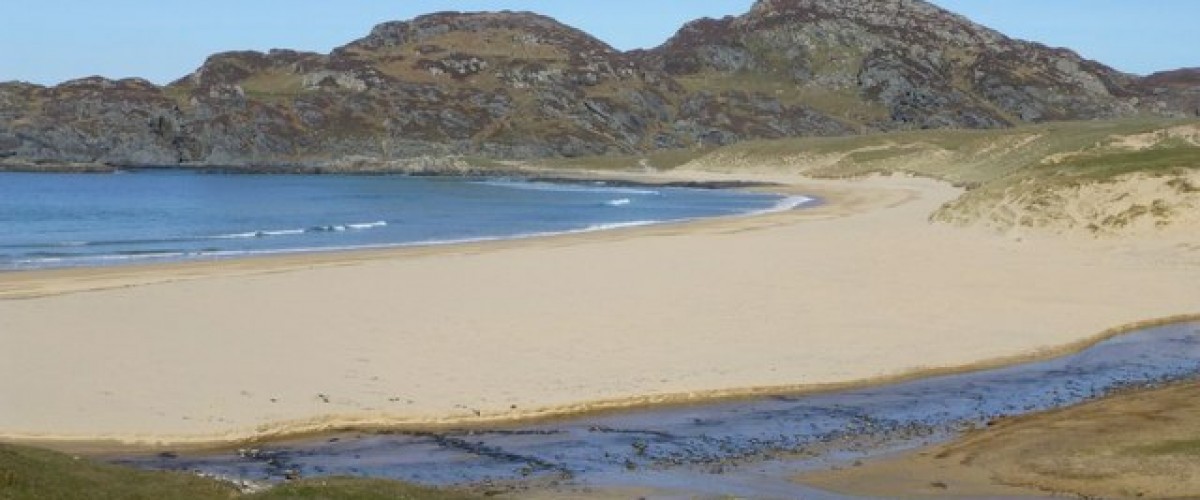 High Point: Carnan Eoin (143 metres)
Population: 135
Size: 4074 hectares
Wild Factor: 10 out of 10
Overview: Colonsay is known as the jewel of the Hebrides and with its spectacular beaches, good walks, friendly community, great food and two gin distilleries it's easy to see why. The arrival point is the tiny hamlet of Scalasaig with a post office, general store, café, bookshop and village hall. From here it is possible to explore the island's many beaches and places of interest by bike, or do the full island circular ride.
Surrounded by crystal clear waters the best beaches on Colonsay include Kiloran Bay (popular for surfing, swimming and paddle boarding) and Balnahard on the north coast with views over to Mull, Scarba and Jura. There are a number of popular walks on the island along the rugged and impressive west coast; the ancient route across the island to Colonsay House (and Kiloran Bay); or climbing the highest peak, Carnan Eoin. Colonsay also has 22 MacPhies, hills above 91 metres, most of which do not have formal paths – a great challenge for the committed.
Colonsay has plenty of cultural highlights on offer too with range of events, including a music festival and book festival, there's a fascinating craft shop and the island is one of the few places that successfully keeps native black honey bees (their honey is delicious).
Type of island: inhabited
Location: Inner Hebrides, Scotland
How to get to Colonsay: CalMac ferry from Oban to Colonsay takes 2 hours 20 minutes; also sailings from Islay, which takes 70 minutes and can be reached from Kennacraig, near Tarbert.
Getting around Colonsay: the best way is on foot or by bike
Best time to go to Colonsay: Colonsay is open to visitors year round.
Events on Colonsay: Colonsay hosts a variety of events including the following:
Literature Festival – usually in April/May, more details here
Food and Drink Festival – usually in October, more details here
Ceòl Cholasa  – a hugely popular music festival (September), more details here
Access to Colonsay: ferry
Dog friendly: yes
Food and drink on Colonsay: there  is some great food on Colonsay to take out for a beach picnic or to eat in. Here are some favourites:
The Pantry – right by the harbour that sells freshly baked bread, cakes and biscuits; light lunches and suppers including the scrumptious seafood platter.
Colonsay House Gardens Cafe – soups, filled bread rolls, tarts, teas and coffees and home-baked cakes served on a large sunny garden terrace overlooking the garden.
The Colonsay Hotel – gastro-pub and bar
Accommodation on Colonsay: a number of options on Colonsay ranging from hotel (closed November to March), B&B, self-catering, hostel (closed winter months) and wild camping (no camper vans or motorhomes permitted on the island). Check out accommodation on Colonsay here
Contacts:  Colonsay Post Office (fount of all knowledge – telephone 01951 200323)
Best things to do Colonsay: 
Cycle the island circuit – more here
Wild swim at Kiloran Bay and experience the "Colonsay washing machine"
Attempt all 22 MacPhies – more here
Help grow the whale sculpture by adding a stone – more here
Climb to the island highpoint for great views – more here – more here
Go the beach – find the best ones here
Look out for:
Seabird colonies on west coast cliffs
Rare marsh helleborine
Wild goats – descendants of those from a wrecked Spanish Armada
Nearby islands: whilst you are there, why not explore:
Oronsay – more here
Join our Islandeering community
We continuously find new islands, rivers, lochs, canals and coast to walk, SUP and swim in and meet plenty of great folks along the way. Join our community to get new routes and adventures, latest blogs and news by using the email box below. Tune in also to our Facebook and Instagram pages to see where we are going next.