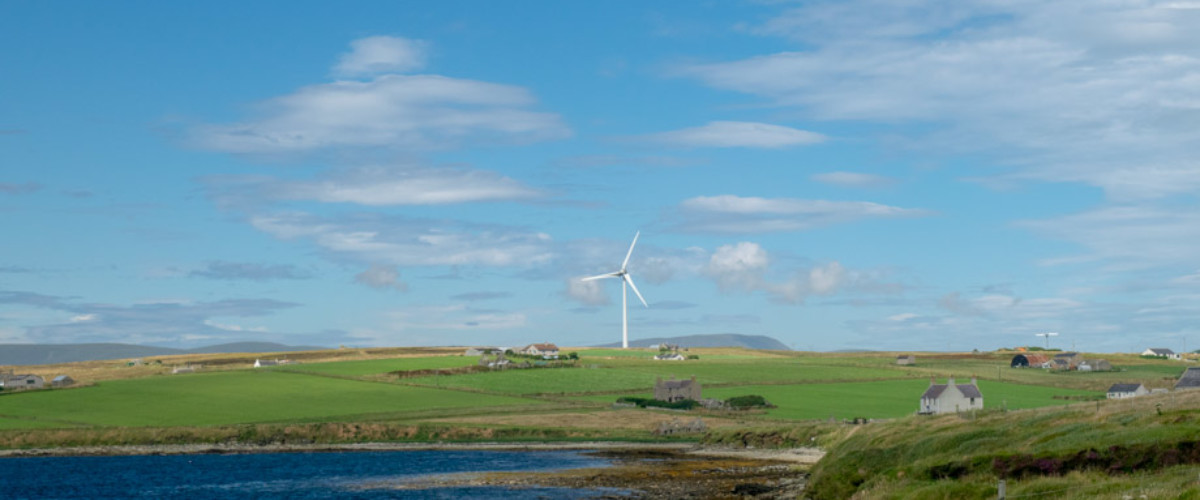 Distance: 18.9 km
Difficulty: 1/5
Method: Walking
Wow Factor: 8 out of 10
Key Facts
Location: Orkney
Size: 876 hectares
Terrain: Grass paths, tracks or quiet island roads
Access: Ferry
Height gain: 270 metres
Map: OS Explorer 462
Starting point: Flotta ferry terminal. Lat/Long 58.837879, -3.128490;
Accommodation/food:

Toilets at the ferry terminal and community centre along with hot and cold refreshments (seasonal opening times tel. 01856 701219). General store next to the museum. Self catering cottage, B&B and hostel on the island.

Island Summary:

Flotta sits at the southern entrance of Scapa Flow and completes the circle of islands that protect this centre of calm and stunning natural beauty from the wilds of the North Sea. Its profile is dominated by a glowing flare stack and huge wind turbine which both tower above any other structure in Orkney. The rest of the island is made up of the wild Golta and Stanger Heads and West Hill or is quietly farmed with lush grass meadows that gently slope to the sea.

Look out for:

Spot whales and dolphins
Some of the best wartime relics
Geos and stacks at Stanger Head
Puffins at Stanger Head
Great views across Scapa Flow

Route description:

This coastal circuit follows the easy Flotta Trail on a generally unmarked path that takes in the impressive and beautiful coastal formations and seascapes. The route also visits the vast array of atmospheric wartime ruins and artifacts from when it was the UK's chief naval base during both world wars. If ferry times permit there is an extension to spot the wildlife on the remote and wild Golta Head after passing the fascinating works of one of the countries most important oil terminals.

Getting there:

Ferry from Lyoness, Hoy or Houton, mainland Orkney by Orkney Ferries. (Tel. 01856 872044, http://www.orkneyferries.co.uk ).
To see this map cookies and javascript must be enabled. If you are still having trouble after having checked both of these please contact us using the link at the top of the page
Welcome new readers
Take a look around the site. Learn about islands you may never have heard of. Take up the islandeering challenge and find a pioneering route, or simply see what each island has to offer for a more chilled out visit. Go to 'islands' and find something that inspires you.
Become an islandeer
We have a lot of fun here, as we continuously find new islands and meet plenty of great folks along the way. So you'll want to follow along. You can get new routes and adventures, latest blogs and news by using the email box below. Tune in to our Facebook and Instagram pages to see where we are going next. For the richest experience though, just keep checking the website for the latest.