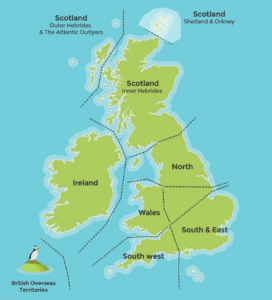 Only separated from the Scottish mainland by ten miles of the swirling Pentland Firth this archipelago is a world apart.
Orkney is exceptional. Its rich past has bestowed upon it the densest concentration of prehistoric monuments in Britain and its previous Norse sovereignty has left many a trademark. More recently the sheltered waters of the remarkable Scapa Flow were home to The Fleet during the second world war leaving relics galore scattered over each of the islands.
The Orkneys have a thriving economy derived from agriculture and the North Sea oil industry as well as tourism. Its rich capital, Kirkwall, is the gateway to the islands with cathedral, its efficient network of Orkney Ferries and an airport.
Whether spotting climbers scaling the Old man of Hoy, exploring the old war buildings on Flotta, eating crab or watching puffins on Westray, cuddling the tiny last great auk statue on Papa Westray or listening to Billie Muir's stories of 45-years as a lighthouse keeper on North Ronaldsay – you'll be astounded by what the Orkney's have to offer the walker, cyclist and visitor alike.