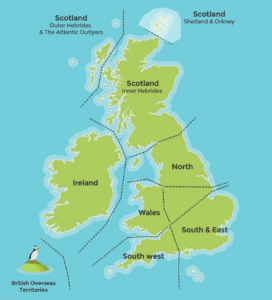 Ready for being swept off your feet – both metaphorically with the landscape and physically with the winds? The Shetland Islands are the last untamed wilderness of the British Isles.
The islands of this archipelago form the most northerly point of the British Isles. They are bleak and beautiful. They are populated by the warmest of people. They are stacked with the wildest of wildlife. They feel more Scandinavian than Celtic. They are oh so peaceful yet are hotspots for the best of traditional music. The fact that they are home to the Up Helly Aa Viking festival says it all really.
Whether you are in the otter capital Yell or watching the Orca's hunt at Sumburgh Head, photographing puffins on Fetlar or escaping the Skuas on Unst, walking and cycling around the Shetland Islands is a very real wildlife extravaganza.
Although miles away from the densest populations of Britain all of the Scottish Islands are remarkable in their own way. They are a joy to travel to and they are a joy to travel around. I haven't mentioned the weather but that one is up to you. Choose your moment and transport yourself to some of the most beautiful places on earth.