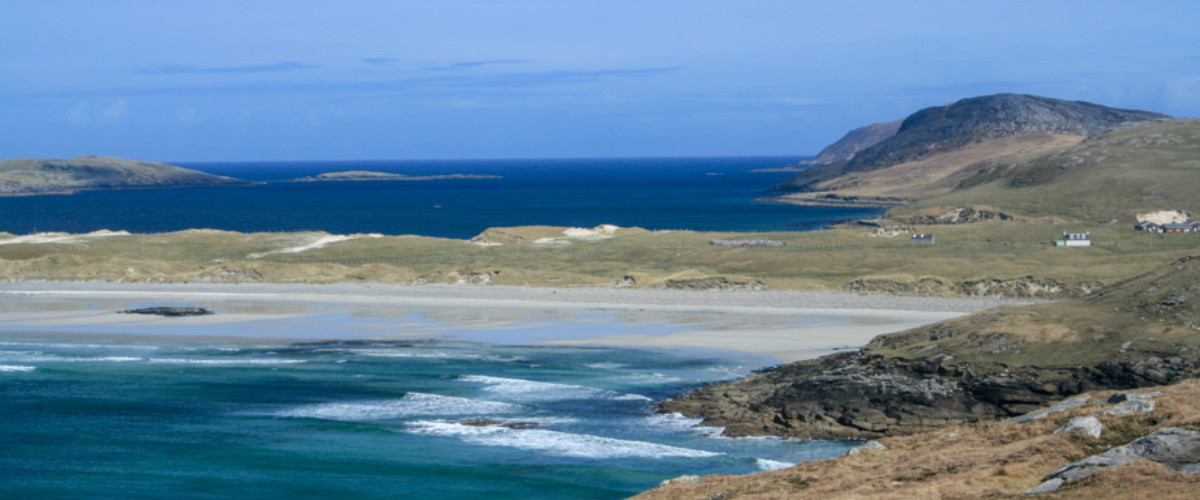 Distance: 22.1 km
Difficulty: Moderate
Method: Walking
Wow Factor: 9 out of 10
Key Facts
Location: South of Barra, Outer Hebrides
Size: 960 hectares
Terrain: Free range on faint paths; some easy scrambling and route finding around steep rocky inlets
Access: Road bridge
Height gain: 546 metres
Map: OS Explorer 452
Starting point: South end of the causeway. Lat/Long 56.945966, -7.533267. GR NL 63680 97489
Accommodation/food:

Vatersay Community Hall Café at the north end of the tombola for simple but adequate refreshments and toilets. Open during summer months only and is probably best to check otherwise all food and water should be taken.

Island Summary:

Vatersay lies to the south of Barra across the Sound of Vatersay and is the most southerly inhabited island of the Outer Hebrides and also the most westerly inhabited place in Great Britain. It is almost split into two islands with the hilly north joined to the hilly south by a low-level tombola that has two long beaches on either side of the dunes. The friendly main settlement on Vatersay sits at the southern end of the tombola, with the seasonal Community Café at its north end.

Look out for:

Spotting otters along Vatersay Sound
A secluded swim at the stunning Bàgh a' Deas
Navigating around the deeper inlets of the heavily indented coastline
Hand-dived scallop pakoras at the Café Kisimuls on nearby Barra
Feeling of true isolation at the western tip of the inhabited British Isles

Route description:

This is a longer walk that mostly follows faint animal paths that criss-cross the machair, grass, rocks and rough grazing on the edge of this island. There are easy scrambles on each of the headlands with stunning beach crossings at Tràigh Bhàrlais, Tràigh Siar and Bàgh a' Deas. The coastline is deeply indented and provides plenty of opportunities to explore the deep shafts and rock pools for their rich sea life. The island can also be walked in two shorter sections by using the beach carpark on the tombola as the staring point.

Getting there:

From Barra drive south to the Vatersay causeway where there is plenty of parking. By bus Vatersay is linked to Castle Bay by the W33 Monday to Saturday.
To see this map cookies and javascript must be enabled. If you are still having trouble after having checked both of these please contact us using the link at the top of the page
Welcome new readers
Take a look around the site. Learn about islands you may never have heard of. Take up the islandeering challenge and find a pioneering route, or simply see what each island has to offer for a more chilled out visit. Go to 'islands' and find something that inspires you.
Become an islandeer
We have a lot of fun here, as we continuously find new islands and meet plenty of great folks along the way. So you'll want to follow along. You can get new routes and adventures, latest blogs and news by using the email box below. Tune in to our Facebook and Instagram pages to see where we are going next. For the richest experience though, just keep checking the website for the latest.