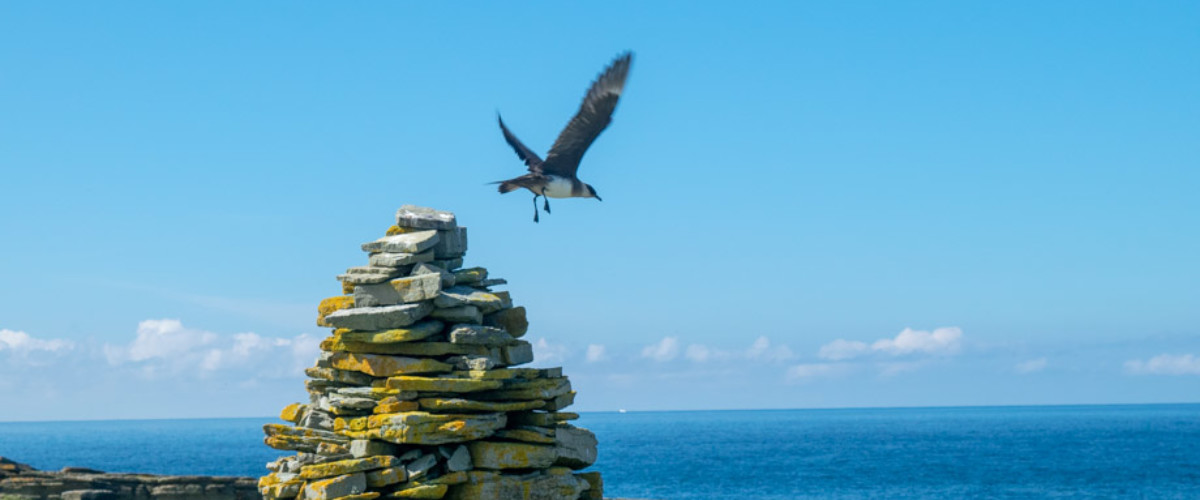 Distance: 20.1 km
Difficulty: Easy
Method: Walking
Wow Factor: 10 out of 10
Key Facts
Location: Orkney
Size: 18 hectares
Terrain: A mix of easy rock and grassy paths
Access: Ferry
Height gain: 176 metres
Map: OS Explorer 464
Starting point: Knapp of Howar near the airport and hostel. Lat/Long 59.349483, -2.910883. GR HY 48298 51815. Or start at the ferry jetty in Moclet if arriving by boat.
Accommodation/food:

A fabulous community coffee morning is held every Wednesday from 10.30-11.45am in St Ann's Community Room. The hostel at Beltane House is host to the weekly 'pub' on Saturday nights from 8pm; it's also the site for the well stocked community run shop. Toilets are located at the ferry pier, hostel and the Kelp Store. Range of accommodation on the island.

Island Summary:

Papa Westray, known as Papay to those who adore it, is one of Orkney's smallest islands lying some 30 km north of Kirkwall. It is just 2 km from it's larger sister island of Westray, the departure point for the shortest scheduled flight in the world at just two minutes. It is packed with Neolithic ruins, wildlife, beaches and seascapes that all benefit from its remote and wild location.

Look out for:

Arrive on the world's shortest scheduled flight
Experience two oceans meeting in the northern tip of the island
Community coffee morning for the best homebakes and chats
Secret swims in rock-pools of the west coast or beaches of the east
Rare Scottish primrose and spectacular seabirds

Route description:

This is a straightforward anti-clockwise coastal route that passes near to everything the island has to offer. Nothing is too far away on Papa. The route is unmarked but easy to follow.

Getting there:

By air: two Loganair flights every weekday and one flight on Sunday from Kirkwall or take the world's shortest scheduled flight from Westray. You get a certificate to prove it. Loganair (+44) 01856 872494
By sea: two direct ferry sailings from Kirkwall per week. During the summer months passengers on foot can also take the daily ferries to Westray and connect by minibus to a short sea crossing to Papay onboard the 'Golden Mariana'. Orkney Ferries (+44) 01856 872044.
To see this map cookies and javascript must be enabled. If you are still having trouble after having checked both of these please contact us using the link at the top of the page
Welcome new readers
Take a look around the site. Learn about islands you may never have heard of. Take up the islandeering challenge and find a pioneering route, or simply see what each island has to offer for a more chilled out visit. Go to 'islands' and find something that inspires you.
Become an islandeer
We have a lot of fun here, as we continuously find new islands and meet plenty of great folks along the way. So you'll want to follow along. You can get new routes and adventures, latest blogs and news by using the email box below. Tune in to our Facebook and Instagram pages to see where we are going next. For the richest experience though, just keep checking the website for the latest.