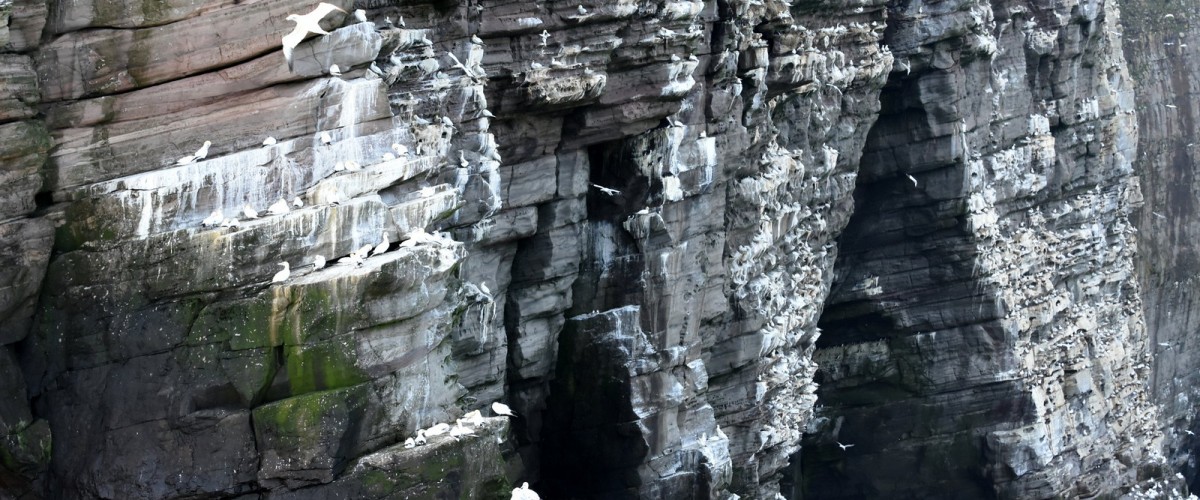 High Point: 181m
Population: 0 (seasonal wardens)
Size: 343ha
Wild Factor: 10 out of 10
Visit the Isle of Noss the stunning Island of Noss is home to some of Europe's finest seabird colonies of skuas, puffins, fulmars and kittiwakes with a truly impressive gannetry, and puffins galore. The island has a fine beach, beautiful views and the chance to spot whales, orcas, otters, seals and eider ducks amongst its dramatic scenery. The remarkable Noup of Noss is the highest cliff on the east side of Shetland.
Where to find the Isle of Noss the Isle of Noss lies to the east of Lerwick. It is separated from the island of Bressay by the narrow Bressay Sound
How to get to the Isle of Noss – the Noss ferry normally runs May – August, except Mondays and Thursdays, and when the sea is too rough. Just turn up at Noss Sound and the boat will come for you (the warden keeps a lookout during open hours).  Always call the Noss Ferry Line on 0800 107 7818 for up-to-date information before you travel to Noss. The short ferry trip is on a small RIB; passengers must wear the provided  lifejackets. To get to the Noss Ferry take the car ferry from Lerwick to Bressay and cross the island on the road following signs for Noss (car, walk or cycle). Parking is beside the turning circle at the road end. Bikes can be hired in Lerwick.
Getting around the Isle of Noss – walk the fantastic coastal circuit of the Isle of Noss – more details here
Best time to go to the Isle of Noss – mid-May to mid-July are best for breeding seabirds with seals, otters, wildflower and gannets around until the end of August.
Is the Isle of Noss dog friendly – as a National Nature Reserve dogs are strictly forbidden
Food and drink on the Isle of Noss – bring a picnic as there are no refreshments on the Isle of Noss. The Isle of Noss Visitor Centre (open 10-5 daily – except Mondays and Thursdays from May – end August) has toilets. The closest refreshments to the Isle of Noss are on Bressay. Where to eat on Bressay the larger neighbouring island has a number of options for food and drink including the Speldiburn Cafe, Maryfield restaurant and bar, and the island shop.
Where to stay near the Isle of Noss the closest accommodation is on neighbouring Bressay. Caravan parking with electric hook up points are available at the Bressay Marina Caravan Park.
Nearby islands: 
Join our Islandeering community
We continuously find new islands, rivers, lochs, canals and coast to walk, SUP and swim in and meet plenty of great folks along the way. Join our community to get new routes and adventures, latest blogs and news by using the email box below. Tune in also to our Facebook and Instagram pages to see where we are going next.