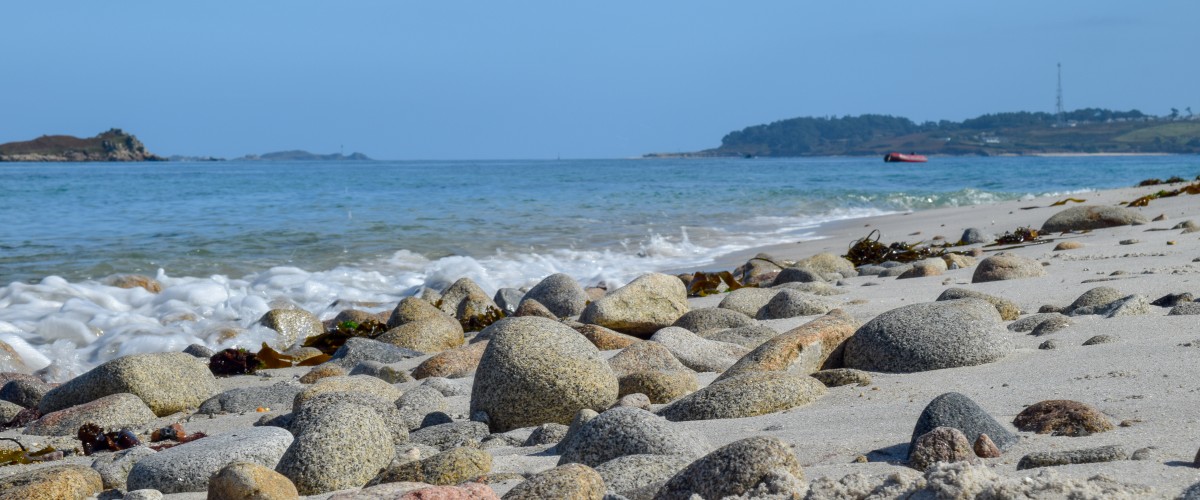 Unnamed Road, Isles of Scilly TR23 0PR, UK
Distance: 3.8 km
Difficulty: Easy
Method: Walking
Wow Factor: 10 out of 10
Key Facts
Location: Isles of Scilly
Size: 38 hectares
Terrain: Sandy paths; two small hills
Access: Inter-island ferry from St Mary's
Height gain: 130 metres
Map: OS Explorer 101
Starting point: Bar Point, north east of island
Accommodation/food:

Bar Point is one of the best picnic spots on Scilly. A deserted and idyllic beach. There are no facilities on this island, and wild camping is not permitted.

Island Summary:

The circular walk around Samson offers a blissful walk and plenty of opportunity to re-imagine the lives of islanders of the past as you explore the haunting ruins of their homes and farms. On most days you'll see few other people and can enjoy the soft white sands, shallow, clear water and silence.

Look out for:

Exploring the ruins of Neolithic sites
Walking up North and South hills for wonderful views
Wild swimming at Bar Point

Route description:

There isn't an official path around Samson, but it is easy to find your way along the beaches and foreshore on this lower tide circular walk around the whole island. There are rocky beaches to navigate, but nothing very difficult. Please not that from April to September, the full circular route is not possible to protect the wildlife on the south and west shores. An alternative walk during these months is to climb both of the islands hills to explore the ancient ruins and cairns. It is also wonderful to wander the sandy isthmus between the hills, to enjoy the wild flowers and the ruins of the fishermen's boat shed.

Getting there:

Getting to Samson is part of its adventure. The inter-island ferry from St Mary's requires a transfer mid-sea to a rib in order to land on the island. Some boats may also require you to 'walk the plank' to stay dry-ish as you set foot on the sand beach at Bar Point.
To see this map cookies and javascript must be enabled. If you are still having trouble after having checked both of these please contact us using the link at the top of the page
Welcome new readers
Take a look around the site. Learn about islands you may never have heard of. Take up the islandeering challenge and find a pioneering route, or simply see what each island has to offer for a more chilled out visit. Go to 'islands' and find something that inspires you.
Become an islandeer
We have a lot of fun here, as we continuously find new islands and meet plenty of great folks along the way. So you'll want to follow along. You can get new routes and adventures, latest blogs and news by using the email box below. Tune in to our Facebook and Instagram pages to see where we are going next. For the richest experience though, just keep checking the website for the latest.