'Quick if you look to the right you'll see the Red Arrows' said the head twitcher in the Dorset Wildlife Trusts bird hide on Brownsea Island. It was full of bearded tit enthusiasts and me. Not quite the words I'd expected to break the silence that had up until now stifled my urge to shout 'look at the spoonbills, aren't their bills incredible, they look just like spoons?'
The National Trust-owned Brownsea Island sits serenely in the bustle of Poole Harbour. Known mainly as the birthplace of the Scouting movement and its red squirrel population, Brownsea offers much more to those who venture into the Dorset Wildlife Trust's reserve.
My quest today was to take a break from walking around the island to find out more about the reserve. Occupying the northern shores of the island this reserve is a haven for wildlife. Today I wanted to see its unique spoonbill population.
Packing my new zoom lens I headed along the wooden boardwalk towards the Villa. I paid my extra £2.00 to enter and was advised by an earnest volunteer to 'watch out for the bearded tits in the hide'. A disturbing picture formed in my mind.
Spoonbills have not bred in Britain for over 300 years. Unfortunately, along with many other species, they have suffered from a massive loss of habitat. No wonder then the excitement when the largest flock of spoonbills ever seen in the UK landed on Brownsea's lagoon in 2014. Like the thousands of tourists that are captivated by Brownsea Island these spoonbills return every year.
Entering the hide was like entering a church. Full of devotees dedicated to their cause. The silence was broken by 'do you know what spoonbill chicks are called?' said one. 'No' I said not quite anticipating his response. 'Teaspoons' he replied, suppressing a grin.
He went on to explain that spoonbills are rare birds usually found in southern and eastern Europe. They are slowly returning to Britain as a result of stronger breeding colonies in Holland and Belgium. The young birds now venture further to find new breeding grounds and overwintering sites.
Brownsea Island offers them the perfect habitat for them with its clean, shallow lagoon and vital protection from human disturbance.
Today the majority of the spoonbills appeared to be asleep, frustratingly tucking their heads under their wings and covering their distinctive bills to pass off as 'probable egrets' to the fledgling birdwatcher.
Although empathetic to a bird that loves its sleep I was desperately hoping for something that would wake them up so that I could see their bills.
My call was answered by an overhead game of chicken played out by the red Arrows blazing red, white and blue vapour trails in the sky as they enthralled the crowds at a neighbouring airshow.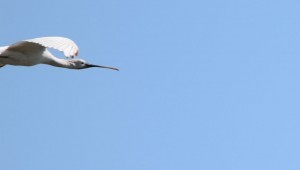 'Off they go' the hide chorused as the spoonbills took exception to the noise. And what a spectacle. Flying as a flock with their necks and legs extended and their graceful wing beats synchronised before fluttering downward to resettle slightly closer to the hide.'If you look carefully, a couple of the spoonbills are starting to feed' said my adopted bird mentor. Zooming in I was treated to quite a display. Standing tall in the shallow water on their long black legs several birds were sweeping their heads and partly-opened bills elegantly from side to side searching for their next salty morsel.
I was transfixed.
It is not just that I was experiencing a bird that is very rare in UK waters. For sure I found them handsome, quirky and somewhat secretive. It was more that Brownsea Island, this very special place, offered them refuge and a quality of life rarely found elsewhere in the UK. A fact endorsed by the sheer number and diversity of other migrating birds, waders and seabirds gracing the view through the picture frame of the hide.
No wonder Brownsea Island was voted the best nature reserve in the UK by the people of Britain. Clearly, the spoonbills voted with their spoon-shaped bills too. They'd prefer to spend their winters here than join the rest of their mates heading to West African for a spot of winter sun. That's a ringing endorsement for this wonderful island.
Despite its short distance from the mainland, Brownsea Island is a world apart and not even the booming Red Arrow display could distract me from appreciating this. But if you do walk around this island don't miss the experience this Dorset Wildlife Trust's reserve has to offer.
Travel details:
Spoonbill watching season: mid-August through the winter
Getting there: Half-hourly boat service departs Poole Quay (01202 631828) and Sandbanks (01929 462383)
Cost: National Trust members free; non-members £6.75 adult, plus a £2.00 charge to enter the Dorset Wildlife Trust reserve
Facilities: National Trust café and toilets on the island