There are too many superb beaches to choose from on Lewis but here are some of our favourites: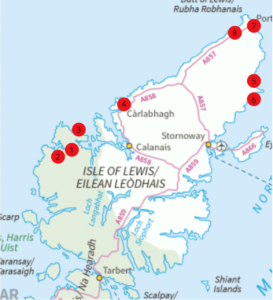 West coast
1. Uig Sands (GR NB 039 327) – huge expanse of golden sands, extensive dunes and turquoise waters. A great for swimming and when the tide is out it is a kite surfer's paradise.  The sands are best reached from the south where there is also the spectacularly located Ardroil Campsite.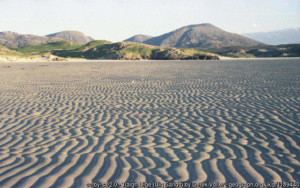 2. Mangersta Sands (Traigh Mangurstadh) (GR NB 007 308) – wonderfully located in Uig bordered by mountains and lochs inland this is one of the finest beaches in Lewis. It's a stunning white-shell beach with pounding waves. Not the best for swimming but awesome for wave watchers.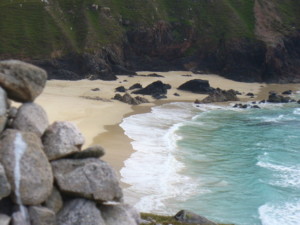 3. Voltos Beaches (GR NB 096 357) – lies on the West of Lewis and is found by driving towards Uig on the B8011 and turning right at the end of Loch Roag. A single track road leads you in a loop past the best beaches. The two largest beaches are the Cliff beach (Traigh na Clibhe) and just a little further along the coast is the lovely Reef Beach (Traigh na Berie) with its long sweeping white-shell sands and glorious summer displays of machair and lovely cliffs. Camping is available at Kneep (Cnip).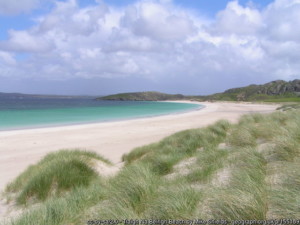 4. Beaches near Carloway – Dailbheag (GR NB 215 451) is a fantastic find a little further along the coast from the beautiful Dalmore beach (GR NB 215 451) with its rocky cliffs that extend seawards to form a headland. The currents can be strong here for swimmers. Parking at Dalmore beach.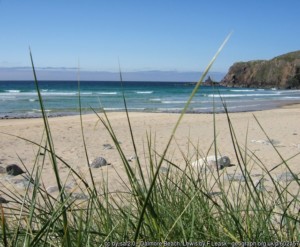 North east coast
5. Tolsta Beach and Ghioradail Beach – Tolsta Beach (GR NB 543 485) is located at the northern end of the B895. This beach is one of the premier beaches on the island, popular with surfers, and with toilet facilities. Additionally, there is a good walk over the 'Bridge to nowhere' along the coast. Ghioradail Beach is north of Tolsta Beach (GR NB 537 499) and is a secluded beach reached by a steep winding path and enclosed by lovely cliffs. A cave and jetty are nearby.  At each end there are rock pools that are the home of crabs, mussels and whelks and vibrantly-coloured seaweeds.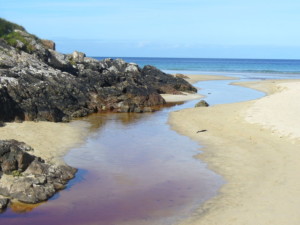 6. Traigh Ghearadha (Garry Beach) – 
turn to the left you get to the Bridge to Nowhere and you can easily access  the beautiful Tràigh
 Ghearadha which at low tide is 
a magical place. Tràigh

 Ghearadha is 

the starting point for the Heritage Trail, the ten mile coastal walk north to Ness with great sea stacks and caves to see en route.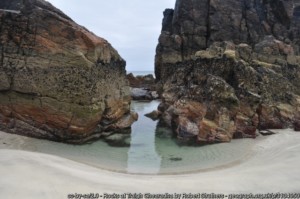 North coast
7. Beach at Ness and 8. Eoropie Beach – Ness is the most northerly village on Lewis and Ness Beach (Port Stoth) (GR 523 639), its most northerly beach. Ness is a good place to visit also on a wet day as there is a sports centre and play park as well as the beach and picturesque harbour. Eoropie Beach (Traigh Shanndaigh) (GR NB 511 646) is a long sweep of white sand and an excellent beach for surfing. There is a car park with picnic tables and refreshments are available nearby.