Sron Romul is Scarp's high point at 308 metres and is rarely climbed. The spectacular views from the summit include deserted sandy beaches, turquise seas and mountains of Harris.
There is no recognised route to the summit. It can be accessed either from the beach on the north side of the island or from the landing beach near the slipway in the south east.
From the north side of the island it is possible to head northwest and scramble up the gully then past Loch na Learga to the summit.
From the south east beach near the slipway it is also possible to make the steep ascent directly to the summit. if you want to avoid climbing Beinn fo Thuath on the way, walk north along the coast away from the slipway before turning west to start the main ascent.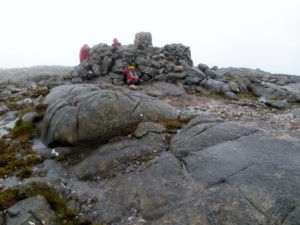 For ideas on coastal circular hikes around the islands of the Outer Hebrides get a copy of Islandeering: adventures around the outside edge of Britain's hidden islands