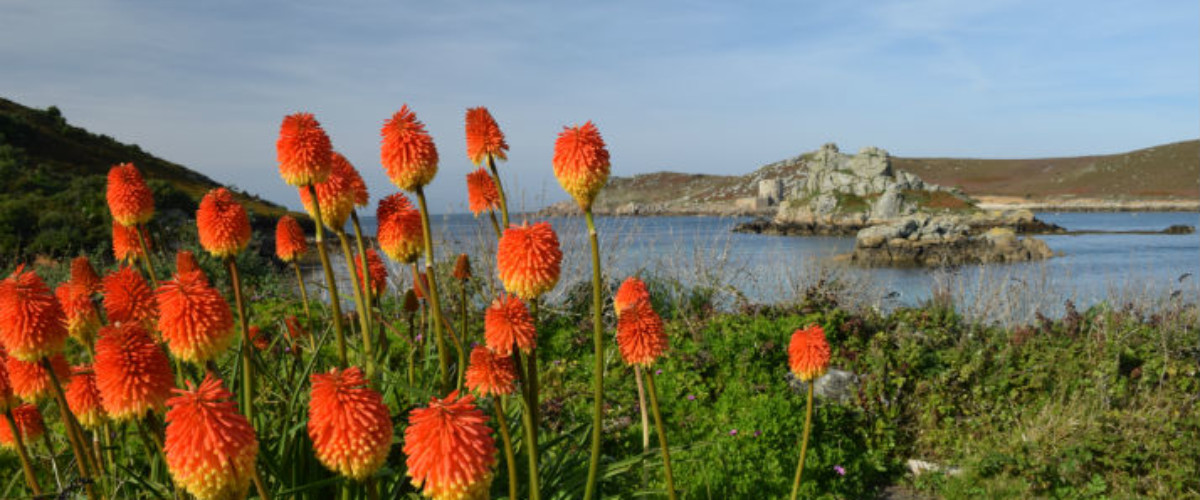 Church Quay, Bryher
All Saints' Church
Beautiful stained glass windows depicting ocean wildlife.
Island Fish
Fresh lobster and crab from Island Fish a.k.a. the Lobster man just left of the Vine cafe.
Distance: 8.2 km
Difficulty: Easy
Method: Walking
Wow Factor: 8 out of 10
Key Facts
Location: Isles of Scilly
Size: 330 hectares
Terrain: Easy to follow path; mixed grass and rock
Access: Ferry from St Mary's or Tresco; at very low tides it's possible to walk across from Tresco
Height gain: 181 metres
Map: OS Explorer 101
Starting point: Church Quay, Bryher. Lat/Long 49.9528, -6.3496.
Accommodation/food:

Food and refreshments Hell Bay Hotel n the west of the island; Vine Cafe in middle of island; and Fraggle Rock bar/cafe in the north east of the island. Don't miss Hell Bay's Crab Shack's local crab, mussel and scallop feast. Various self-catering, B&B's and a campsite. Well-stocked shop in The Town stocking the delicious island tattie cake.

Island Summary:

A rugged island pounded by Atlantic waves on one side in stark contrast to the tranquillity of the sheltered east coast and its quiet sandy beaches. With a pub called Fraggle Rock and the location for inspiring and filming Michael Morpurgo's, "Why the Whales Came" this island offers huge variety and interest to the islandeer. There are plenty of high quality refreshment stops too, along with temptation from the stalls selling fresh island produce and the delicious Veronica's fudge dotted along the way. You'll not go hungry here!

Look out for:

The beautiful stained glass windows depicting ocean wildlife in All saints church
Fresh lobster and crab from Island Fish
Swimming the gully at Shipman Head
Tattie cake from the stores
Explore the longest sea cave in Scilly

Route description:

A straightforward & varied route around the outer edge of the island. Don't miss a wild swim in the gully of Shipman Head, exploring the longest cave in the Scilly Isles on the west coast and the ancient cairns that dot the landscape

Getting there:

Boats from either St Mary's or Tresco.
To see this map cookies and javascript must be enabled. If you are still having trouble after having checked both of these please contact us using the link at the top of the page
Welcome new readers
Take a look around the site. Learn about islands you may never have heard of. Take up the islandeering challenge and find a pioneering route, or simply see what each island has to offer for a more chilled out visit. Go to 'islands' and find something that inspires you.
Become an islandeer
We have a lot of fun here, as we continuously find new islands and meet plenty of great folks along the way. So you'll want to follow along. You can get new routes and adventures, latest blogs and news by using the email box below. Tune in to our Facebook and Instagram pages to see where we are going next. For the richest experience though, just keep checking the website for the latest.