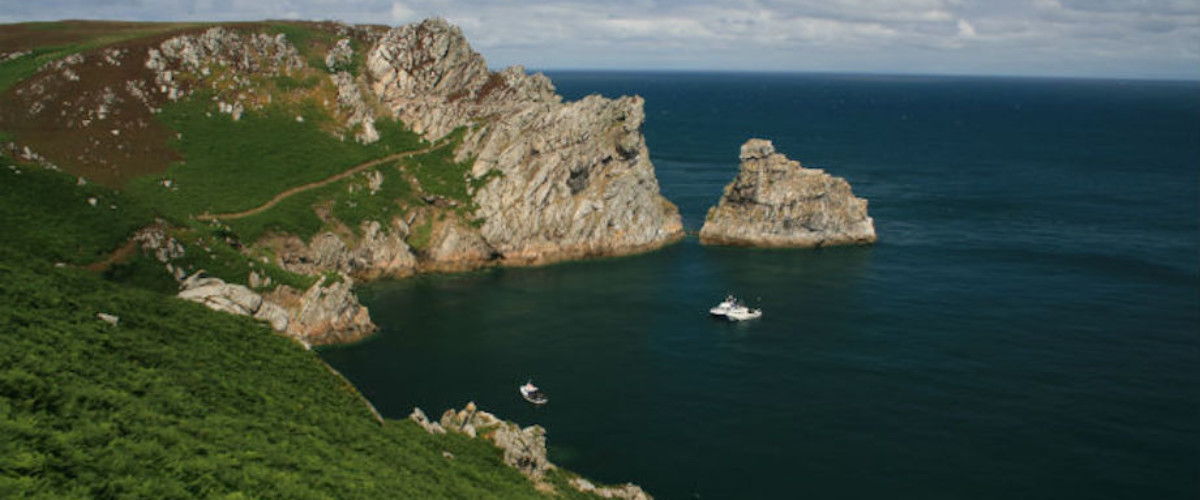 Distance: 14.3 km
Difficulty: Moderate
Method: Walking
Wow Factor: 8 out of 10
Key Facts
Location: Devon (north coast)
Size: 450 hectares
Terrain: Easy footpath; slightly rugged at north tip
Access: Boat trip from Ilfracombe
Height gain: 600 metres
Map: OS Explorer 139
Starting point: Landing beach
Accommodation/food:

Lundy Island accommodation offers a full range of self-catering options in many of the historic buildings, as well as a campsite. Hot and cold food is available at the Marisco Tavern and the Island Stores sells snacks and groceries.

Island Summary:

Walking the coast path around Lundy Island is a great way to see the best of its wildlife – puffins, migrating birds, the Lundy Cabbage, and the mischievous seals –  as well as most of the historic buildings and sights. The views from the whole route are incredible, stretching to Wales on one side and the coast of Devon on the other. It is possible to visit Lundy and walk the coast path in a day trip from Ilfracombe.

Look out for:

Famous Lundy puffins between April and July
Exploring smugglers caves and subterranean passages
Sampling the local brew at the legendary Marisco Tavern
Scrambling onto Rat Island

Route description:

The coast path around Lundy island starts from the landing beach. The circular walk quickly leaves the masses behind to head north up the ruggedly beautiful east coast to the seal colony at Gannets Rock. On reaching the northern tip the whole of the island, an expanse of grassland and heath, can then be seen to the south. Walking along the western coast, with its rock features that take the full force of the Atlantic, the puffins can be viewed (in season) and Battery Point is a great place to explore more of the island's history. The walk along the island's south coast passes the remains of the castle and then heads into 'town' for some well earned refreshments. (Download the full and free route on the LHS)

Getting there:

Sail on the MS Oldenberg from Bideford or Ilfracombe four days a week, end of March to end October. Helicopters only in winter time.
To see this map cookies and javascript must be enabled. If you are still having trouble after having checked both of these please contact us using the link at the top of the page
Welcome new readers
Take a look around the site. Learn about islands you may never have heard of. Take up the islandeering challenge and find a pioneering route, or simply see what each island has to offer for a more chilled out visit. Go to 'islands' and find something that inspires you.
Become an islandeer
We have a lot of fun here, as we continuously find new islands and meet plenty of great folks along the way. So you'll want to follow along. You can get new routes and adventures, latest blogs and news by using the email box below. Tune in to our Facebook and Instagram pages to see where we are going next. For the richest experience though, just keep checking the website for the latest.