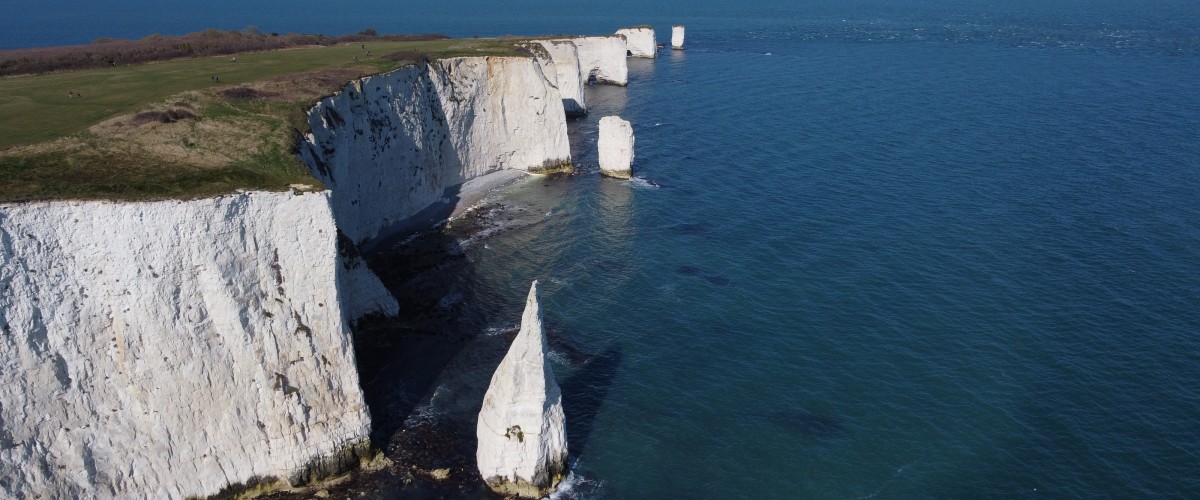 High Point: 20 metres
Population:
Size: <1 ha
Wild Factor: 10 out of 10
Old Harry Rocks are three iconic chalk formations, including a stack and a stump, located at Handfast Point on the Isle of Purbeck at the easternmost point of the Jurassic Coast, a UNESCO World Heritage Site. The rocks are thought to have been named after Harry Paye, a fifteenth-century pirate, thought to have lived on Round Island and who is said to have used Old Harry Rocks for cover before attacking passing merchant ships. He intercepted hundreds of French ships for gold, wine and exotic fruits which he distributed to the people of the Poole. Today Poole still has an annual fun day held in his name.
The rocks, owned by the National Trust, can be viewed from the South West Coast Path at The Foreland. Old Harry rocks used to be part of a long stretch of chalk between Purbeck and the Isle of Wight before large parts of this seam were eroded away. They are an excellent destination for sea kayakers, where the small caves and huge stacks can be experienced up close.
Location Dorset
How to get to Old Harry Rocks Old Harry Rocks can be reached from South Beach Car Park at Studland Bay and a 1.6 km walk along fields and grassland to reach the clifftop, with great views over Studland Bay along the walk.
Best time to go to Old Harry Rocks the coast walk from Studland to Old Harry Rocks is very popular at any time of the year.
Access to Old Harry Rocks Old Harry Rocks can be viewed from Ballard Down on the South West Coast Path. It is possible to swim or paddle to Old Harry Rocks from Studland Beach for those competent at understanding the tides here.
Dog friendly: Yes
Food and drink near Old Harry Rocks there are some great cafes and pubs closeby…. Here are some of our favourites
Other places for food and drink nearby include the National Trust's Knoll Beach Cafe; Middle Beach Cafe;
Where to stay near Harry's Rocks here are some of our favourite hotels, B&B's, self-catering and campsites near Old Harry's Rocks
Camping near Harry's Rocks
For rural camping within easy walking distance of Swanage and a short walk to Harry's Rocks Whitecliff Farm Campsite is a fab place for tent campers. For motorhomes and campervans we always use Ulwell Holiday Park which is a great location for this walk or for Swanage and beaches.
Hotels near Harry's Rock
Knoll House – with a stunning view from the front, a charming and timeless appeal, and open fires this unique hotel remains a firm favourite. Its delightful rooms have been a haven for a list of famous guests including Sir Richard Branson, Winston Churchill and Enid Blyton and, surrounded by National Trust land, it remains in an undeveloped area and a local treasure.
Holiday cottages near Harry Rocks
Clarence Cottage, Swanage – we love this fantastic  grade 2 listed  cottage, its quirky features and secluded garden where you can help yourself to fresh apples and figs. Only a short walk to Swanage and the beach.
The Barn, Ulwell – they say it's 'located away from people' and it is despite being close to Swanage. Great location for walkers.
Luxury hotels near Harry Rocks
The Pig on the Beach, Studland –  uninterrupted views of the coastlines, warm walled kitchen garden, a sea view conservatory restaurant, a path down to the beach, private beach hut, log fires and the usual to be expected from this small group of hotels
Nearby islands
Whilst you are there, why not explore other islands
Poole Harbour islands
Join our Islandeering community
We continuously find new islands, rivers, lochs, canals and coast to walk, SUP and swim in and meet plenty of great folks along the way. Join our community to get new routes and adventures, latest blogs and news by using the email box below. Tune in also to our Facebook and Instagram pages to see where we are going next.