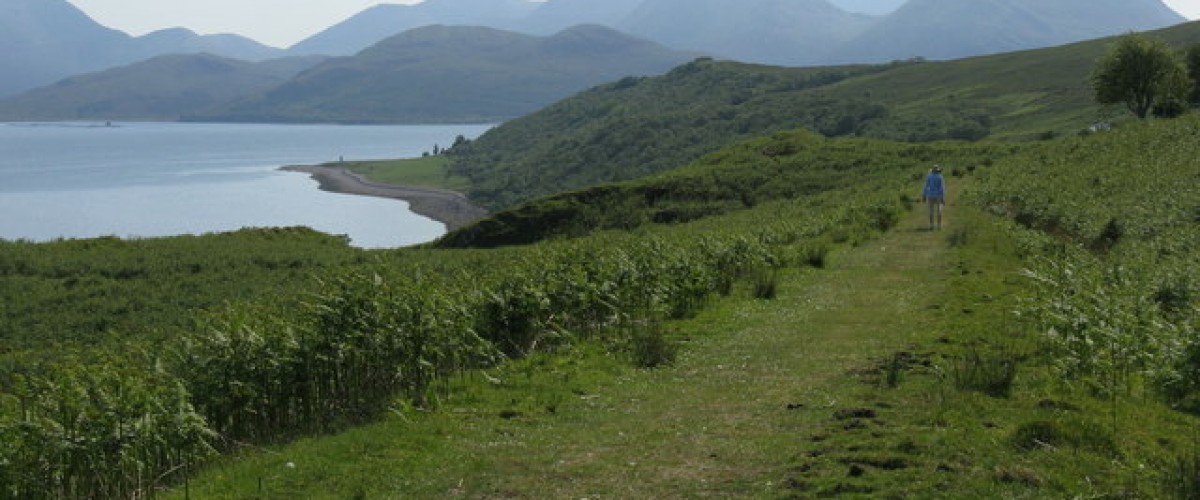 High Point: Dun Caan, 443 metres
Population: 160
Size: 6405 ha
Wild Factor: 10 out of 10
Visit the Isle of Raasay Just off the east coast of Skye, Raasay is a gem of an island that retains its slightly off-grid island feel compared to its much visited neighbour, Skye. From rolling hills to native forests and secluded sand beaches to rocky coastlines, with backdrop panoramas of the Cuillin to the west and Torridon to the east, this is an outdoor adventurers paradise with plenty of coastal walks, cycling, kayaking, birdwatching, and simply getting away from the world. Raasay is dominated by the iconic flat-topped volcanic peak of Dun Caan. The main village is Inverarish, 2 km north of the ferry terminal.
Raasay's rich diversity of habitats sustains an equally rich variety of wildlife. Its moorland, native forests and coastal cliffs are home to 60 species of birds including the sea eagle, golden eagle, tawny owl and sparrow hawk. Its bays and foreshore are home to oystercatchers, curlews and waders and red-throated divers and northern divers can be spotted on its lochs. Red deer and otters are numerous whilst Raasay is host to an array of rare mammals including the Raasay vole, mountain hares and pine martens. In the surrounding waters basking sharks may be spotted along with the more regular sightings of porpoise and dolphins and the occasional Minke or Pilot whale. Grey seals pup along the eastern shore.
Raasay is also very rich in flora, with rare and ancient flora found on the grassy slopes of the east coast which escaped glaciation. There are many varieties of alpines, saxifrages, orchids, ferns and mosses. The wildflowers are particularly good to see in Hallaig and Screapadal.
One of the Inner Hebridean islands its inhabitants from Mesolithic times have left a rich history to discover with a Bronze Age cairn, Iron Age dun, Pictish symbol stones, the remains of a Christian chapel and a 16th century castle.
Where is the Isle of Raasay Raasay sits between Skye and mainland Scotland separated from each by Raasay Sound and Inner Sound respectively.
How to get to the Isle of Raasay the only way to reach the Isle of Raasay is by boat. Most people catch the ferry from Skye to Raasay. Calmac offers a frequent daily 20 minute passenger and car ferry service from Sconser.
Getting around the Isle of Raasay there is no public transport on Raasay so the only way of getting around is walking or cycling or bringing your own car across on the ferry.
Best time to go to the Isle of Raasay Raasay is a great destination all year around but most visitors arrive during the spring and summer months with the longer and warmer days and when Raasay House and its adventure activities, bar and restaurant is open (1 April to end of October). During the winter months Raasay Distillery remains open (limited hours) for whisky and gin tastings and tours.
Is Raasay dog friendly Dogs are welcome on Raasay with all the usual caveats around livestock. Raasay House is also dog friendly.
Where to eat on the Isle of Raasay 
Raasay House is the only restaurant on the island and offers breakfast, coffee, cake, lunch and dinner. It serves local, seasonal homemade food – wild Raasay venison, langoustines from the Sound of Raasay, Skye scallops and fresh vegetables and herbs from the hotel's walled garden. There is also a public bar that serves Scottish beers, whiskies, and gins.
The Larchbox near Raasay Distillery offers a great takeaway menu of sourdough baguettes with highlights such as Milano salami, mango chutney mayonnaise, cheddar with salad or Halloumi, grilled aubergine, sriracha mayonnaise and salad. Fab coffee and cakes too (not open in 2022)
Raasay Community Store at Inverarish is well-stocked and serves hot drinks from a machine. You can also pick up local venison and vegetables from Raasay Hoouse gardens
Where to stay on the Isle of Raasay 
Raasay House Hotel is a 16th-century mansion, once the clan seat of the Macleods of Raasay, offers a range of rooms from spacious suites with balconies, to standard rooms or budget group accommodation.
Raasay Distillery Hotel offers six restful, modern rooms in the island's converted Factor's House, Borodale. Adjacent to its new whisky hub, with staggering views towards Skye, it's a unique rural escape with its own honesty bar.
What to do on the Isle of Raasay
Raasay has plenty to offer the outdoor lover, adventurer, walker and whisky taster, here are a few of our favourites:
Chocolate, whisky and gin tasting at Raasay Distillery
Coasteering, climbing, sailing and sea kayaking with Raasay House
Nearby islands
Join our Islandeering community
We continuously find new islands, rivers, lochs, canals and coast to walk, SUP and swim in and meet plenty of great folks along the way. Join our community to get new routes and adventures, latest blogs and news by using the email box below. Tune in also to our Facebook and Instagram pages to see where we are going next.