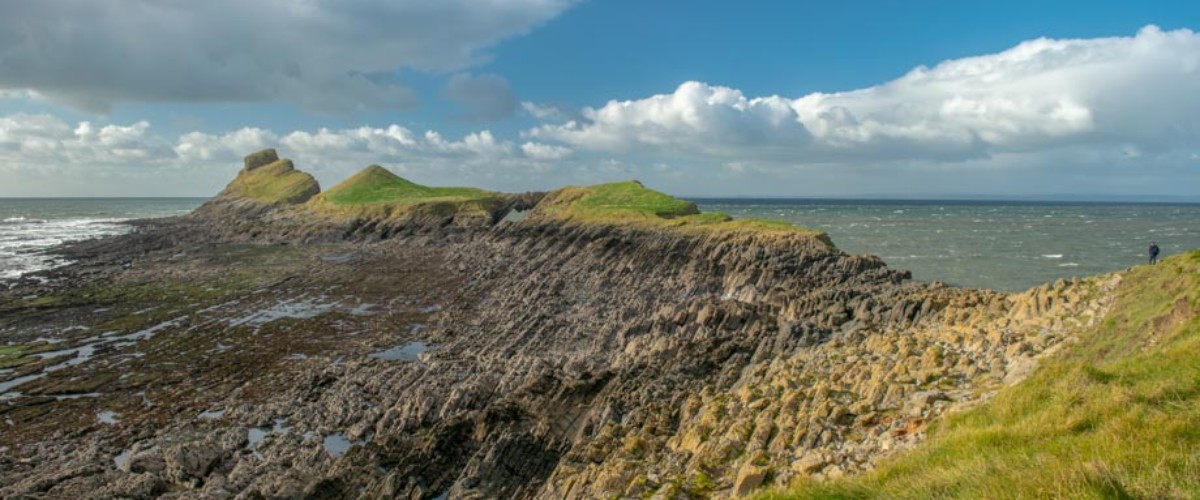 Distance: 7.8 km
Difficulty: Moderate
Method: Walking; scrambling
Wow Factor: 10 out of 10
Key Facts
Location: Near Swansea, Wales
Terrain: Scramble on rocky foreshore; easy paths on Inner Head, Devil's Bridge, and Outer Head with rocky scrambles linking each; short, steeper scramble onto Outer Head
Access: Tidal causeway
Height gain: 90 metres
Map: OS Explorer 164
Starting point: Rhossili, NT car park. Lat/Long 51.5693, -4.2885; GR SS 415 881
Accommodation/food:

Café, restaurant, and public toilets at Rhossili. The Bay Bistro is a personal favourite. The closest campsite to Worm's Head is Pitton Cross Caravan and Camping Park https://www.pittoncross.co.uk

Island Summary:

Worm's Head marks the most westerly point of the Gower Peninsula, near Swansea. It was the first designated Area of Outstanding National Beauty (AONB) in the UK. The island is joined to the mainland by a rocky causeway and is divided into three parts, each accessed by clambering over low-lying rocky sections. The first section is the steep-sided, 30-metre high, flat-topped Inner Head. Next is Middle Head, which is split into two by Devil's Bridge, a spectacular natural rock arch. To reach the rocky summit of the third section, Outer Head, requires a steeper but easy scramble.

Look out for:

Scrambling up vertiginous Outer Head
Exciting traverse of Devil's Bridge rock arch
Views of the award-winning Rhossili beach
Listening to the blowhole on Outer Head
Spectacular geological features

Route description:

More of an adventure than a walk, this route explores the many natural wonders of Worm's Head and starts from idyllic Rhossili village. Initially following the coast path above stunning Rhossili Bay, the route crosses the rocky tidal causeway and ascends the spine of the island to reach the spiral-shaped Outer Head. From a distance this looks to be the preserve of mountaineers but the short scramble up it makes for a spectacular finale. Download the full route description for further details.

Special notes: Safe crossing 2.5 hours before and after low tide. The top of Outer Head is off limits between 1st March and 31st August owing to nesting seabirds.

Getting there:

From Swansea, take the A4067 heading S, turn R onto the B4436 at Black Pill, keeping R at Pennard before turning L onto the A4118. At Scurlage, turn R, following the B4247 to Rhossili car park. Regular train services from Swansea to Rhossili. (Monday–Saturday, Sunday (summer service only). Buses 118/119 (NAT) and 114 (Sundays, First Cymru). Additional services connect quieter parts of Gower with the 118 and 116 (Swansea–North Gower service).

Islands nearby:
To see this map cookies and javascript must be enabled. If you are still having trouble after having checked both of these please contact us using the link at the top of the page
Welcome new readers
Take a look around the site. Learn about islands you may never have heard of. Take up the islandeering challenge and find a pioneering route, or simply see what each island has to offer for a more chilled out visit. Go to 'islands' and find something that inspires you.
Become an islandeer
We have a lot of fun here, as we continuously find new islands and meet plenty of great folks along the way. So you'll want to follow along. You can get new routes and adventures, latest blogs and news by using the email box below. Tune in to our Facebook and Instagram pages to see where we are going next. For the richest experience though, just keep checking the website for the latest.