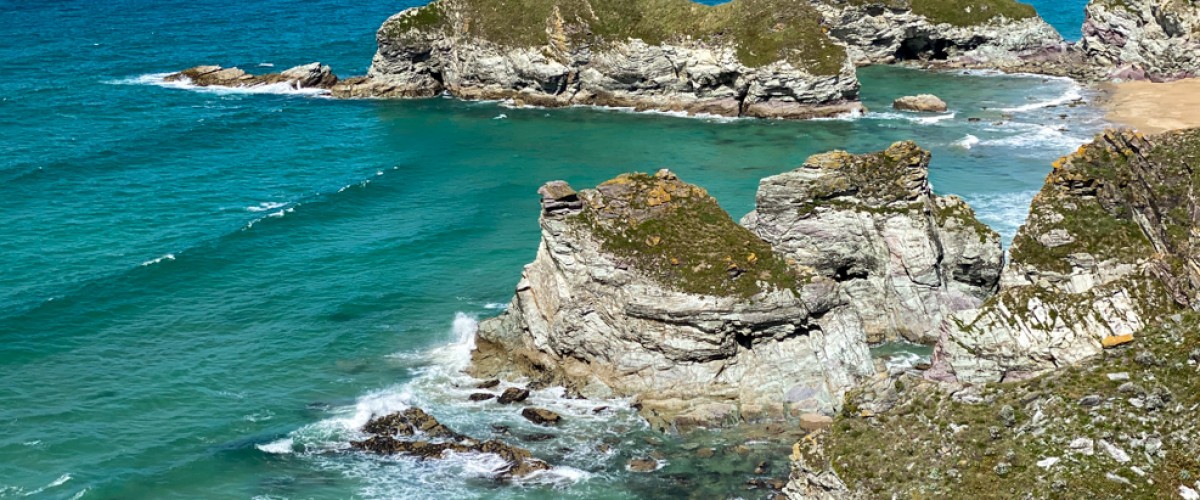 Distance: 5.8 km
Difficulty: Moderate
Method: Walk
Wow Factor: 10 out of 10
Location: Newquay, Cornwall
Terrain: Tidal sands; coast path
Access: Tidal sands
Height gain: 382 metres
Map: Os Explorer 106
Starting point: Newquay Football Gulf Centre (GR SW 830 629)
Accommodation/food:

There is a huge range of accommodation and eateries in Newquay. The closest pubs to the walks are The Mermaid Inn on Porth Beach; The Beach Hut, Watergate Bay; and Wax at Watergate Bay

Activity Summary:

A stunning circular walk near Newquay between Porth Island and Watergate Bay that includes Flory and Zacry's Islands and the caves of Whipsiderry Beach. In one direction the route follows the tidal sands of Porth Beach, Whipsiderry Beach, Fruitful Cove and Watergate Beach. The return leg is a cliff-top walk along the South West Coast Path.

Only attempt to walk the beach route 2 hours either side of low tide. Always plan your trip using the tide table for Newquay and try to start the walk on an outgoing tide.

Look out for:

Explore the islands of Newquay
Stunning cliff top walk
Relax on Watergate Beach
Discover the caves of Whipsiderry Beach

Route description:

This stunning circular walk near Newquay starts at the Newquay Football Golf centre and, at low tide, continues along Porth Beach where it is then possible to walk through the gully between Porth Island and the mainland,  to reach Whipsiderry Beach. Here, the large stack and small caves of Flory island can be seen. Continue along the cliff base, passed Zacry's Islands (cross via the rockpools and ledges between the islands and the cliffs) and the caves of Whipsiderry Beach and Fruitful Cove to reach Watergate Beach. Leave the beach, walk through the carpark and head uphill to the right on the grass bank to reach the South West Coast Path. Continue along the path to return to the start of the walk.

NB Alternatives to this walk include starting on Whipsiderry Beach (and missing out Porth beach and Porth island) by descending the stone stairs at GR SW 831 631, off the B3276 just north of Porth Island.