Leave behind the bustle of Salcombe and the busy main Kingsbridge Estuary and escape up  tranquil Southpool Creek with its hidden inn. 
This is route 52/107 in our latest book "Paddle Boarding South West England:100 places to SUP, canoe, and kayak in Cornwall, Devon, Dorset, Somerset, Wiltshire and Bristol"
Directions
Start this 10.5km return paddle from either Salcombe's South or North Sands beach, or alternatively from Mill Bay near East Portlemouth on the east (right) bank. Head upstream, cross the Portlemouth – Salcombe ferry route and see the entrance to Southpool Creek almost immediately on your right. Pass the modern boathouse of Port Waterhouse on the right bank, then keep to the left bank to avoid Waterhead Creek. Enjoy paddling the wooded length of Southpool Creek, almost to the creek head, then exit via the pontoon, leaving your craft on the nearby bank. Walk up the lane towards the head of the creek, keep left of the ford, then turn left on the main village road to find the Millbrook Inn. Relax on its sunny terrace next to a babbling brook and enjoy excellent gastropub food, local cider, and ales. On summer spring tides there is often live music and always a huge, warm welcome.
Salcombe's special blue space
The Salcombe-Kingsbridge Estuary is unusual in that it has no large river feeding it, just a number of small streams feeding it. It is part of an Area of Outstanding Natural Beauty (AONB), a Site of Special Scientific Interest (SSSI) and a Local Nature Reserve (LNR) that lies within the South Devon Heritage Coast. Two tides a day fill this drowned river valley, known as a ria, and so the whole estuary is a marine system which has brought some rare and special habitats and species. Reed beds, mudflats and eelgrass beds support worms, snails and bacteria, which are important sources of food for wading birds and fish. The foreshore is home to eelgrass, an important nursery for seahorses and fish – in fact this area is a hotspot or seahorses. The whole estuary is home to the fan shell, a rare species, along with dolphins, seals and even basking sharks. 
Please look after it Always give the marine animals a wide birth; avoid trampling the eelgrass (see photo). Support Devon Wildlife Trust.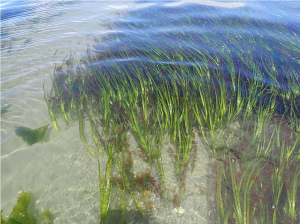 Need to know
Distance 10.5km return
Access restrictions No licence required
Starting point North Sands, Salcombe, TQ8 8LD (charges). Grid ref. SX 730 382
Launching North Sands Beach
Pitstops South Sands great pizza at Bo Beach Cafe; South Pool excellent gastropub, The Millbrook Inn
Hire, lessons, tours Seakayak Salcombe at South Sands; Salcombe Watersports at Port Waterhouse
Getting there For South and North sands, E on A381, into Salcombe, turning R on Sandhills Road (brown sign to North and South Sands). For Mill Bay, E on A379 through Kingsbridge, turn R at Frogmore to South Pool, before following coast road to East Portlemouth. Carry on through village, along coast to car park at Mill Bay
Special points For time to enjoy the Millbrook Inn, arrive at the pub 1.5 hours before/depart 1.5 hours after a spring high tide. SW winds can funnel up the creek making the return trip hard. When launching from N or S Sands, watch out for ferries and other water users, especially in summer months. On spring tides, the mid-tide flow can be up to 2.5 knots (5km/hr) at the entrances of Batson (left bank) and Southpool creeks. On the return from Southpool, there are spring mid-tide flows up to 2 knots (4km/hr) as you enter the main channel.
Check out more of our paddles:
Top 5 places to paddle in Cornwall
Top 5 places to paddle in Devon
Top 5 places to paddle in Dorset
Top 5 places to paddle in Somerset, Bristol and Bath
Top 5 islands to circumnavigate
South and east
Top 5 places places to paddle in the Channel Islands
Scotland
Top paddles on Scotland's Islands
Wales
Top places to paddle on Welsh Islands
Check out our books