Looking for a place to paddle this weekend? The county of Dorset has some wonderful blue space with plenty of amazing places to SUP. From wild coastlines and secluded beaches to estuaries, inland lakes, and natural harbours there are plenty of paddles for the beginner and seasoned paddler alike. Here we share some of our favourites that are in the most special of blue spaces (Biospheres, Marine Conservation Zones, Sites of Special Scientific Interest) from our new book Paddle Boarding South West.
Paddle Charmouth to Lyme Regis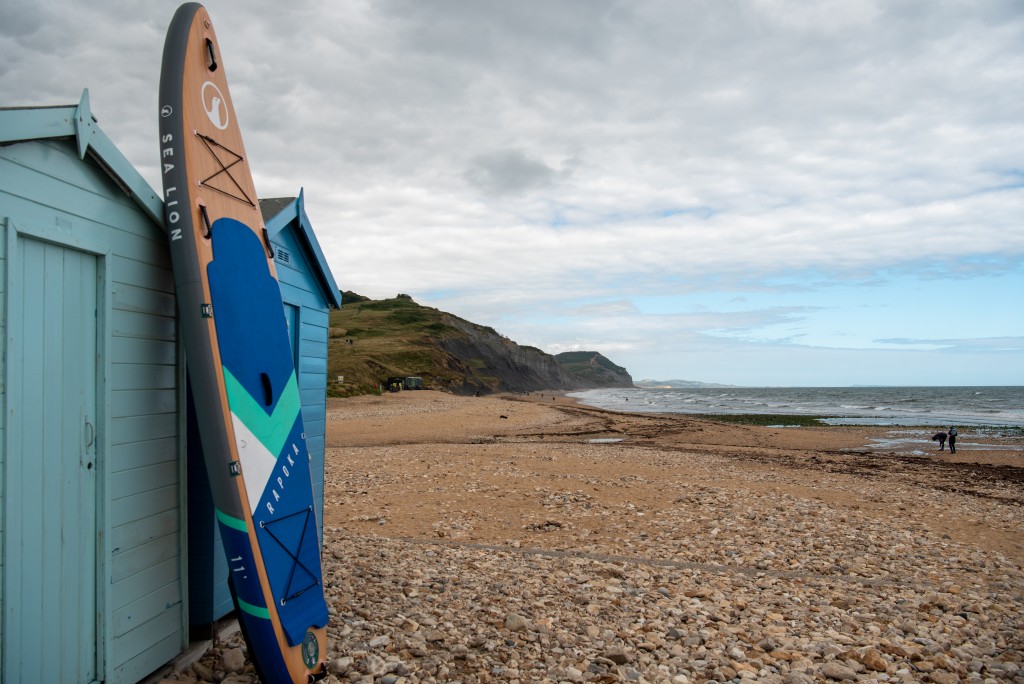 From sea dragons and ammonites to an atmospheric harbour and fine cliff scenery, this 7km paddle along the Jurassic coastline begins just below Charmouth Heritage Coast Centre. After viewing its amazing collections, including the 200 million-year-old ichthyosaur skeleton, families can enjoy sheltered paddling in the mouth of the River Char and plenty of fossil hunting on the beach. Launching west (right) from the beach, you'll see the outline of the Cobb at Lyme Regis as you paddle towards Black Venn. At this famous fossil-hunting location, a huge mudslide constantly brings new specimens to the base of the cliff. Pass the Spittles, where 12-year-old Mary Anning uncovered the sea dragon and stop off along the shoreline of Lyme Bay to make your own discoveries. On reaching the sandy cove at Lyme Regis, land at the small beach south of the Cobb and stroll around this historic and still-working port. There are plenty of great eateries in Lyme Regis, which is also unique in having a luxury harbourside, wood-fired sauna. To extend the trip, in calm conditions it's possible to continue further west to explore the deserted beaches and remote beauty of the 'undercliff'. Check the book for how to get there, launching, hazards, pubs and cafes, and the best weather and sea conditions for the route, along with 16 more routes in Dorset.
Lessons, hire, tours Jurassic SUP & Fitness, Charmouth, tel. 07713 470000; Boylo's Watersports , Lyme Regis, tel. 01297 444222
Cool camping Lyme Regis Hook Farm Caravan and Camping Park, Gore Ln, Uplyme, DT7 3UU; tel. 01297 442801
Why Lyme Bay is a special blue space Lyme Bay's reefs are key part of the largest Marine Protected Area (MPA) in the UK. The MPA protects rocky and stony reefs as well as vast fields of seafans, rare corals such as the sunset cup coral, and abundant fish and shellfish populations. The shoreline of Lyme Bay, is part of one of Britain's only natural World Heritage Site, the Jurassic Coast and Lyme Bay forms part of one of the world's most complete geological sequences spanning the Triassic, Jurassic and Cretaceous periods. 
To help protect these special places support Dorset Wildlife Trust and the National Trust
Paddle Lulworth to Durdle Door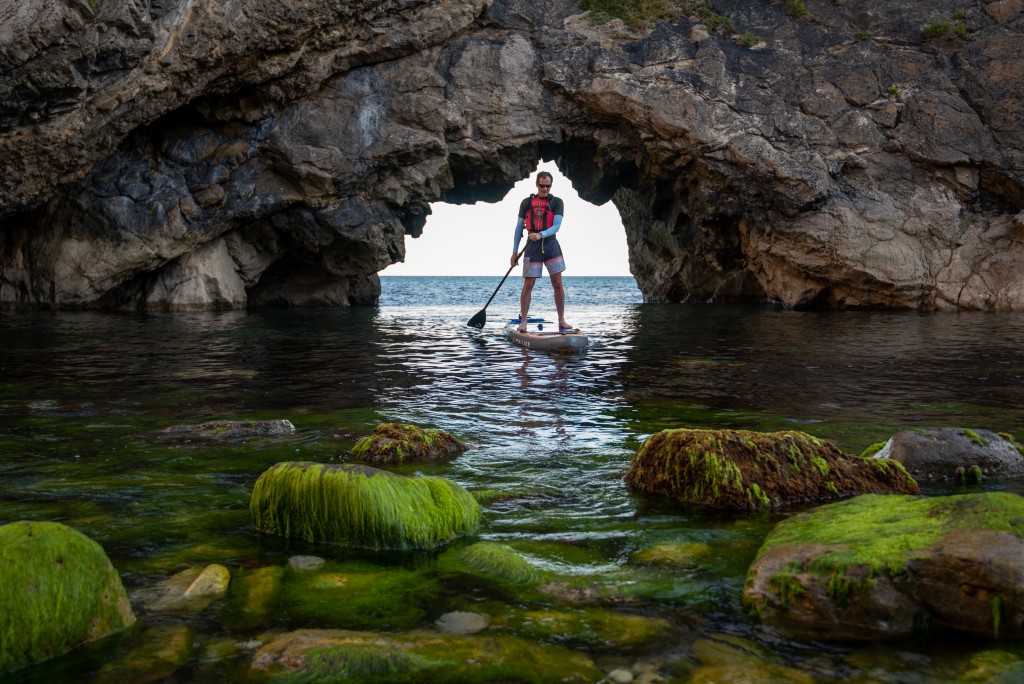 A 5.5km route connecting two iconic geological wonders, this paddle explores the caves and sea arches of the legendary Jurassic Coast. Leave the perfect circle of Lulworth Cove and head west (right), pausing first to admire the lush forests of kelp and thong weed beneath you. After a short distance, the three entrances to Stair Hole lead to a labyrinth of collapsed sea caves, short tunnels, and a hidden pebble beach. Its backdrop, the almost vertical Portland and Purbeck limestone beds known as the Lulworth Crimple, leave no doubt as to the powerful forces that shaped this section of coastline. Further west, pass towering cliffs around Dungy Head and outlying rocks that punch skyward, before reaching stunning St Oswald's Bay and the Man o' War, its long protective reef. The ancient sea arch of Durdle Door then marks the western end of the bay. Once through its cathedral-like arch, you reach a long shingle beach set beneath high chalk cliffs that run as far as the eye can see to Bat Hole, the small keyhole arch through Bat's Head. Check the book for how to get there, launching, hazards, pubs and cafes, and the best weather and sea conditions for the route, along with 16 more routes in Dorset.
Hire, lessons and tours SUP and kayak hire, Lulworth Activities, Rudds, West Lulworth. Tel. 0759 1833 309
Cool camping near Durdle Door Swanny's Campsite, Blacknoll Lane, East Knighton, Dorchester DT2 8LL; tel. 07857 634568
Why the Jurassic Coast is a special blue space Part of the Jurassic Coast UNESCO World Heritage Site recognised for its outstanding rocks, fossils and landforms and Purbeck Coast Marine Conservation Zone. The rock features provide a habitat for sponges, bryozoans and hydroids. The intertidal rocky habitats also provide a critical habitat for peacock's tail seaweed. Rock pools within this habitat support fish such as the shanny, and may be a foraging area for oyster catchers. The cobbles, pebbles, coarse sand and gravel support a range of species such as barnacles, algae, sea cucumbers, tube worms and anemones. In the shallow subtidal areas stalked jellyfish may be found. The east of this site is important for rare and long-lived beds of maerl, a calcareous pink seaweed, which support a unique variety of species. This site is ecologically important for nesting black seabream.
To help protect these special places support Dorset Wildlife Trust and the National Trust
Paddle

Christchurch Harbour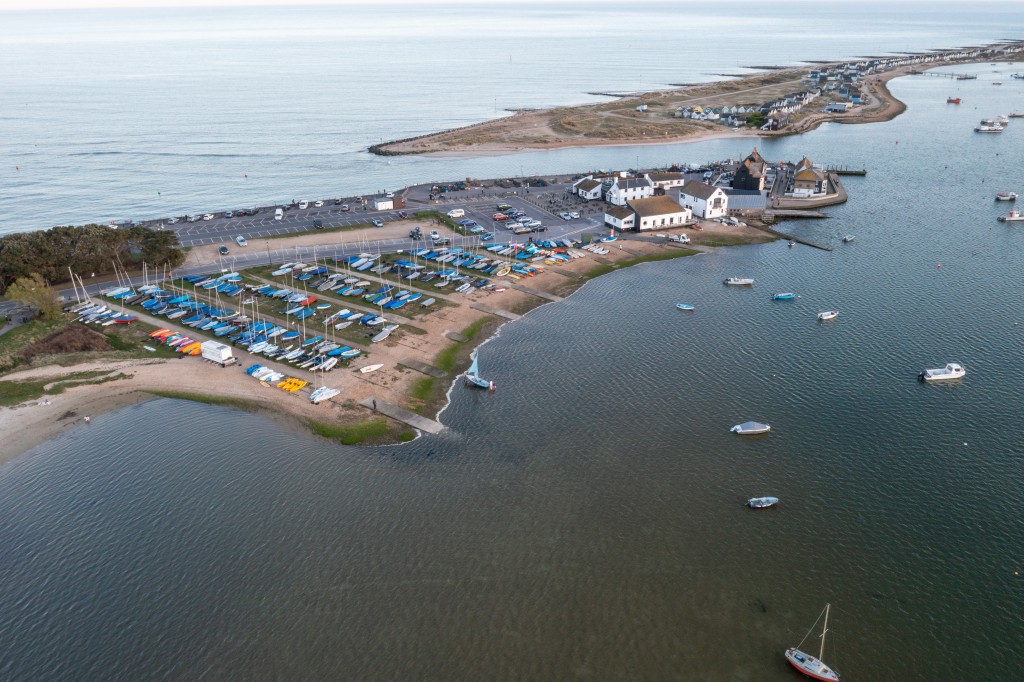 The waters of the Rivers Stour and Avon empty into Christchurch Harbour and enter the sea near Mudeford Quay in an area popular with paddlers of all abilities. Although tidal the water here is generally much flatter than on the more exposed coast and it is a popular spot for sunrise and sunset paddles. Launch from the beach on the harbour side of Mudeford Quay and find a free range route to suit your ability. Stanpit Marshes at the northern end of the Harbour, notorious in the 18th century for tobacco and rum smugglers, is now a wild salt marsh with creeks and salt pans, reed beds, freshwater marsh, gravel estuarine banks and sandy scrub with plenty of birds to spot. Continue a little further upstream to reach Christchurch itself. The southern side of the Harbour is enclosed by Hengistbury Head with a nature reserve of wildlife-filled heathland, grassland, scrub, woodland and wetland. Towards Hengitsbury Head's north end the Beach House, a glass-fronted café, nestles amongst the colourful beach huts of Mudeford Sandbank and makes a good refreshment stop. When crossing back to the north side of the Harbour steer well clear of the narrow harbour entrance, known as The Run, which experiences fast-flowing water especially on Spring tides. Check the book for how to get there, launching, hazards, pubs and cafes, and the best weather and sea conditions for the route, along with 16 more routes in Dorset.
Hire, lessons and tours The SUP Store, Little Avon Marina, Christchurch, BH231HW, tel. 07857 268918; https://thesupstore.co.uk
Cool camping near Christchurch Sionna Camping, Summers Ln, Burton, Christchurch BH23 7JB; tel. 07768 117974
Why Christchurch Harbour is a special blue space Christchurch Harbour is a Site of Special Scientific Interest which comprises the estuary of the rivers Stour and Avon and the peninsula of Hengistbury Head. The varied habitats include saltmarsh, wet meadows, drier grassland, heath, sand dune, woodland and scrub and the site is of great ornithological interest. Christchurch Harbour contains substantial areas of saltmarsh home to Cord-grass, Salt Marsh Grass, Sea Aster, Sea Lavender, Sea Arrow-grass, Sea Plantain and Mud Rush. Higher level marsh is dominated by Sea Couch, Sea Rush and Red Fescue. Reed forms extensive beds and Sea Club-rush is present in large patches on the edges of the creeks and within the salt marsh. Arare Spike-rush, occurs in a small area of mud below the saltmarsh. There is an impressive list of birds in Christchurch Harbour. Rare breeding birds include Cetti's Warbler, Bearded Tit, and spotted Crake. Jack Snipe is regularly present in winter along with the commoner wintering species. The site is very important for bird migration, frequently holding large numbers of migrants with Wheatear, Whinchat and Firecrest particularly well represented. Osprey is also a regular visitor on passage.
To help protect these special places support Dorset Wildlife Trust and the National Trust
Paddle Poole Harbour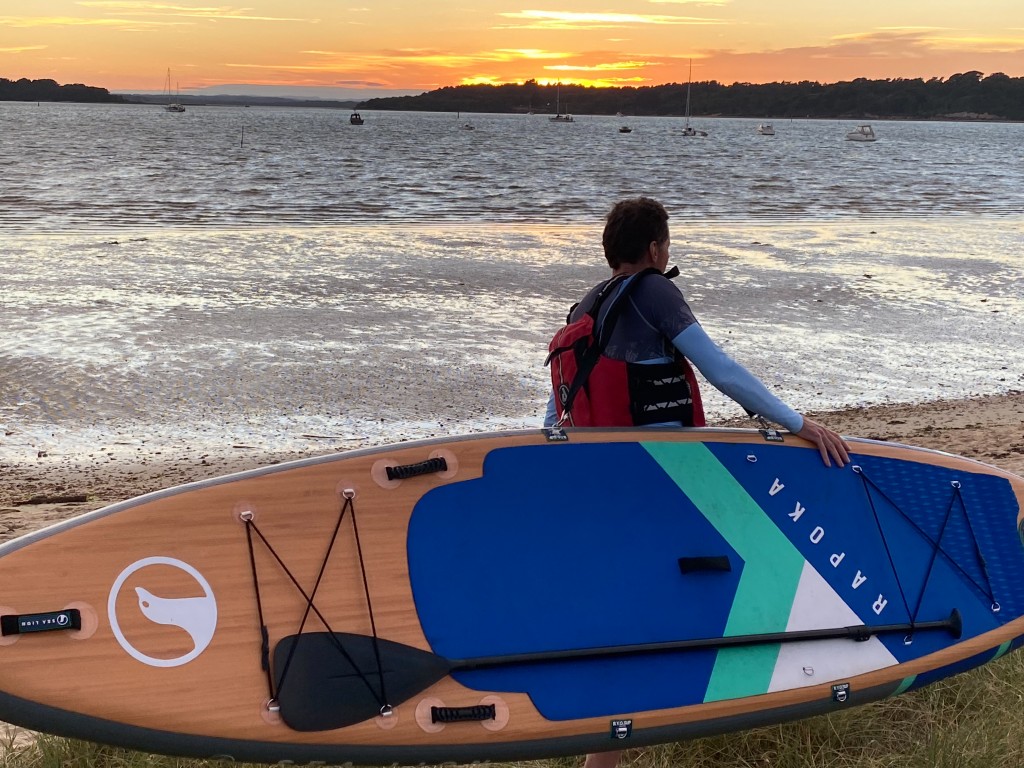 Sailing masts and paddlers silhouetted against orange, pink and red skies and one of the most accessible and tranquil sunset paddles in the south west. Protected by the wafer-thin peninsula of Sandbanks and overlooked by one of the most expensive strips of houses in the world this is ideal for beginners or those starting a more advanced exploration of the harbour and its islands. Whitley Lake is no deeper than waist height and boat traffic in an otherwise busy harbour is not permitted. One of the "Dorset Lakes" set back from the channels it dries out at low tide and becomes a rich dining table for a huge variety of wading birds. Separated by Banks Road from the popular sand beach of Sandbanks the vibe is more like a Californian strip. Families and friends picnic and the water is usually busy with all sorts of water sports enthusiasts and is particularly popular for its stunning sunsets. For the more experienced paddler it is a good launch point to explore Brownsea, Furzey and Green Islands but care must be taken when crossing the shipping channel marked by the large green and red channel markers. Always take the direct route across the channel and always avoid the strong tidal flows around the harbour entrance. An alternative is a trip to the Baiter Park and café just before Poole Quay, hugging the coast, avoids crossing the shipping channel. Check the book for how to get there, launching, hazards, pubs and cafes, and the best weather and sea conditions for the route, along with 16 more routes in Dorset.
Hire, lessons, tours The Watersports Academy, tel. 01202 708283; Easy Riders, tel. 01202
Cool camping Poole Burnbake Forest Lodges and Campsite, Corfe Castle, Wareham BH20 5JH; tel. 01929 480570
Why Poole Harbour is a special blue space Poole Harbour is one of the largest natural harbours in the world and is a Site of Special Scientific Interest, a Special Protection Area (SPA), and a Wetland of International Importance under the Ramsar convention. A very high proportion of its area comprises intertidal marshes and mudflats. These, together with the permanent channels, support large numbers of non-breeding waterbirds, for which Poole Harbour has national and international significance. Fringing habitats of heathland, grassland and the islands provide additional interests, in turn supporting further scarce and restricted flora and fauna. Several rare marine invertebrates also occur within the harbour. The sponge Suberites massa, rarely recorded in British waters, is locally abundant together with an interesting community of Sea squirts, Ascidians and Sea mats, Bryozoans. The Starlet Sea Anemone is a rare species found only in a few similar lagoons and the mollusc Aeolidiella sanguinea is otherwise only recorded from western Ireland. The saltmarsh and reed are important for several nesting birds such as Bearded Tit, and Redshank and the islands are important for small colonies of Black-headed Gulls and Mediterranean Gulls and colonies of Sandwich and Common Terns. The expanse of intertidal flats with large populations of invertebrates is of great importance as a feeding resource for large numbers of wading birds and wildfowl in winter including Black-tailed Godwit and Shelduck. The eelgrass beds within Poole Harbour provide an important habitat for both spiny and short-snouted seahorses.
To help protect these special places support Dorset Wildlife Trust and the National Trust
Paddle Swanage Bay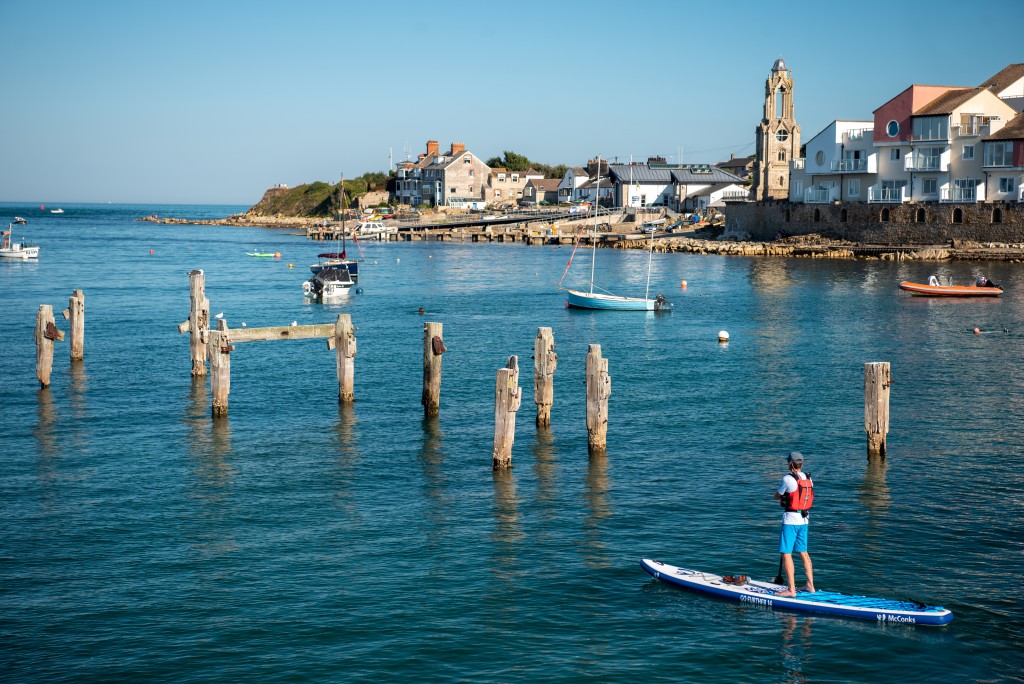 Clasped between a charismatic seaside town and cliffs this east-facing bay sheltered by Durlston Head is ideal for family paddlers and swimmers as well as being a good hopping off point for more advanced coastal exploration. Swanage is a favourite Victorian-era seaside town with plenty of accessible launch points along the Bay and from Monkey Beach by the Pier. For a quieter paddle head north to explore the base of Ballard Down cliffs and its little-visited beaches. From here it is possible to paddle the whole sweep of the bay. To the south there are many interesting landmarks linked to Swanage's role in shipping Purbeck marble, a decorative stone used in many of England's churches and cathedrals. There are plenty of cafes and eateries around Stone Quay and Monkey Beach to sample before reaching historic Swanage pier and its generally flatter waters. Popular with divers the area is overlooked by the distinctive landmark of the Wellington Clock Tower. Initially erected on the approach to old London Bridge it was soon considered an obstruction to traffic and moved to Swanage in 1867. Paddling close to or around Peveril Point should be avoided by all except those with excellent knowledge of tides to avoid its fearsome tidal race. Check the book for how to get there, launching, hazards, pubs and cafes, and the best weather and sea conditions for the route, along with 16 more routes in Dorset.
Lessons/tour H2O Adventures, tel. 07735 582663; Pierhead Watersports, tel. 07801 825481
Cool camping Swanage Combe Farm Camping, Valley Rd, Swanage BH19 3DW; tel. 07512 738133
Why the Purbeck Coast is a special blue space Part of the Purbeck Coast Marine Conservation Zone – see Lulworth to Durdle Door for special features.
To help protect these special places support Dorset Wildlife Trust and the National Trust
Check out other top places to paddle UK
England
South west
            Top 5 places to paddle in Cornwall
            Top 5 places to paddle in Devon
            Top 5 places to paddle in Dorset
            Top 5 places to paddle in Somerset, Bristol and Bath
            Top 5 islands to circumnavigate
South and east
            Top 5 places places to paddle in the Channel Islands
Scotland
Top paddles on Scotland's Islands
Wales
Top places to paddle on Welsh islands
Check out our books