The county of Cornwall has the most blue space in England so no wonder there are plenty of amazing places to SUP. From wild coastlines and secluded beaches to estuaries and inland lakes there are plenty of paddles for the beginner and seasoned paddler alike. Here we share some of our favourites that are in the most special of blue spaces (Biospeheres, Marine Conservation Zones, Sites of Special Scientific Interest) from our new book.
Porthcurno to Pedyn Vounder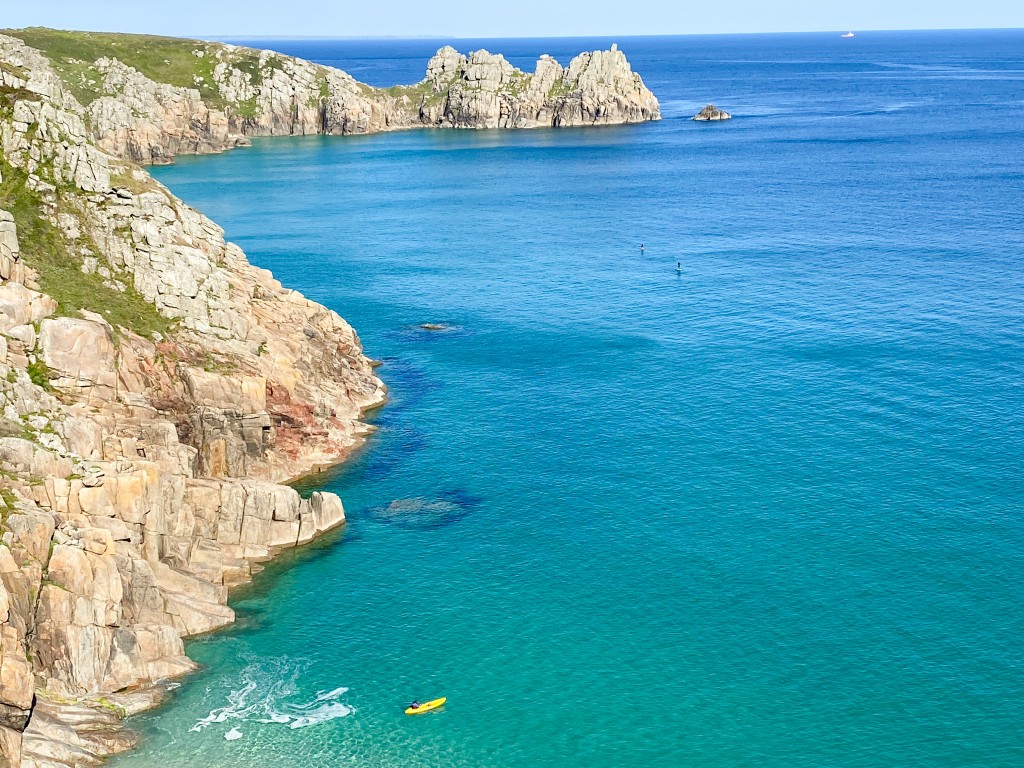 Sublime 1.6km paddle between two of the best beaches in Cornwall beneath stunning cliff scenery. Your reward for descending the steep steps to Porthcurno Beach is fine white sands lapped by impossibly turquoise seas, followed by majestic views from the water of this dramatic coastline. To the west, hewn straight out of the cliffs, the Minack Theatre's stepped open-air terraces and low stone buildings are an unforgettable sight. To the east, the towering coastal cliffs build to a crescendo from Treen to the craggy peninsula beyond, crowned by Logan Rock. Head past a couple of tiny beaches that are cut off at higher tides from the main Porthcurno beach to reach beautiful Pedn Vounder. In summer, the sandbars here create shallow, blue, low-tide pools warmed by the sun that are perfect for a dip while contemplating the precariousness of Logan Rock above. Back at Porthcurno Beach, the delightful freshwater stream that runs along its western edge is perfect for washing sand from between your toes. Check the book for how to get there, launching, hazards, pubs and cafes, and the best weather and sea conditions for the route.
Walks nearby
Cool camping Lands End  Treen Farm Campsite, Treen, St Levan, Penzance TR19 6LF; tel. 07598 469322
Why is Porthcurno special blue space
Porthcurno is in the Runnel Stone Marine Conservation Zone. The sandy beaches here host, sandhoppers, cockles, sea nails and worms buried beneath the surface and the exposed inter-tidal rocks support mussels, limpets and barnacles and tufts of seaweeds and the tidal lagoons provide a home for various small marine creatures which shelter and feed amongst the seaweeds. Rocks in the deeper waters host sea-fans, anemones, and sponges.
The site contains the Runnel Stone reef which is of high ecological importance for a range of species and has historically been well studied. Look out for diving seabirds, basking sharks, and dolphins  – all are often spotted in these wild waters.
To help protect these special places please support Cornwall Wildlife Trust and the National Trust
Perranuthnoe to Prussia Cove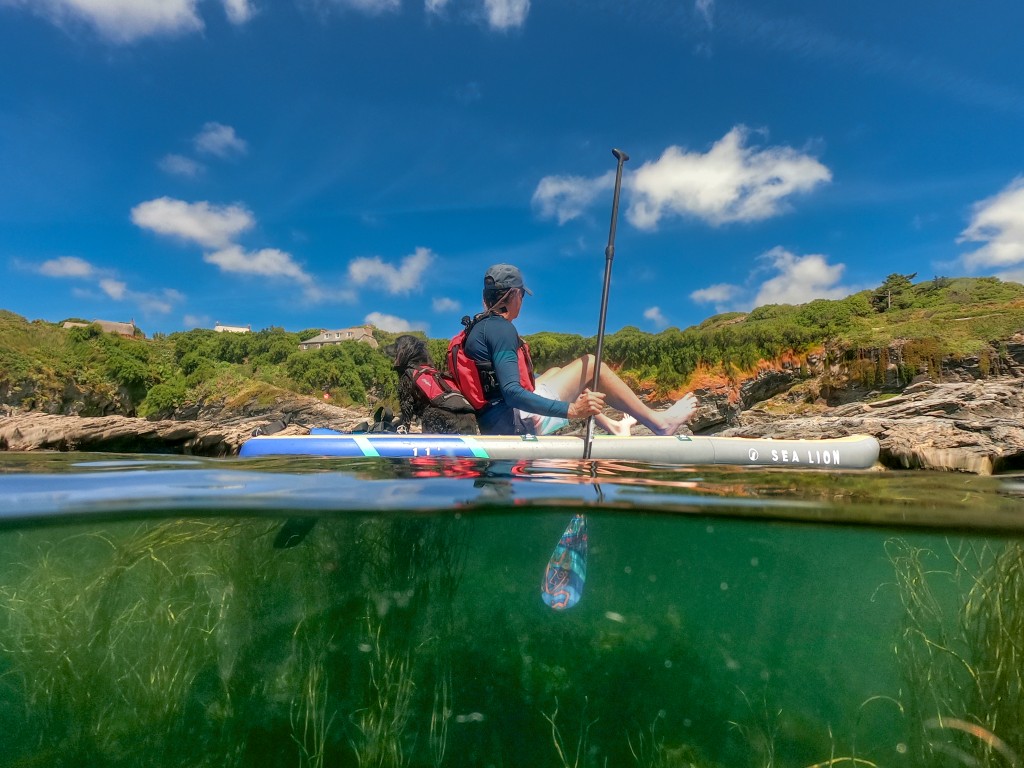 Stunning 8km paddle to discover the romance of a coastline featuring rock-hewn baths,  hidden beaches, caves, and coves at the heart of the smuggling trade between Land's End and the Lizard Peninsula. From Perran Sands. Stop at Stackhouse Coven, named after an 18th-century marine biologist who identified the widest range of seaweed species ever recorded in Britain, to find the freshwater bathhouse located in an adit (mine tunnel) in the cliffs and the saltwater low-tide bath carved into the rocks on the shoreline. Round the sea cliffs of Cudden Point to discover the wonderful Piskies Cove with its stunning sand beach and huge sea cave, followed by secluded Bessy's Cove, which is virtually hemmed in by rock ledges. As you approach, you'll spot bricked-up caves, steep steps leading down to a tiny pebble beach, and a slipway running diagonally up the side of the cove from the rock-hewn harbour. Tumbledown shacks, rows of old coastguard cottages, and other historic buildings overlook the small bay, which is a lovely swimming spot. At the far side of the Enys headland, King's Cove is named after John Carter, the so-called 'King of Prussia' and landlord of a nearby pub, who ran one of Cornwall's most lucrative smuggling operations along this coastline . Collectively Piskies, Bessy's and King's coves are known as Prussia Cove. Check the book for how to get there, launching, hazards, pubs and cafes, and the best weather and sea conditions for the route.
Walks nearby
Cool camping Prussia Cove Porth-en-Alls, Prussia Cove, Penzance, TR20 9BA; tel. 01736 762014
Why is Mount's Bay a special blue space
This route lies within the Mount's Bay Marine Conservation Zone which protects a range of habitats including several different types of rock, both on the shoreline and on the seabed. The site also protects intertidal sediment and sand, which are above water at low tide and below water at high tide. The range of habitats support a variety of life, which includes worms and bivalves (with their paired, hinged shells) living in soft sediments and sea snails, anemones, starfish and sea squirts found on rocky shores. This site is also important for protecting stalked jellyfish and giant goby.
To help protect these special places please support Cornwall Wildlife Trust and the National Trust
Newquay, The Gannel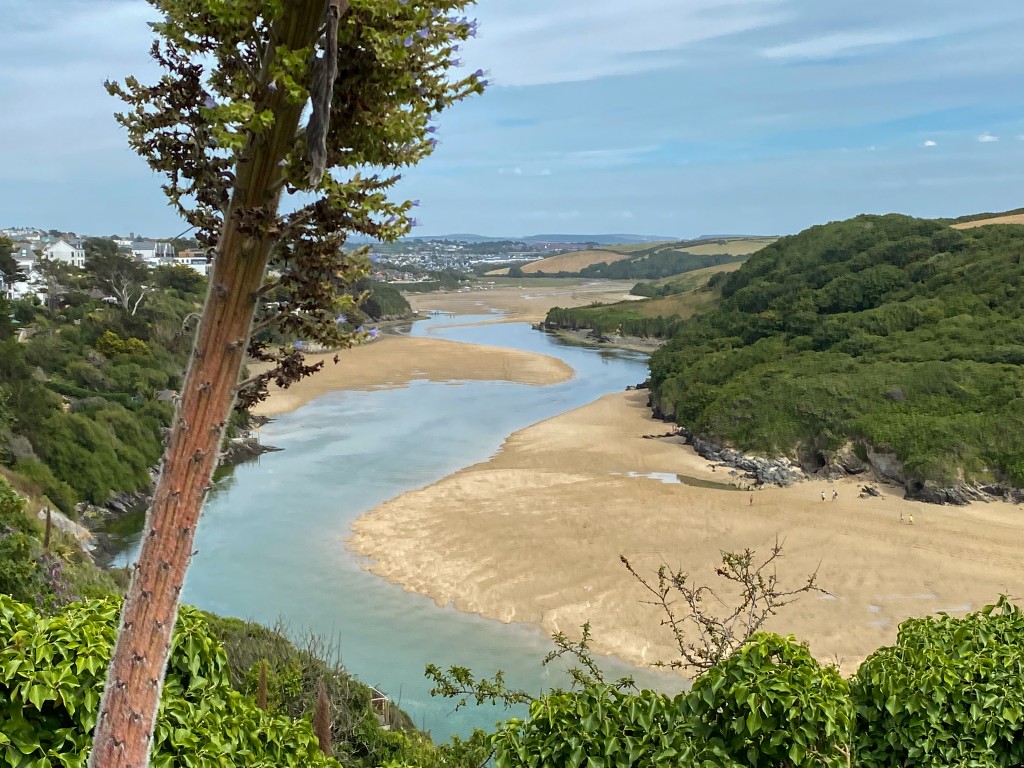 A shallow stream and vibrant green-blue lagoon waters make this a family playground on lower tides with a beautiful 6.5km higher tide option from Crantock Beach to almost reach Newquay's centre. From the beach head upstream and immediately pass the boathouse of the Fern Pit ferry and bridge at the base of the cliffs of East Pentire, taking care to avoid any entanglement on the submerged bridge. Pass the mouth of Penpol Creek on the right and look out for ancient rotting vessels from the river's ship-building heritage when it was an important passage for schooners and barges that ferried coal & timber to Trevemper Bridge. Continue upstream, taking care to avoid the submerged Penpol footbridge, the low water crossing of The Gannel. Hotels and large houses spill down the south side of the river whilst pasture and woodland fill the north. On the approach to Newquay Boat Lake pass through a peaceful salt marsh, home to wading birds and salt-loving plants. Turn around at the footbridge south of the A392 or before depending on tide and time. Return to Crantock Beach where fresh crab and lobster can be bought from the Fern Pit Ferry boathouse. Check the book for how to get there, launching, hazards, pubs and cafes, and the best weather and sea conditions for the route.
Walks nearby
Cool camping Newquay (worth the drive) Beacon Cottage Farm, St Agnes, TR5 0NU; tel; 01872 552347 https://www.beaconcottagefarmholidays.co.uk
Why is The Gannel a special blue space
The estuarine rocky habitats of The Gannel are important for a range of plants and animals, including the rare giant goby. On the shores of the estuary, rocks provide a habitat for large seaweeds and sheltering barnacles, snails and shrimp-like animals. Within the estuary area, coastal saltmarsh also provides refuge and food for animals and plants. The rich and sheltered waters of estuary and saltmarsh habitat provide nursery grounds for juvenile fish. Beyond the estuary below the low water mark, life on rocks is equally variable, with anemones, sponges, sea mats and sea squirts growing on rocky surfaces. Rocks and sediment in deeper water away from the coastline also provide an important habitat, containing branching sponges, sea squirts, kelp and large seaweeds.
To help protect these special places please support Cornwall Wildlife Trust and the National Trust
Frenchman's Creek, Helford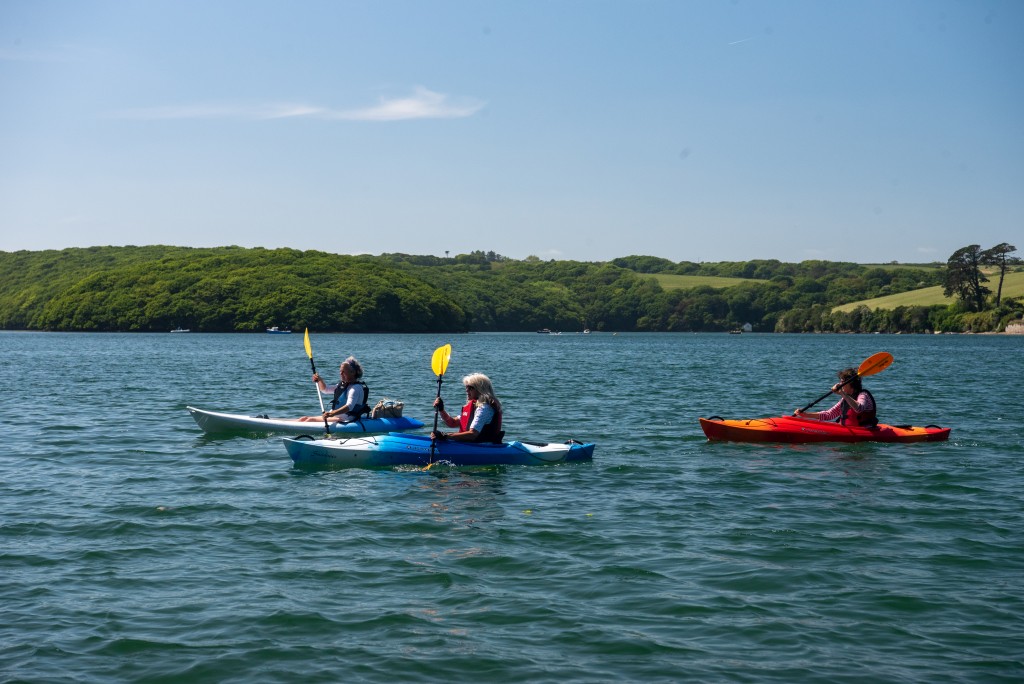 Float on calm, green water of the Helford as it wends its way past low hills and ancient woodlands between the Lizard and Falmouth. En route, discover secluded beaches and creeks, including mysterious Frenchman's Creek immortalised by writer Daphne du Maurier. Leaving from charming Helford Village, this is a free-range paddle with options (on over 23km of water) for multiple journeys, as well as different launch points. Head upstream along the Helford's south bank to find the secret inlet of Penarvon Cove before reaching the tree-fringed waters of secluded Frenchman's Creek. Here, egrets stand tall on the muddy banks, deer rustle among the low boughs of ancient oak, and plump grey mullet swim just below the surface. It is possible to paddle some distance up this creek an hour before and after high tide. Continuing along the Helford, you may wish to explore Mawgan Creek before reaching the old port of Gweek at the river's head. Leaving Gweek and heading downriver, paddle up serene Polwheveral Creek on the north bank or head up Port Navas Creek to the village's historic quay surrounded by swanky new homes. From Helford Passage, with its historic inn and summer ferry, paddle east (left) to Polgwidden Cove's shingle-sand beach and look up the valley to the beautiful subtropical gardens of Trebah. Durgan beach, its cluster of pretty cottages set below picturesque Glendurgan gardens, is a good place to swim, or continue to  Grebe beach, a sheltered spot away from the estuary mouth. Cross from Grebe beach to the south bank to reach beautiful, hidden Bosahan Cove. Check the book for how to get there, launching, hazards, pubs and cafes, and the best weather and sea conditions for the route.
Lessons, hire, tours Koru Kayaking, Budock Vean Hotel, Mawnan Smith, tel. 07794 321827; Immerse Outdoors, Gweek Boatyard, tel. 07976 465614
Walks nearby
Cool camping Falmouth Gear Farm Campsite, St Martin, Helston TR12 6DE; tel. 07969 778631 or Gweek Campsite, Gwedrow House, Gweek, TR12 7AQ; tel. 01326 221422
Why is the Helford Estuary a special blue space
The Helford Estuary MCZ specifically protects native oysters. These are usually found in quite shallow water attach to a suitable substrate, usually an oyster shell, and remain immobile after settling, filtering food from the water around them. They can live for as long as 20 years. Native oysters have been described as 'ecosystem engineers', providing both a habitat and a food source for a variety of species, and filtering seawater. The native oyster was historically more abundant in the UK and reduced in abundance due to factors such as historic overexploitation and disease. Protecting the species at this site provides resilience for the commercially valuable native oyster.
To help protect these special places please support Cornwall Wildlife Trust and the National Trust
Porthcothan and Trescore Islands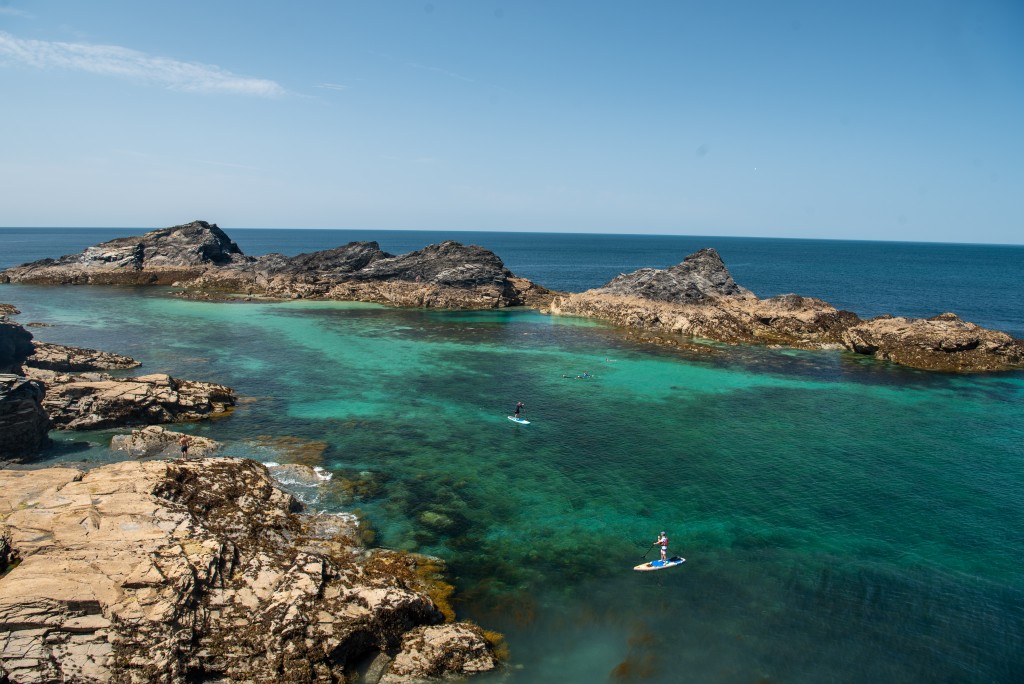 Just a short trip from Pothcothan's long beach, the blue-green waters sheltered by this tiny rocky archipelago feel more like the Mermaid's Lagoon from Peter Pan than the north coast of Cornwall. Gliding above the kelp forests here is simply spellbinding. Set out from the bay on an ebbing tide – a longish beach walk to reach the water – and head south to discover Porthcothan's iconic rocks and tiny islets. Pass a rocky inlet and small beach to reach the three distinct outcrops with a single reef below that make up Trescore Islands – an incredible location to explore from above or below the water. A favourite spot in the lagoon is the sandy-bottomed area off the northeast tip of the 'middle' island where, close to a sharp drop off, a myriad of marine life flourishes within the tall, swaying seaweed forest. On returning to Portcothan Beach, hop over the sand dunes back towards the car park to find the excellent and well-stocked Porthcothan Bay Stores for delicious pasties, coffee, and ice-cream. Check the book for how to get there, launching, hazards, pubs and cafes, and the best weather and sea conditions for the route.
Walks nearby
Cool camping Padstow Macdonald's Farm, B3276, Porthcothan Bay, PL28 8LT; tel. 01841 540829 or Porthcothan Clifftop Camping, St Merryn, PL28 8PN; tel. 07834 494843
Why is Padstow a special blue space
The Padstow and Surrounds MCZ is characterised by exposed cliffs, rocky shores and sandy wave-exposed bays. The small off- shore islands provide nesting habitats for several species of seabird and are haul out sites for Grey seal. The sandy shores provide a habitat for creatures such as polychaete worms which are found buried within the sediments and sand -hoppers which inhabit strandlines high on the shore. The flat rocky reefs are among the most extensive in north Cornwall. They support rich communities of animals and seaweeds, with rockpools, overhangs and crevices providing refuges from the strong waves and tidal cur- rents. The brown seaweed Bifurcaria bifurcata is found growing on open rock. This is unusual as this species predominantly occurs in rockpools. Further out, where reduced sunlight limits the growth of seaweeds, the rocks are dominated by animals such as sea squirts, pink sea-fans and spiny starfish. The spiny lobster has also been recorded here.
To help protect these special places please support Cornwall Wildlife Trust and the National Trust
Check out other top places to paddle UK
England
South west
            Top 5 places to paddle in Cornwall
            Top 5 places to paddle in Devon
            Top 5 places to paddle in Dorset
            Top 5 places to paddle in Somerset, Bristol and Bath
            Top 5 islands to circumnavigate
South and east
            Top 5 places places to paddle in the Channel Islands
Scotland
Top paddles on Scotland's Islands
Wales