Water is quite literally everywhere in the UK – whether in wild places, urban spaces or 'the weather'. All blue spaces are special, but some blue spaces are arguably more special than others as hotspots for biodiversity, part of beautiful and cherished natural landscapes, or in the cultural hot spots of the UK. This blog shares what makes some blue spaces very special.
Islands
Special blue spaces for nature
Special blue spaces for landscape and geology
Special blue spaces for culture
The places we talk about are all designated by the UK government or international bodies such as  UNESCO. We are blessed with so many special places in the UK and this website aims to largely focus on walks, SUPs and swims in these special blue spaces. In this blog we share a bit more about them.
ISLANDS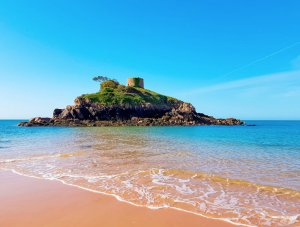 Surrounded by amazing blue spaces the islands of the British Isles always offer something unique and are guaranteed to lift your spirits. There are quite literally thousands of them to discover and getting to them is half the fun – whether swimming, paddling, walking to low tide islands or jumping onto boats of every description. Have look here to find out more about some of the islands that we have visited.
SPECIAL BLUE SPACES FOR NATURE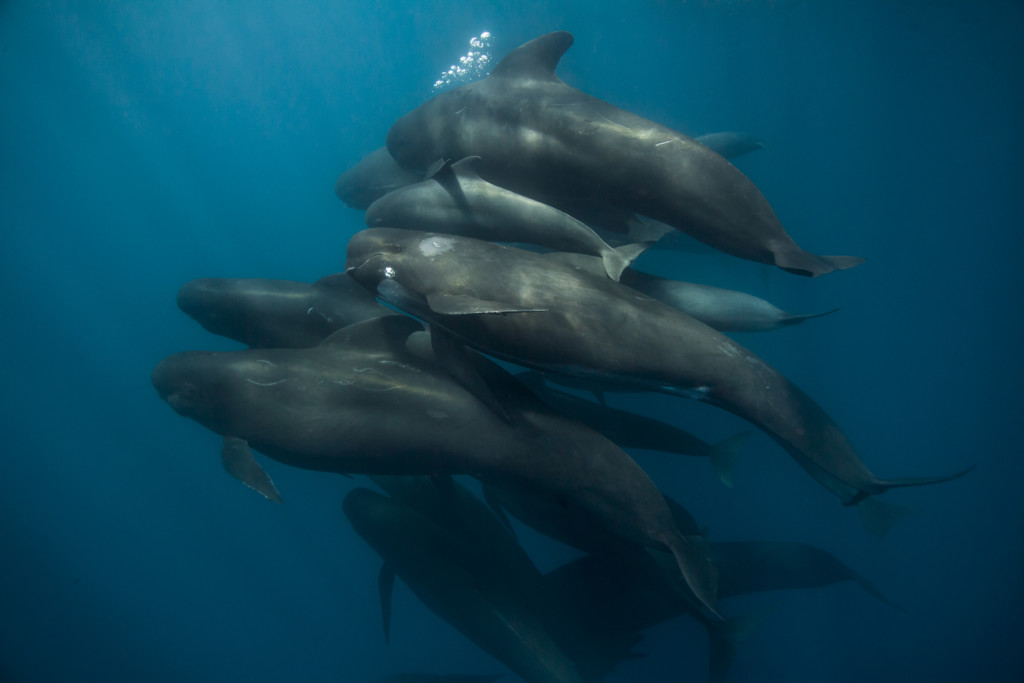 There's nothing quite like inquisitive seals approaching you in the water, or the sound of dolphins nearby, gannets or terms diving all around you, huge flocks of wading birds dining on tidal flats or vast seabird colonies that assail your every sense. Turns out that a lot of these very special experiences happen because their homes are protected by law. To find these extraordinary blue spaces look out for the following designations (Photo credit: Andrew Sutton)
National Marine Park – the only one we have in the UK is Plymouth Sound National Marine Park. Can you believe that amongst the largest Naval base in Western Europe, a large continental ferry port, and a substantial commercial and fishing port we have some very special habitat and wildlife? The Kelp Forests here have been dedicated to Her late Majesty as part of The Queen's Green Canopy in an effort to highlight the importance of kelp as an environmental treasure which fringes much of the UK's coastline. Kelp forests are some of the most diverse and productive ecosystems on earth and are wonderful to explore south of Drake's Island. The Sound has many different habitats and supports over 1000 species of fish and other marine life.
SUP in Plymouth Sound National Marine Park
Visit Drake's Island – more information here
Swim in Plymouth Sound National Marine Park
Walks around Plymouth Sound
National Park – world-class landscapes with the power to inspire everyone, they've been designated on behalf of the entire nation because of their special qualities. Stunning natural beauty, beautiful wildlife and fascinating cultural heritage make these living and working landscapes truly unique. There are 15 National Parks in the UK – 10 in England, 3 in Wales and 2 in Scotland all with very special blue space. Too hard to choose a favourite s instead here are just a few of our favourite walks and SUP's in National Parks.
SUP on the edge of Exmoor National Park
Walk around Ramsey Island – details of route here
Walk in Loch Lomond and The Trossachs
National Park City – London is the world's first National Park City and we are lucky that it is full of o diversity of fantastic blue space in the capital's parks, woodlands, nature reserves, rivers, lakes and canals. Too many to choose from but one of our favourite blue spaces in London is along the River Thames near Kew.
SUP in London – check out Island Bagging England and Wales or a recent blog we wrote for Aquapac
River Thames walk – coming soon
UNESCO Biosphere – they are sites that find creative ways for people and nature to thrive together. We have 7 in the UK – River Dyfi area, Isle of Wight, Isle of Man, Brighton and Lewes Down, North Devon, Galloway and Southern Ayreshire and Wester Ross. Check out some of the best things to do in the Isle of Wight and Isle of Man.
Marine Protected Areas (MPAs) – now we are talking about bumping into seals, dolphins, whales, and very much more. These areas include Marine Conservation Zones, Special Areas of Conservation, Special Protection Areas, Sites of Special Scientific Interest (SSSIs), Ramsar Sites and Marine Nature Reserves. There are 374 MPA's in the UK, covering 38% of all UK water. Take a look at the full list and watch this space for us to add our walks and SUP routes 
National Nature Reserves (NNRs) – again seabirds and marine creatures galore in 225 NNRs in England, 76 in NNRs Wales, and 43 in NNR's in Scotland (check them all out here. Here are a few ideas to get you started:
Walk around Lindisfarne – check the route here
Walk around Ramsey Island – check the route here
Walk on Noss island – check the route here
SPECIAL BLUE SPACES FOR LANDSCAPE AND GEOLOGY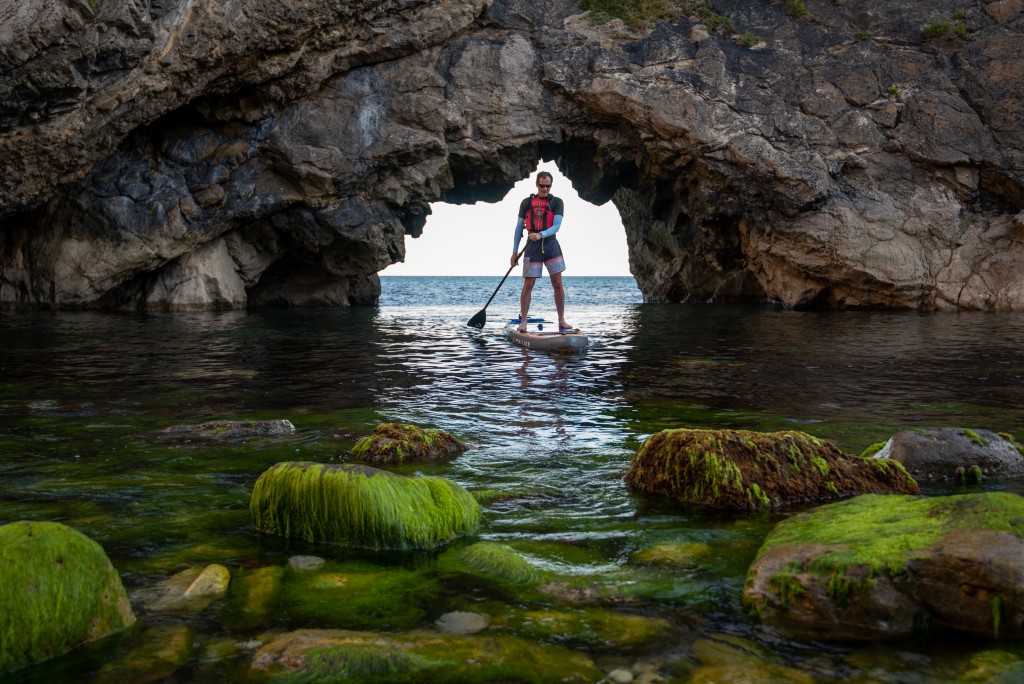 It's not just wildlife that's protected in Britain, places are also  designated for their beauty and geological wonder. Think here about walking past some of the oldest rocks in the world, paddling along coastlines full of colour and wonderful geological shapes, or caves, arches, stacks and towering cliffs that will make your spirits soar. Look out for the following designations
Heritage Coasts – walking or paddling along a heritage coast will leave you in no doubt that you re somewhere very special. The designation is given to a strip of coastline recognised for its natural beauty, wildlife and heritage. There are 32 in England, 14 in Wales. Check them out here. Here are some ideas for starters
Walk around Lundy Island – full route and detailed here
Walk up Holyhead Mountain – full route and details here
UK UNESCO Global Geoparks – we've been completely blown away by the geological features on recent visits to the Torbay and GeoMon Geopraks, especially seeing the pillow lava of Lllanddwyn Island. Overall there are 8 geoparks with internationally significant geology in the UK – Black Country, England, English Riviera, Fforest Fawr, Wales, GeoMôn, Wales, Cuilcagh Lakelands Geopark, Northern Ireland, North Pennines, England, North-west Highlands of Scotland) and Shetland. Check out how you can get outdoors in their bluespace
SUP Torbay
Walk around Llanddwyn Island – full route and details here
Areas of Outstanding National Beauty (AONB) or National Scenic Areas (NSAs) in Scotland – just think of the most spectacular landscapes. There are 34 AONB's in England, 5 in Wales and Scotland uses the National Scenic Area designation. I know these are islands – but they are some the best.
Isles of Scilly – circular coast walks around the Scilly Isles, swim or SUP – more details here
The whole coastline of Anglesey is an AONB – for loads of ideas for exploring Anglesey's blue space check it out here
SPECIAL BLUE SPACES FOR CULTURE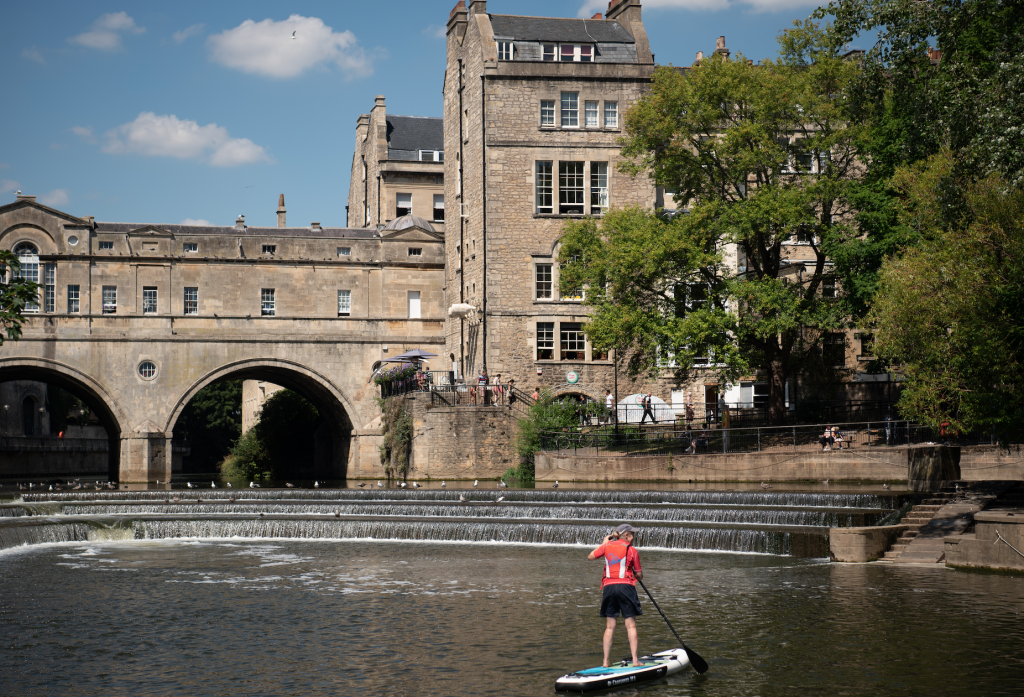 Special blue spaces are not only for wildlife and natural features they are also about us and how we bring colourful life to places through history, art, buildings and community. There are several designations to watch out for that are home to special blue space.
UNESCO World Heritage Sites – when we are in England we are lucky to live very close to a few of these at Avebury, Stonehenge, Bath, Kew Gardens and the Jurassic Coast. These places, along with others, are designated to protect and preserve cultural and natural heritage around the world considered to be of outstanding value to humanity. There are 28 UNESCO World Heritage Sites in the United Kingdom and British Overseas Territories – 19 in England; 6 in Scotland; 3 in Wales; and 1 in Northern Ireland.
Best walk around Avebury
Paddle the Jurassic Coast – check out our latest book for routes or see our 'Top 5 paddles in Dorset' post
Best walks in Bath
Paddles in Bath – check out our latest book for routes or see our 'Top 5 paddles in Somerset, Bath and Bristol' post
UNESCO Creative City – these places just have the best vibe with great local food, independent shops, lots of outdoor activity and cultural events and are just a great place to be. Almost 300 cities around the world currently make up this network which work together towards a common objective: placing creativity and cultural industries at the heart of their development plans at the local level and cooperating actively at the international level. The UK Creative Cities are Bristol, Dundee, Perth, Exeter, Edinburgh, Glasgow, Liverpool, Manchester, Norwich, Nottingham and York. Here are some ideas about how to get active in their blue space.
Walk around Bristol Harbour – check out our circular walk here
SUP Exeter – we have two routes for paddling in Exeter in our book Paddle Boarding South West England
Historic Parks and Gardens and Listed Buildings and Scheduled Monuments– now for some of the crazy blue space like aqueducts, fountains, lakes, wells, ponds, waterfalls, water towers etc you name it we love it. Just sitting next to water in these places makes you feel better whether they are in the middle of a city or in a parkland. There are 1600 parks and gardens that are designated as significant in England alone, not to mention the sheer number of scheduled monuments like lighthouses for example. Too many to mention, and a lifetime of work to go and visit.
So there you have it – a rapid whizz through all of the special Blue Space in the UK. Keep checking us out on this website and our social media as we are adding new routes all the time.