Hundreds of miles of idyllic paths make Jersey a walkers paradise – and it's right on our UK doorstep. From gentle ambles through wooded valleys and tranquil beaches to the more challenging cliff-top paths of the north coast there's something here for everyone. Jersey also offers some of the best pitstops for walkers with good country pubs and excellent beachside cafes. Most of the walks here can be accessed via the excellent Liberation Bus to/from St Helier. Whilst researching our latest book "Island Bagging England, Wales and the Crown Dependencies' we found these top 10 walks in Jersey.
Jersey Coast Path (48 miles/77 km; moderate)
The Jersey Coast Path is a magnificent circular coastal walk that sits mostly within the Jersey National Park and offers the very best of coastal scenery and natural beauty with plenty of excellent foodie stops on the way. The route can be walked in four days either using its capital, St Heliers, as a base or by making the most if the plentiful accommodation on the way. The Jersey Coast Path can also be completed as a day challenge as part of the annual charity event known as The Island Walk https://www.islandwalk.je. Find out more about our Jersey Coast Path route here

La Rocque bioluminescence walk
Jersey's beaches can be lit by the amazing glow of glowworms, creating a natural wonder that few people including locals know about. Glow worms are rare in Britain, but you can see them in Jersey all year round, especially at low tide on La Rocque Beach. The 4 mm worms, Caulleriella bioculata, look pretty dull and worm-like by day but at night these remarkable creatures turn into glowing beauties. When they are disturbed a chemical reaction occurs in their bodies that emits a greenish glow, bioluminescence, that can easily be seen through their transparent skin in the dark.
The best way to see this incredible natural phenomenon is to escape the light by walking 200 metres or so away from La Roque Harbour on the beach at low tide on a moonless night. Gently sweep the surface sand away with your feet and look out for the glow. Alternatively go with a guide.
Bioluminescence walks cost £19 for adults and £10 children under 18 yrs; they last 90 minutes (tel. 07797 853 033, jerseywalk adventures.co.uk).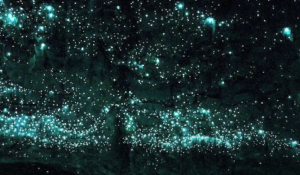 Three Bay Walk from St Helier (14 miles/22 km)
A circular coast walk that starts in St Helier and includes St Aubin's Bay, Belcroute Bay and St Brelade's Bay, Portelet Beach and the fortifications of Noirmont Point this route returns via Green Lanes and the Corbiére Railway Walk. You won't go thirsty either as there are some great pitstops on the way. The walk can be shortened by starting at any point along St Aubin's Bay.
From Liberation Station, St Helier, take the Jersey Coast Path west alongside the A2 to St Aubin's Port. Continue through St Aubin, past the yacht club and through wood and heath to the headland of Noirmont Point and its WW2 fortifications. Continue to the wonderful beach of Portelet Bay, the steep path down to Ouaisne Bay and finally award-winning St Brelade's Bay. The return route starts from the concrete slipway (Next to L'Horizon Hotel), crossing the main road onto the Green Lane directly opposite (Mont Gras d'Eau) then onto Mont Nicolle to reach the Corbiére Railway Walk to St Aubin. Return to St Helier on the coast path.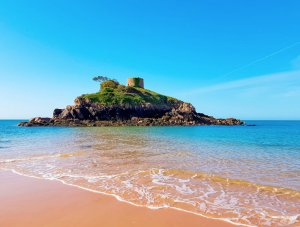 Seabed walk to Icho or Seymour Towers
Icho and Seymour Tower are two islets off the south east coast of Jersey and walking to them is a great way to experience Jersey's impressive tides. Here the difference here between high and low tide is so vast that at low tide Jersey almost doubles in size as the sea retreats up to two miles offshore. These coastal defence towers, erected in the 18th century following France's attempt to invade Jersey, can only be reached for a few hours every day. Walking to them on the seabed is an eerie, unique experience. Seymour Tower (WV 723 454) is accessible almost every day, but Icho Tower (WV 694 443) can only be reached a few days per month in spring tide conditions. There are organised walks available to both towers with Jersey Walk Adventures.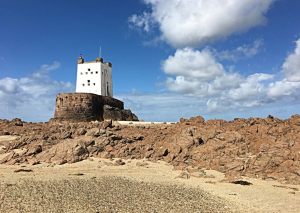 La Corbiére Lighthouse to Portelet Bay (9.5 miles; moderate)
Arguably one of the most picturesque walks in Jersey with stunning coastal and clifftop views. The walk includes Beauport Bay, St Brelades (voted one of the best beaches in Britain), Ouasine Bay and wonderful Portelet Bay. With some great opportunities to swim in secluded bays there are also some great beach cafes on the way. If the tide is right it is also possible to walk out to the tidal islet of La Corbiére Lighthouse.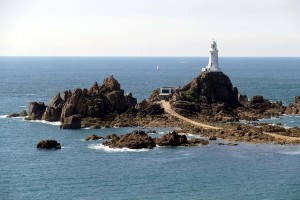 Rozel to St Catherine's Breakwater (4.5 miles/7km; easy)
St Catherine's is a rocky bay in Jersey's north east corner comprising a number of secluded coves and St Catherine's Breakwater which was built in the 19th century as part of a naval station which, if completed, would have been one of the largest harbours on the south side of the Channel. Great refreshments are available at either St Catherine's Breakwater Café or the 3 Arches Café, where you can grab a deliciously creamy Jersey ice-cream and enjoy it whilst admiring the amazing sculptures made by the Sand Wizard or the views of Mont Orgueil and across to France.
Route details: from Rozel head east on the road uphill, then join one of the coastal cliff paths across to Fliquet Bay and then on to St. Catherine's Breakwater. Return the same way or catch the bus back to Rozel.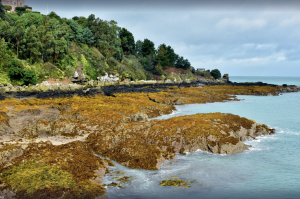 Rozel to Bonne Nuit Bay (13 miles/21km return; moderate)
This is one of the most spectacular coastal walks in Jersey. Bonne Nuit is a small harbour and low-tide beach on the north coast of the island, sheltered by surrounding hills. It got its name from the French "good night" because of its reputation of a peaceful mooring. This route heads across a rugged cliff-top path with fabulous views and some steep sections and includes a descent in to Bouley Bay, a tiny and colourful fishing harbour with the legendary Mad Mary's Café. Between Bouley Bay and Bonne Nuit the route passes through the exotically named Egypt headland which reaches 375 feet above sea level, with Jersey's highest point (446 feet) at les Platons a short detour inland from Gifford Bay. The shorter option from Rozel to Bouley Bay is 4km return.
Route details: From the slipway at Rozel Harbour head inland on La Brecque du N, to the Rozel Bay Tearoom then immediately turn onto the steep Le Chemin du Guet. After the sharp left bend continue on the lane to reach the large house, Rue du Câtel, and turn right onto a track to White Rock Car Park. From the car park take the cliff path to Bouley Bay. Almost halfway around the bay pass above L'Etacquerel Fort, the path then winds through a wooded gully and then open common ground. Descend towards Bouley Bay and on to Les Charrieres du Boulay. Once on the beach a stop at Mad Mary's Café is a must. Head uphill initially on Les Charrieres du Boulay then take the clear track to the right up the hillside and back onto the clifftop path, climbing several sets of steps on the way. Continue along the undulating coast path to Bonne Nuit.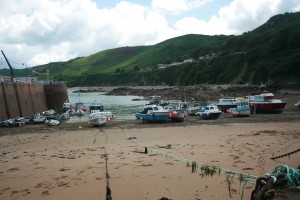 Fern Valley (1 mile; easy walking)
A great short, enchanting inland walk through meadows, streams and fern-covered copses. There are two main valleys here with streams running through them, both with footpaths to enable you to explore and experience their vibrant wildlife. The valley is accessed via a small lane called Fern Valley half way up Mont Cochon. Limited parking is available at the site entrance just past the Waterworks pumping station. More information at https://www.nationaltrust.je/project/fern-valley-2/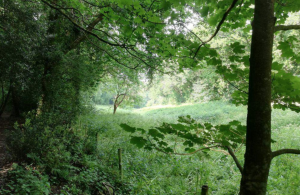 St Ouen's Bay to Devil's Hole (7.5 miles/12 km; moderate)
This walk includes some of the most iconic views of the Channel Islands with views to Guernsey, Sark, and northern France as well as the caves of Plémont and Gréve de Lecq and Devil's Hole which is best seen at mid to high tides. There are some great pitstops on this walk with bus stops at the start (Jersey Pearl) and finish (Priory Inn) to and from St Helier. The walk can also be easily shortened.
Start from the Jersey Pearl on St Ouen's Bay walk along the beach then climb steps to the cliff-path stopping at Faulkner Fisheries for their great Seafood BBQ. Continue on the coast path across heathland to Grosnez Castle, then about 4 miles of cliff-top paths via Plémont and Gréve de Lecq to Devil's Hole. There are two pubs, a café, and public toilets at Gréve de Lecq. Photo credit DS Pugh.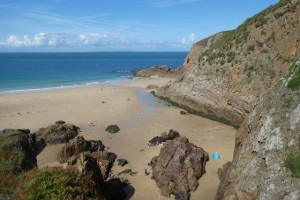 St Catherine's Woods (varied short walks)
A magical and secluded woodland walk in Jersey amongst some of the oldest trees on the island and, relatively unknown, it is one of the most peaceful places on the island. Footpaths wind through woodland and stepping stones cross bubbling brooks and past lichen-draped branches of the oak trees that are home to red squirrels, woodpeckers and treecreepers. Springtime brings wildflowers and the glorious reds and golds of autumn are a delight. There is a small reservoir in the north-east corner of Jersey which was originally constructed by the Germans during their occupation of the island. Refreshments are available at nearby St Catherine's Breakwater at The Breakwater Café or The 3 Arches. Liberty Bus 2, 2A from St Helier stop at the St Catherine's Wood stop.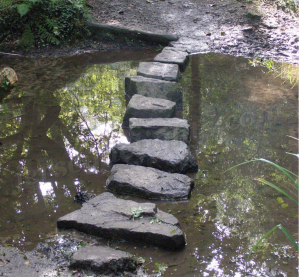 Visiting Jersey
Check out our island page for Jersey for more information on getting to Jersey, and getting around Jersey and our favourite food and drink in Jersey.
You may also be interested in:
Islands nearby
The other Channel Islands are also excellent walking destinations and, together with Jersey, walks around their coast paths form the 110 mile Channel Island Way.
Guernsey – find out about walking in Guernsey, Guernsey's outdoor activities, cafes and more here
Sark – find out about walking in Sark, Sark's outdoor activities, cafes and more here
Herm – find out about walking in Herm, Herm's outdoor activities, cafes and more here
Alderney – find out about walking in Alderney, Alderney's outdoor activities, cafes and more here
Check out our books