Fancy being on foreign shores yet don't want to travel too far for your next outdoor fix? Jersey maybe your answer. A paradise for the outdoor lover with hundreds of miles of paths, quiet lanes and a stunning coastline and plenty of offshore islets to explore there are endless options here for the walker, cyclist, swimmer, kayaker and water sport enthusiasts. Here are some of our favourite outdoor things to do in Jersey.
Walk Jersey's coast path
The Jersey Coast Path is a magnificent 77 km circular coastal walk most of which sits within the Jersey National Park and offers the very best of coastal scenery and natural beauty with plenty of excellent foodie stops on the way. The route can be walked in four days either using its capital, St Heliers, as a base or using plentiful accommodation on the way. The Jersey coast equally offers many highlights that make for excellent shorter walks. Full Jersey coast path route details here.
If you want a real challenge, how about walking the full Channel Island Way? This island-hopping 177km trail includes the coast paths of Jersey, Guernsey, Alderney, Herm and Sark.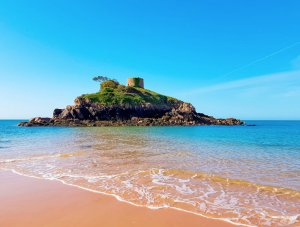 Cycle around Jersey
Jersey has 72 km of coastline, with many roads and lanes that pass very close to most of it, making this an idyllic circular coastal cycling route. From the wilderness of the Jersey National Park on the west coast, the wild cliffs of the north coast and the lunar landscapes of the east coast uncovered by low tide in the largest rocky inter tidal area in Europe – this cycling route offers a feast of natural beauty. It also passes many of Jersey's top cultural attractions with plenty of excellent pitstops on the way. See our Islandeering route for Jersey for full route information. Further ideas for cycling on Jersey can be found here.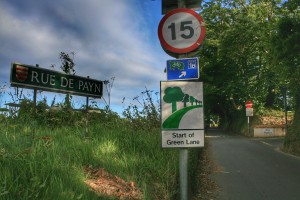 Swim or paddle board the archipelagos of Minquers and Ecréhous
These are two groups of paradise islets that form the most southerly and northerly land territories of the Bailiwick of Jersey. Both can be reached by exhilarating RIB rides from Jersey, or can reached by sea-kayak by more experienced paddlers or in an organised group. Minquiers sits 9 miles south of Jersey. Its largest island, Maîtresse Île, has a cluster of small cottages used by fishermen & local hut owners. RIB trips allow time for exploration here including the incredible outer sandbank, which is ideal for paddleboarding, swimming and picnics. Plenty of birds and seals are likely to be encountered along with dolphins on the crossing. Ecrehous is a small group of islands and rocks situated 6 miles south of Jersey. At high tide the old fishermen's huts are cut off from the surrounding reefs and at low tide an otherwordly rocky landscape appears, revealling sandbanks and rock pools. Ecrehous is perfect for paddle-boarding, swimming and picnics.
RIB trips with Jersey Seafaris to Minquiers costs £57 per adult for a 3 hour landing trip; and to Ecrehous costs £44 per adult for a 2 hour landing trip. Both run March – October. To book tel. 07829 772222  or https://www.jerseyseafaris.com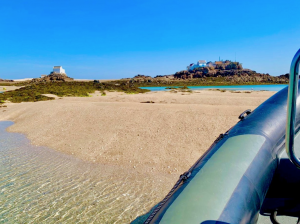 Explore Jersey's sea caves
The north coast of Jersey has many great caves and beaches to explore, some can be reached on foot whilst others are best to paddle into around mid-tide and in low swell conditions. Plémont Bay and Greve de Lecq are two of our favourites.
Plémont Bay is one of Jersey's most beautiful beaches – full of natural drama and enchanting beauty with a sandy cove, rock pools, amazing network of sea caves to explore. It even has a waterfall. At low tide it is possible to access the beach and to walk into the caves; at higher tides it is only possible to explore the caves by kayak. Always check for sea swells first. Greve de Lecq is one of the most popular beaches on Jersey. The coastline here is riddled with caves and narrow gullies to navigate through making it a must visit for paddlers and coasteers. Most of the caves are east of the bay. Here it is possible to paddle 100 metres or so into two of them to see their emerald green waters, and a blue hole cave. There are also sea stacks and channels, natural arches and blue lagoon ponds and a superb cave which runs through the headland to the small beach of Val Rouget. Always check the sea state and swell before entering the caves. The caves are also popular with coasteering groups leaving from Greve De Lecq, book with Jersey Adventures.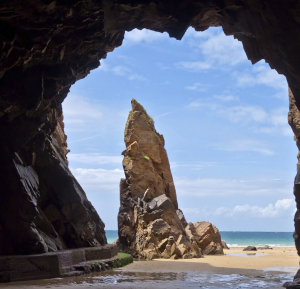 Surf at St Ouen's Bay
Jersey has some of the best waves in the UK and is where the first surf school in Europe was opened in 1914. St. Ouen's Bay, on Jersey's west coast, is a surf Mecca with locations like Secrets, The Watersplash, Le Braye, La Rocco, Petite Port and Stinky Bay. The Splash Surf Centre, Jersey's original surf school, offers surf lessons for all ages and levels with full day summer camps from £50.
Snorkel in Bouley Bay
One of the best spots to snorkel in Jersey is Bouley Bay, where the clear waters also make it Jersey's premier dive destination. Bouley Bay Dive Centre report that 'just a few metres down you'll have the chance to meet lots of incredible sea life including anemone, anemone shrimp, nudibranch, tube worms, scallops, pollock, bass, rays, pipefish, mullet, flat fish, lobster, crabs and even sea horses and sunfish." Bouley Bay Dive Centre offers a 'Discover Snorkelling' session for just £45 per person. Other great places to snorkel in Jersey are the rocks, reefs and caves at Beauport Bay, Portelet Bay and Minquiers.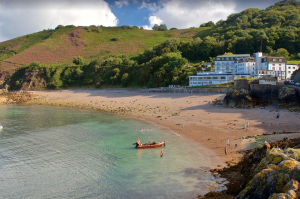 Visiting Jersey
Check out our island page for Jersey for more information on getting to Jersey, and getting around Jersey and our favourite food and drink in Jersey.
You may also be interested in:
Islands nearby
The other Channel Islands are also excellent walking destinations and, together with Jersey, walks around their coast paths form the 110 mile Channel Island Way.
Guernsey – find out about walking in Guernsey, Guernsey's outdoor activities, cafes and more here
Sark – find out about walking in Sark, Sark's outdoor activities, cafes and more here
Herm – find out about walking in Herm, Herm's outdoor activities, cafes and more here
Alderney – find out about walking in Alderney, Alderney's outdoor activities, cafes and more here
Other islands in the British Isles
We have explored nearly 600 islands in the British Isles and are trying to write them up as fast as we can. Check more here or contact us as we are happy to share our info.
Further information
Our two books are stacked with more ideas on what to do in the Channel Islands and more more info here