There's something very special about boarding a boat and travelling to an island. It's definitely about the the destination and the anticipation of discovering new places but, even for this seasick girl, the journey itself holds an equal allure. From holding the tickets in your hand and waiting for the call to board, to the routine of disemebarkation with ropes thrown from the dockside and the clank of the ferry doors closing, you know that the next time you see land you'll have been transported somewhere magical. Some trips are just ten minutes across the waves in an open-decked boat, others are tucked up in cabin overnight with the dark ocean and stars slipping past the porthole. What's certain is that these trips are as varied as the islands themselves. Here's ten of our favourite boat trips to islands (so far):
Scillonian III to Isles of Scilly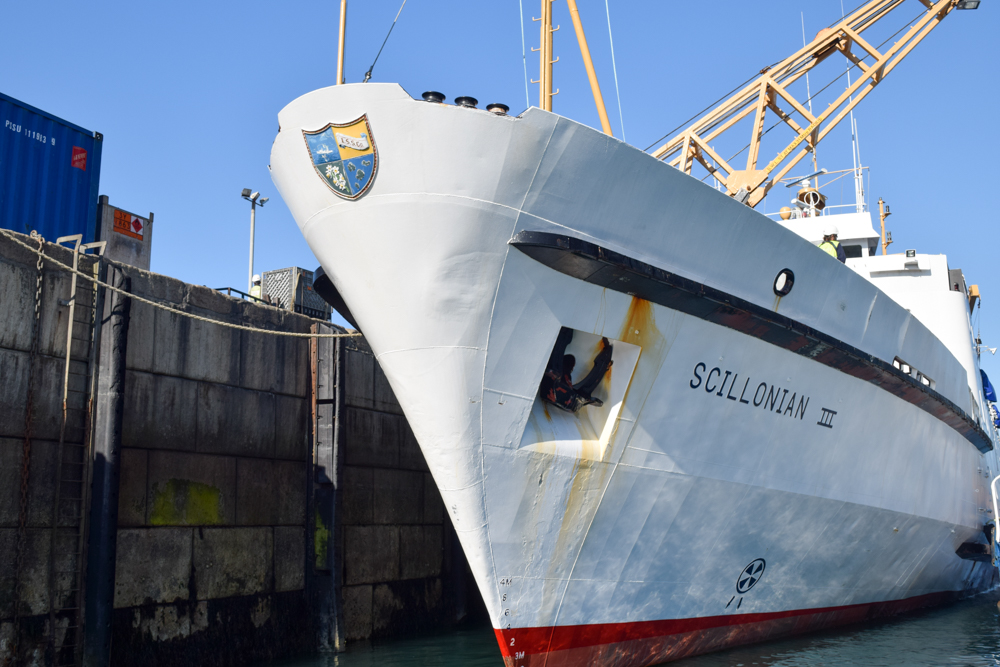 Serving the islands for 40 years the crossing from Penzance to St. Mary's is a rite of passage for island baggers. The journey offers some great views of Cornwall's dramatic coastline and the boat is very often accompanied by pods of dolphins surfing the bow wave. After leaving the calm of Mounts Bay it is possible to spot the Minnack open air theatre carved into granite cliffs overlooking Porthcurno, and the cliffs of Land's End. Just over a third of the way across Wolf Rock, an isolated plug of lava whose fissures produce a howling sound in gales, is topped by a granite lighthouse. After this, the Isles of Scilly appear to hover mystically above the horizon until St Martin's red and white-striped Daymark eventually heralds your arrival to these magical Isles. This is the boat trip where I discovered that dogs get sea sick and a pint of cider and bag of cheese and onion crisps was my earliest incarnation of seasickness cures. Once on St Mary's you can travel to all of the inhabited islands (Tresco, Bryher, St Martin's, St Agnes), with occasional visits to explore the uninhabited island, via St Mary's Boatmens Association and their traditional open wooden launches. A personal favourite inter-island trip is to the uninhabited island of Samson.
Book: Isle of Scilly Travel; departs from Penzance for day trips and longer breaks from April to November, prices from £30 day trip (adult). Sailing time of 2 hours 45 mins; refreshments on board and dogs allowed. No cars.
MS Oldenburg to Lundy Island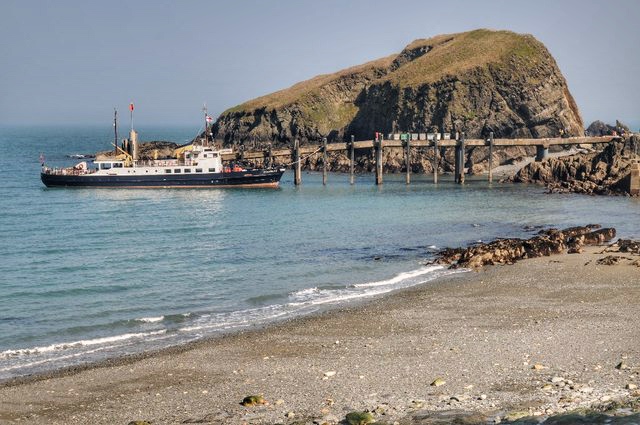 A graceful and historic boat with original wooden interior panelling and brass fittings whose main purpose is to resupply the wildlife and adventure-packed Lundy Island. From the deck you might be lucky to spot a pod of dolphins or porpoises en-route. Don't be alarmed if the port holes on the lower deck dip below the waves, this special vessel is designed to roll with the ocean's punches. It's very cosy down below decks and we enjoyed playing cards with a couple of families on our outward leg. Some might need to take their Kwells though!
Book: Landmark Trust; departs from Ilfracombe or Bideford, Devon for day trips from April to November, prices from £44 day return (adult). Sailing time 2 hours; refreshments on boars. No dogs allowed (except assistance dogs). No cars.
Hovercraft to the Isle of Wight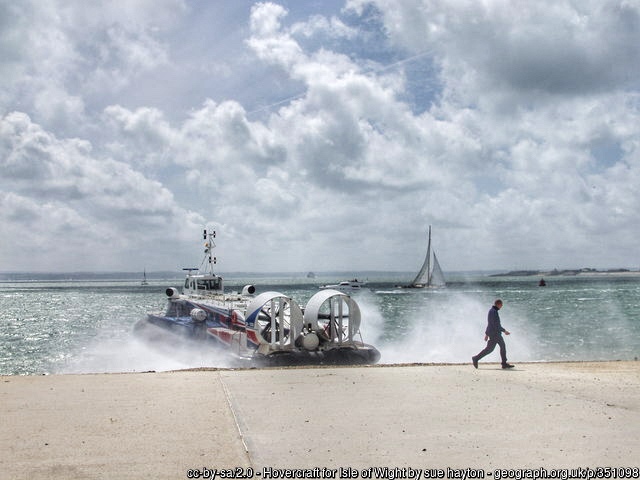 There are perhaps more scenic routes to the Isle of Wight but with the chance to ride the last remaining commercial hovercraft service in the world – well you've just got to give it a go. This beast quite literally 'takes-off' from the beach at Southsea and 'flies' to Ryde on the island. Its journey is supported by just 1.5 metres of air as it travels at speeds of around 30 knots whilst weaving in and out of the Solent's traffic. It's a blast, but blink or you'll miss it. What to do on the Isle of Wight once you are there? Check out our pages 
Book: Hovertravel, departs from Southsea, Portsmouth year-round with several sailings a day for day trips and longer breaks, prices from £25 day return (adult). Sailing time 10 minutes; refreshments near terminals. Dogs allowed. No cars.
Llŷn Peninsula to Bardsey Island Ferry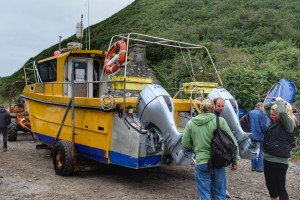 Any visit to this wonderful pilgrimage destination and wildlife island starts with the unusual embarkation process onto the island's boat. The craft is hauled out of the water by tractor, the passengers climb aboard and all are then tractored back into the sea. Once en route Colin Evans, boatman, islander and fount of all island knowledge, will entertain you the whole journey through some of the most dangerous tides in Europe. Our trip was further enhanced with insights from Whale and Dolphin Conservation staff on their way to undertake their annual Rhisso dolphin survey. Check out what to do on Bardsey Island here.
Book: Bardsey Boat Trip, departs from Porth Meudwy on the Llyn Peninsula from March – October for day trips and longer breaks, prices £35 day return (adult). Sailing time 30 minutes; no refreshments; no dogs or cars on Bardsey Island.
Rib ride from Cardiff to Flat Holm, Wales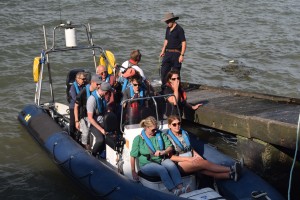 Setting off from Cardiff's Mermaid Quay, with the vast lock gates of the Cardiff Bay Barrage looming far above your head, it's hard not to feel a certain amount of trepidation at leaving the safety of the calm lagoon to enter the writhing, brown waters of the Bristol Channel. This is soon forgotten though once in the open water with the thrill of riding the RIB as it throttles towards the island. Once there, you can always calm your nerves in the unique Gull and Leek Pub and a walk to see the island sights. I always smile when I think of this trip, my Mum gripped on to the seat in front of her until her hands went blue. She loved every minute!
Book: Bay Island Voyages, departs Mermaid Quay, Cardiff from April – October for half-day trips, prices £40 return (adult) plus £5 landing fee. Sailing time 20 minutes; no refreshments onboard and no dogs or cars.
Glenelg Ferry to Isle of Skye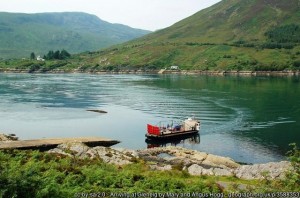 There's a bridge to the majestic Isle of Skye but why use that when you can experience this iconic trip from the closest point on the mainland, Glenelg, across the exhilarating tidal flows of the Kylerhea Straits. People come from all over the world to experience this community-owned service and, once on Skye, enjoy spotting otters from the Kylerhea viewing hide in the forest. This is our going home ferry, so it's top of our list.
Book: Skye Ferry, Lochalsh departs from Glenelg (IV40 8JZ) on demand from Easter to October; prices £3 adult each way (adult). Sailing time 15 minutes; refreshments at the Glenelg Shore Station (great cakes); dogs allowed; car and 4 passengers £25 return.
Scrabster to Stromness, Orkney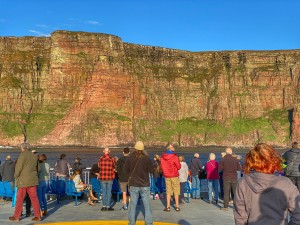 There are two ferries from Scotland's north coast to the fabulous archipelago of Orkney, both are beautiful but this route is our favourite. We love gliding past the steep, red cliffs of Hoy as well as passing almost within touching distance of the Old Man of Hoy. The ferry then slips past the island of Graemsay and into the historic and atmospheric harbour town of Stromness, which is a must do destination for any trip to Orkney. As you arrive into Stromness look out for the Stromness Singing Mermaids –  a group of lady wild swimmers that whoop and holler as the ship passes. The first morning we heard them we were camped at nearby Ness Point and honestly started to believe in mermaids. There's a great walk around Ness Point if you want to stretch your legs or walk the dog after the ferry ride. Look out for Whale and Dolphin Conservation Shorewatch volunteers and they'll let you know what dolphins, whales and orcas have been recently spotted in the areas.
Book: Northlink Ferries departs from Scrabster, Caithness with 2-3 sailings/day year-round; prices £20 each way (adult). Sailing time, 90 minutes; refreshments on board; dogs allowed; cars allowed.
Papa Westray to the Holm of Papay, Orkney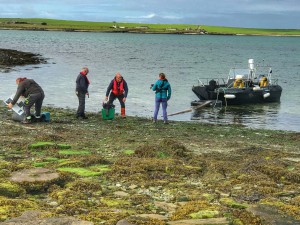 This completely unique trip takes a bit of dedication to get there. The final leg is aboard The Dunter, a plastic boat named after the eider duck or porpoise. The embarkation method is novel, a plank above the crystal clear waters around the Old Pier on Papa Westray's west coast. The trip is worthwhile to meet the wonderful Papay Ranger whose wit and in-depth knowledge of the wildlife and incredible archaeology of these islands enriches the short trip across to the magical Holm of Papay, as does the occasional splash of water over the bow. We shared our trip with two lovely folk from Historic Scotland who were heading to this desert island to fix new interpretation signs for the remarkable chambered cairn and to resupply the crawl mats – the requirement for which made more sense once we had entered the chamber cairn and crawled through its passages to spot the ancient tomb markings.
Book: The Papay Ranger, departs from the Old Pier on Papa Westray by arrangement during the summer months; prices from £30 (adult). Sailing time 10 minutes; no refreshments, dogs or cars.
Berneray to Harris, Outer Hebrides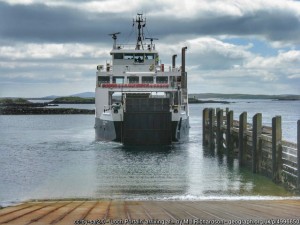 The ferry that links the islands of Harris and Lewis to the Uists is so much more than a through journey for the Hebridean Way. The Sound of Harris is a beautiful myriad of islands, islets and jagged rocks set amidst mesmerising scenery. The highly manoeuvrable ferry expertly skirts around the rocks in surprisingly shallow waters at quite some speed. The journey towards Harris is dominated by the views of the mountains ahead and a sense of what's to come. There's plenty of wildlife to spot on the way too, look out for otters, porpoise, grey seals, dolphin, gannets and the occasional golden eagle. During our trip someone shouted "DOLPHIN" and I thought that the ferry would capsize with the rush to see it over one side. If you are heading to North Uist take time to explore the beautiful beaches of Berneray before you head south.
Book: Calmac, departs from Berneray or Leverburgh several times a day year-round (tidal restrictions); prices from £3.80 each way (adult), Sailing time 1 hour; limited refreshments onboard; dogs allowed; cars transported.
Aberdeen to Lerwick, Shetland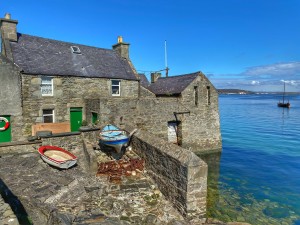 There's nothing quite like waking up to salty sea air and a new adventure after an overnight ferry trip. This one leaves Aberdeen and slowly cruises through the night to Lerwick. Depending on the season it is possible to get a good look at the rugged coastline of Fair Isle as you pass. The 14 hour-trip quickly flies by after a bite to eat and off to bed – that is unless it's the Shetland Folk Festival. That journey we paid for a cabin then spent all whole night roaming the boat (and drinking beer) to listen to the many impromptu jamming sessions taking place in every nook and cranny. Just as well there's a leisurely breakfast served onboard after arrival in Lerwick! Our 2021 trip was blighted with being woken by an irate steward at 0330, and again at 0345, to tells us that our activated car alarm needed switching off on the car deck. The only way to stop it turned out to be leaving the car window open. To add insult to injury we were woken again at 0400 by Volvo to tell us our car alarm has gone off! Goose showed her displeasure by weeing in the corridor on her way out. Bad spaniel.
Book: Northlink Ferries departs from Aberdeen or Kirkwall, Orkney every evening year-round; prices £60 return (adult). Sailing time, 14 hours; refreshments onboard. Dogs allowed and cars transported.
For more information about other great ferry rides, check out our books for details and links to the ferries we have taken over the last 10 years, Happy sailing.