Sheltered paddling in the ancient harbour of this highly picturesque coastal hamlet with scenic trips in the bay and high tide exploration of beautiful salt marshes.
This is route 72 in our latest book "Paddle Boarding South West England:100 places to SUP, canoe, and kayak in Cornwall, Devon, Dorset, Somerset, Wiltshire and Bristol"
At mid to high tide launch off the beach close to the harbour and enter the main dock through the 'lock' gates to explore the marsh area and admire the row of charismatic thatched cottages of 'Turkey Island'. Alternatively head east and follow the shingle ridge as it extends towards the heather-clad flanks of Hurlstone Point. There are great views across the Bristol Channel to South Wales and inland to dramatic hillsides and deep, wooded combes that rise to meet Exmoor National Park.
To get up close to marshland wildlife enter 'The Breach" on a Spring high tide. This gap in the shingle, formed after a storm in 1996, transports you to a different world. Here the trunks and branches of trees stand frozen in time by salt water that broke through the breach and altered this previously farmed land and its vegetation forever. Now sea lavender, glasswort and sea purslane thrive in the briny environment of ponds and natural creeks that wind their way through the saltmarsh. Rich in bird life that gorge on the worms and shrimp that inhabit the muds here egrets, oystercatchers, redshank and shelduck are often spotted along with spring and autumn migrants such as osprey, turnstone or spoonbill.
There are plenty of tasty post-paddle treats in the village, along with succulent Porlock Bay oysters. 
Why is Porlock a special blue space
Porlock Ridge and Saltmarsh is a Site of Special Scientific Interest (SSSI). The shingle ridge was breached during storms in 1996. The lower saltmarsh is host to a number of plants including glasswort, sea-blite, sea aster, sea purslane, common saltmarsh-grass and spear-leaved orache. On areas of slightly higher saltmarsh, sea plantain, sea arrowgrass and sea milkwort also occur. On shingle areas which are not inundated by salt water lichens cover the pebbles along with the nationally rare and scarce fungi. On the back face of the ridge there are some fabulous plants along with the nationally scarce Babington's leek. Along with grey heron, little egret and shelduck, winter flocks of lapwing, curlew, teal and shelduck the site is also visited by a very wide range of migratory species. To help protect these special places support Somerset Wildlife Trust and the National Trust
Distance 3.2km
Starting point Porlock Weir, TA24 8PD. Grid ref. SS 8644 4793
Launching Beach, 20m walk from car park
Parking Porlock Weir car park (charges), Minehead, TA24 8PD
Pitstops Fresh, delicious Porlock Bay Oysters (next to Bottom Ship), tel. 07435 652381; picturesque harbourside pint at the Bottom Ship, tel. 01643 863288; good café and tasty home-made cakes and lunches, Harbour Gallery and Café, tel. 01643 863514
Tours and lessons Exmoor Adventures, Porlock Weir, tel. 01643 805001
Camp Borrowhayes Farm, West Luccombe, Minehead TA24 8HT; tel. 01643 862463
Getting there A39 W from Minehead, into Porlock, turning R onto B3225 signed Porlock Weir; alternative access via scenic single-track Worthy toll-road (on L before Porlock Weir)
Special points Best time to paddle within bay 1.5 hours before/after high tide. Stay within the bay as flows of 5 knots (10km) can be experienced off Hurlstone Point during mid-tide; bouys mark the oyster beds so avoid this area. Entry to marshes is only possible on Spring high tides, close to slack tide. Avoid exit/entrance to the salt marshes at anything other than slack tide unless competent paddling in fast flows. Best paddled during settled and very calm weather: wind creates chop in bay.
Offshore wind S through to SE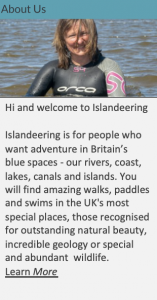 Check out more of our paddles: