A beautiful bay hugged by soaring cliffs with numerous rock gullies and secluded coves for family adventures. Located between busy Ilfracombe and Woolacombe and once a haunt of smugglers, Lee Bay is tucked away at the end of a deep, wooded coombe dotted with picturesque stone cottages.
This is route 69 in our latest book "Paddle Boarding South West England:100 places to SUP, canoe, and kayak in Cornwall, Devon, Dorset, Somerset, Wiltshire and Bristol"
How to paddle this route
Launch from the small sand beach that's exposed at low tide in the main rocky cove. Head west (left) past Outer Appledore Rocks to reach Sandy Cove, or paddle east (right) to visit the otherwise inaccessible and sandy Broadoar Bay.
Take snorkelling gear and on higher tides float over the rock shelves and look out for the wafting fingers of gem, beadlet, and snakelock anemones. Further out into the Bristol Channel, you may catch sight of dolphins.
For a post-paddle treat, walk a short distance into the hamlet of Lee to enjoy a local beer and food in the old, wood-beamed inn. Or walk a little further uphill to enjoy a cuppa at the simple café in the old schoolhouse adjacent to the church. 
Why Lee Bay is a special blue space
Lee Bay is part of the North Devon Biosphere and Bideford to Foreland Point Marine Conservation Zone, important for honeycomb worm reefs which support anemones, snails, shore crabs and seaweeds. This site also protects a range of important and vulnerable species such as the pink sea-fan coral which is a slow-growing colony of tiny anemone-like animals and themselves home to other creatures including a sea slug and a rare anemone. Spiny lobster are also protected within this site. To help protect these special places please support Devon Wildlife Trust and the National Trust.
Need to know
Starting point Lee Bay beach, EX34 8LR. Grid ref. SS 4791 4653 
Launching Slipway, 150m from car park at high tide; beach at low tide
Parking Car park (free), Lee Bay, Ilfracombe EX34 8LR
Pitstops Brewery, distillery, and food at the Grampus Inn, tel. 01271 862906; simple fare, Old School Room Craft Gallery, tel. 01271 864067
Lessons, hire, tours the excellent, Active Escape, tel. 01271 320745
Camp  Lee Meadow Farm Camping, Shaftsbborough Lane, Lee EX34 8FF; tel. 01271 879825
Getting there N from Braunton on A361 (towards Ilfracombe), turn L onto B3343 at Mullacott roundabout, then R before Woolacombe, following signs for Lee.
Special points Best paddled on calm days with little wind and swell; E winds cut across the head of the bay but you can usually find a sheltered spot, especially at high tide, which gives more options. Check Ilfracombe web cam and Woolacombe surf report for conditions in Lee Bay
Offshore wind SW through to SE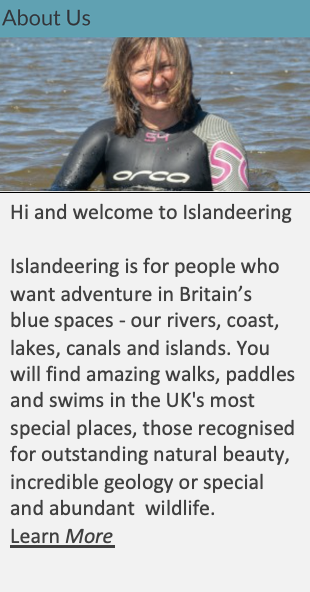 Check out more of our paddles: