With their sun-bleached sands and turquoise waters, you could almost feel like you were somewhere much more tropical than Cornwall's Isle of Scillies. We can't think of many people who wouldn't want to strip off, or wriggle into a wetsuit, and jump into these pristine waters to get their endorphin-high. This archipelago is simply every outdoor swimmer's dream. With plenty of options across all of the islands, local swim groups to connect with, organised swims and some of the UK's toughest swim challenges there is quite literally something for everyone. Most of these swims are also very close to great cafes and pubs and the transport between the islands is very straightforward.
Here's our top 12 wild swims on Scilly:
Peninnis Head, St Mary's
A wild and rugged promontory at the island's southern tip made up of other-worldly-shaped granite tors. There is a 15 minute walk to the Head from Hugh Town, with a short, easy scramble down to the ledge to enter the water. The location can frequently pick up swell and chop as it faces St Mary's Sound and the wider Atlantic.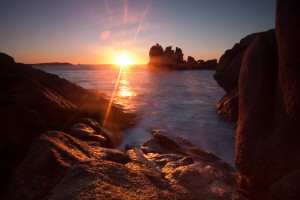 Porth Cressa Bay, St Mary's
A golden sand beach near Hugh Town. With frequent calm waters, sheltered on both sides by rocks, it offers generally safe swimming. Cafes and restaurants line the promenade here, providing quick post-swim refreshments.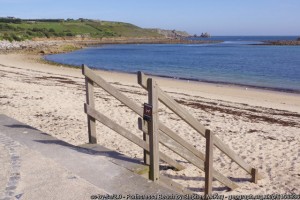 Pelistry Bay, St Mary's
An idyllic sandy beach, in the more remote north east of the island with the lovely Carn Vean Tearooms close-by.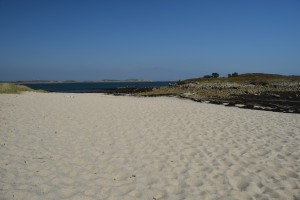 Great Bay, St Martin's
Recently voted the best beach in the UK, its location on the north side of St Martin's is both remote and unspoilt. There is a stretch of multiple bays and coves divided by rock outcrops  and a tidal pebbly bar across to White Island, which also has a sheltered swim spot within Porth Morran. The area is generally sheltered beach and great for swimming and snorkelling.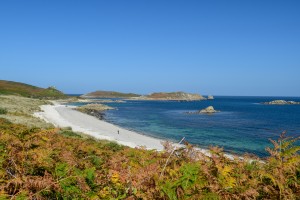 Lower Town Bay and the Quay, St Martin's
The underlying white sands and shallow depth of water here make swimming in these gin-clear waters an absolute must – the visibility is amazing. Check the tides though as at low tide, there isn't much water here at all. For hot drinks and great snacks there is the Island Bakery in Higher Town and the Seven Stones Inn a firm favourite if you need something a little stronger.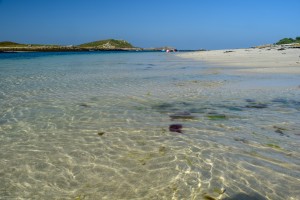 The Bar and The Cove, St Agnes
This spectacular location offers very sheltered swimming and snorkelling at low tide. Cafés, homemade ice-cream and the weolcome of The Turk's Head afterwards.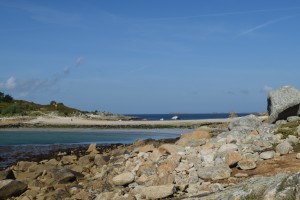 Shipmans Head, Bryher
The gully between Shipman Head and the north tip of Bryher makes for an exhilarating dip in the right conditions. At low, slack tide and low swell, the water is almost stationary and perfect for jumping into its ink-black depths or explore the kelp forests at its eastern end. Access is via a short scramble, down to the rock platforms at the very north tip of Bryher.
Rushy Bay, Bryher
A perfect family-friendly beach, on the southern tip of Bryher, this is a fine swimming cove. Away from the wild Hell Bay and storm-lashed coastline of the island's north, Rushy is a calm, sheltered spot protected by the neighbouring island of Samson.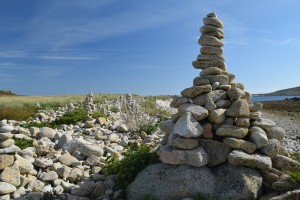 Bar Point, Samson
A completely stupendous place to swim from your own desert-island beach.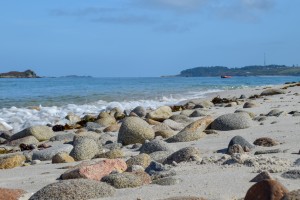 Nornour and Great Ganilly
You'll need your own boat transport for this one but the rewards are huge. Sheltered swimming in the bay between the two islands on their west coasts, with kelp forests to explore and the chance to swim with seals. The seals can also be seen off the Eastern Isles.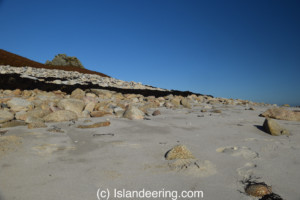 Tresco
There are some great wild swimming spots around Tresco, all within reasonable reach of good cafes and the ferry. On the west coast the sweeping sands of Pentle Bay are blissfully quite even in high season and offer sheltered water for swimming. Same for the beaches along the south coast of the island. Old Grimsby, on the west coast is popular for dipping – mainly due to its proximity to the idyllic Ruin Beach Café. Appletree Bay, on the south west coast, is also a great place for a swim with some great views across to Bryher, Samson and the islets in between. Tresco also offers a new swim retreat, founded by triple Olympians Keri-anne Payne and David Carry. The aim of the retreat is to improve confidence in the water and provide inspiration, technique and drive for future swimming challenges https://www.tresco.co.uk/staying/offers-and-breaks/triscape-swimming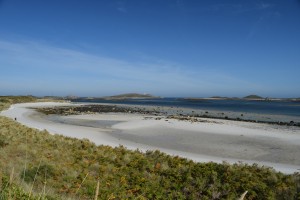 Inter-island swims
The joy of this archipelago is that the islands are relatively close together and, as a result, the waters between them are more protected for swimming. Adventure Scilly https://www.adventurescilly.co.uk/swimming-holidays/ , offer a number of inter-island swims on a week's holiday as follows:
Tresco – Bryher – Samson (2.5 km in total)
Tresco – St Helen's and Foreman's Islands – Tean (2 km in total)
Tean to St Martin's
Higher Town, St Martin's to Bar Point on St Mary's (3km)
Swimming challenges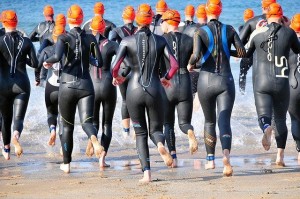 There are two main swim challenges on Scilly.
The Scilly Swim Challenge involves swimming island to island with walks in between. There are six swims totalling 15km. It is a challenge not a race but to get around in the time there are minimum speed requirements.
The Scilly 360 race is a complete circuit of St. Mary's (about 15 km) in four stages which can be done as a solo or team relay.
Practical information
Best time to swim in Scilly: local well-seasoned swimmers, swim all year round. The water temperatures are below 12oC December – April; and between 16 – 17oC July – September.
How to get to Scilly: ST Mary's is where all ferries and flights initially enter the archipelago. Local ferries from the Quay provide transport to the other islands (with the exception of Nornour, Great Ganilly and the Eastern Isles – where you will need to find your own transport)
Best local knowledge and wild swim trips on Scilly: Adventure Scilly
Outdoor swimming groups on the Isles of Scilly who you can follow on FaceBook
Whilst you are there why not try:
Walk around St Mary's coast path
Walk around St Agnes coast path
Walk around St Martin's coast path
We have spent the last 20 years visiting the Isles of Scilly and have swam these shorter routes, spending a lot of time exploring the various coves and beaches and understanding the waters surrounding these islands.