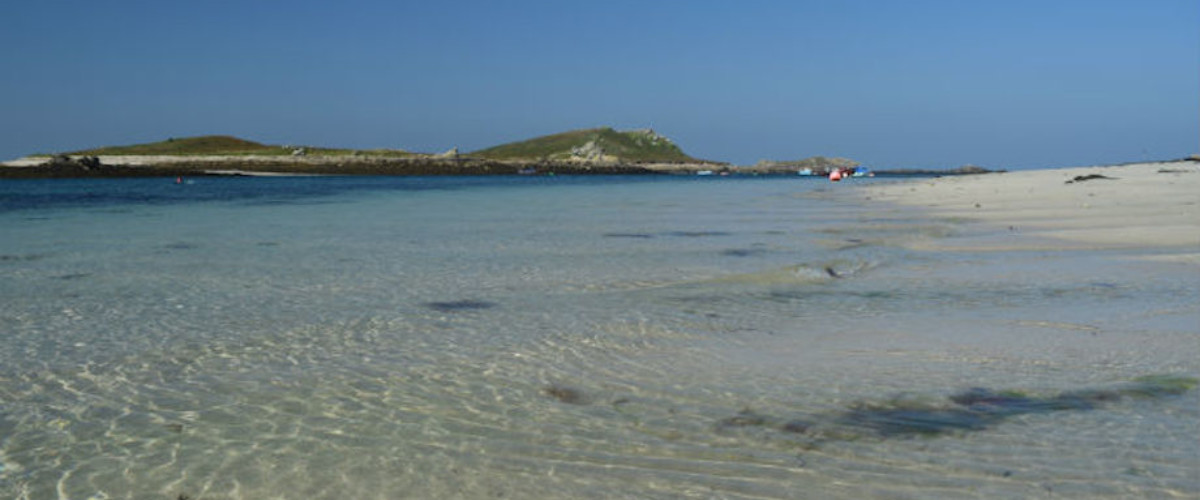 2 Coastguard Cottages, Higher Town, Isles of Scilly TR25 0QL, UK
High Point: Chapel Down, 47 metres
Population: 120
Size: 237 ha
Wild Factor: 8 out of 10
Overview of St Martin's radiating an authentic simplicity and vibrant community spirit, St Martin's coastline is fringed with spectacular white beaches with steep granite cliffs to the east and vast tidal rockpools to the west. The northern-most inhabited island in Scilly this island has three quaint settlements of Higher Town, Middle Town and Lower Town and two quays connected by the islands only lane. In the south the narrow strip fields full of colourful flowers, vines and vegetables contrast sharply with the wild heathland areas of tidal White Island and Chapel Down. The island's highpoint, topped by the iconic red and white striped daymark, is the most distinctive within the archipelago and is one of the first features visitors spot from the Scillonian.
Type of island: inhabited
Location: Isle of Scilly
How to get to St Martin's, Scilly: travel to St Mary's on the Scillonian III from Penzance or Skybus flights from Lands End, Newquay and Exeter airports. Transfer to St Martin's from the quay at St Mary's via St Mary's Boatmen's Association https://www.scillyboating.co.uk) usually twice daily. Boats also leave from Tresco, Bryher and St. Agnes about twice a week.
Getting around St Martin's, Scilly everything on St Martin's is within relatively short walking distance of the quays. Most accommodation offers a transfer service for heavier luggage. Kayaks can be hired at Higher Town.
Best time to go to St Martin's, Scilly you can travel to the Isle of Scilly anytime of the year. Most visitors go between May to September, but Easter and October half terms can also be great often with good weather and fewer visitors. Spring time in Scilly is the best time to see the scented narcissi. The best time for birdwatching on Scilly is during the spring and autumn, with the large number of passing migrants.
Getting around St Martin's there are public footpaths and lanes throughout the whole island.
Is St Martin's dog friendly yes, dogs welcome everywhere including all beaches
Food and drink on St Martin's there are several goof options for food and drink from finer dining at The Karma, the wonderful Island Bakery, charming Seven Stones Inn, tearooms, roadside honesty stalls and an island store. Our favourite is Adam's Fish and Chips
Accommodation on St Martin's, Scilly there are a number of accommodation options ranging from the lovely St Martin's Campsite, farm cottages and chalets to B&B and a luxury hotel, The Karma Hotel
Contacts: Visit Isles of Scilly https://www.visitislesofscilly.com/about/practical-info/tourist-information-centre ; info@visitislesofscilly.com; +44 (0)1720 620600
What to do on St Martin's 
Coastal walk around the whole island – see our islandeering route
Adam's fish and chips and home-made goodies at the Island Bakery
Sea shanties during gig racing at the wonderful Seven Stones Inn
Nearby islands: whilst you are there, why not explore:
St Helen's
Annet
Join our Islandeering community
We continuously find new islands, rivers, lochs, canals and coast to walk, SUP and swim in and meet plenty of great folks along the way. Join our community to get new routes and adventures, latest blogs and news by using the email box below. Tune in also to our Facebook and Instagram pages to see where we are going next.