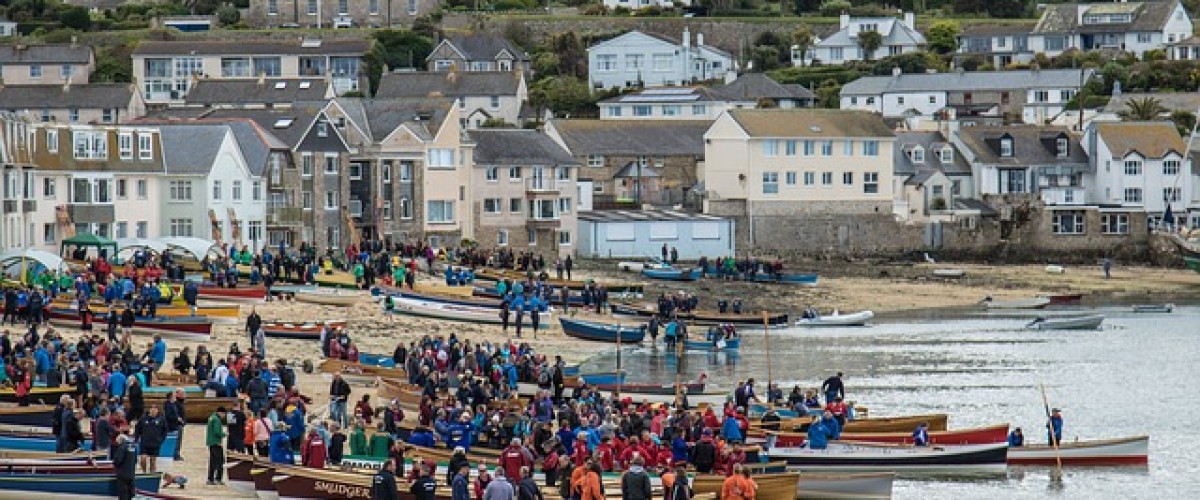 St Mary's, Isles of Scilly, UK
High Point: Telegraph, 51 metres
Population: 1800
Size: 658 ha
Wild Factor: 7 out of 10
Overview of St Mary's The largest island of the Scilly archipelago and home to 1,800 Scillonians this is the beating heart of Scilly and the gateway to the other islands. Its wonderful beaches, local food, charming lanes, music and culture are a celebration of what these enchanted isles are all about. Hugh Town is the main centre with its cluster of shops, banks, post office, pubs, restaurants and cafes as well as the only supermarket on the archipelago. It has three lovely beaches and The Quay, where the daily Scillonian III arrives from Penzance and the inter-island ferries depart. The impressive fortification of The Garrison dominates the south-west peninsula, whilst the island's north coast is a string of deserted sandy beaches, incredible ancient sites and stunning seascapes. There are also 5 small islands off St Mary's that can be accessed at low tide. The island has every type of accommodation to suit a range of budgets from coastal self-catering cottages, luxury hotels and inns to glamping and camping. Sampling St Mary's delicious food is an island highlight.
Type of island: Inhabited
Location: Isle of Scilly
Walking St Mary's Coast Path
Click the Islandeering Route tab above the main picture for full route details and GPX
How to get to the Isles of Scilly travel on the Scillonian III from Penzance; Skybus flights from Lands End, Newquay and Exeter airports. Baggage transfers are easily arranged from the ferry to your accommodation; here is a minibus service from the airport
Getting around St Mary's, Scilly: Getting around the island is a laid back affair with plenty of paths, including the beautiful coastal path, and quiet lanes to cycle (https://www.stmarysbikehire.co.uk ) or electric golf cart (http://www.scillycart.co ). There are taxis on the island and a community bus service that circles the island several times a day. Ferries run by the St Mary's Boatmen's Association (https://www.scillyboating.co.uk) to the off-islands generally depart from The Quay at 10.15 am and 2.00pm as a minimum (Easter to end October), with additional departures at busier times and wildlife and circular island tours on offer. Check the blackboard at The Quay or St Mary's Boatmen's Association's Facebook Page for the changing daily ferry times.
Best time to go to the Isles of Scilly You can travel to the Isle of Scilly anytime of the year. Most visitors go between May to September, but Easter and October half terms can also be great often with good weather and fewer visitors. Spring time in Scilly is the best time to see the scented narcissi. The best time for birdwatching on Scilly is during the spring and autumn, with the large number of passing migrants
Getting around St Mary's there are over 50 km of public footpaths on the island, and km's of quiet lanes for cycling. There are a few taxi companies including Toot's Taxis
Is St Mary's dog friendly yes, except the main Hugh Town beaches of Town Beach, Porth Cressa and Port Mellon which have restrictions April to October. There is also plenty of dog-friendly accommodation throughout St Mary's and Scilly.
Food and drink on St Mary's Hugh Town has several pubs, cafes and restaurants with others scattered throughout the island. There is a Co-op in town, the only supermarket on the archipelago.
Accommodation on St Mary's there is a wide range of pub accommodation, self-catering and B&B's; a luxury hotel; and a campsite
Contacts: Visit Isles of Scilly https://www.visitislesofscilly.com/about/practical-info/tourist-information-centre ; info@visitislesofscilly.com; +44 (0)1720 620600
Best things to do on St Mary's, Scilly: 
Walk the coastal path around the whole island  – see our Islandeering route
Nearby islands: whilst you are there, why not explore:
St Helen's
Annet
Join our Islandeering community
We continuously find new islands, rivers, lochs, canals and coast to walk, SUP and swim in and meet plenty of great folks along the way. Join our community to get new routes and adventures, latest blogs and news by using the email box below. Tune in also to our Facebook and Instagram pages to see where we are going next.