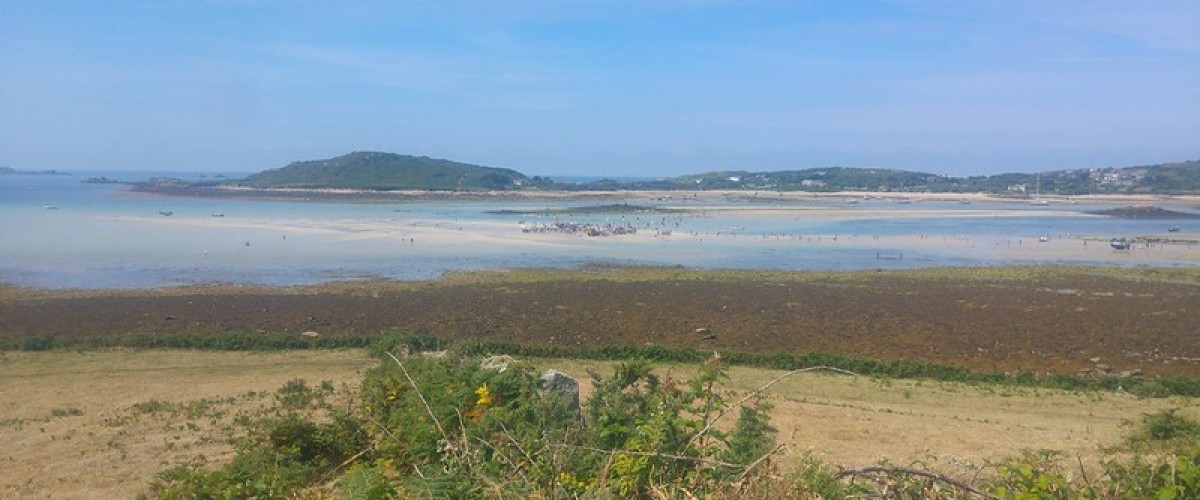 Distance: 1.8 km
Difficulty: Easy
Method: Walk/wade
Wow Factor: 10 out of 10
Location: Isles of Scilly
Terrain: Sand, rocks and puddles
Access: Low tide (Spring)
Height gain: 13 metres
Map: OS Explorer 101
Starting point: Tresco (Beach below the Flying Boat Cafe at GR SV 88900); Bryher (Old Town quay at GR SV 88095 14905)
Accommodation/food:

There are plenty of great places to stay and eat on both Tresco and Bryher. During the Tresco Low Tide events, stalls selling seafood, hot and cold drinks, bubbles and more set up mid-Channel and offers a great party atmosphere. On the islands themselves there are a few favourites:

Tresco – The Ruin Beach Cafe

Bryher – Bryher Campsite; The Crab Shack; Fraggle Rock Bar and Cafe

Activity Summary:

Several times a year, on very low Spring tides, the water level is so low in the Tresco Channel that it is possible to walk across the dryish seabed to Bryher; and if you leave early enough you can also walk to Samson. The walk generally starts at the slipway on Tresco heading towards Plumb Island and crosses to Church Quay, Bryher. The committed island-bagger can visit Merrick Island on the way. During the summer months the Tresco Estate organises a pop-up festival midway across on a sandbar that is usually several metres underwater. There's Hell Bay gin bar, mini pasties and cakes, as well as fish, shellfish and paella from Bryher's Island Fish to choose from. Tresco Island publish the dates for the pop-up events

Look out for:

Bubbles and seafood at the halfway point
A unique walking experience

Route description:

The walk between islands, Scilly, starts in either Bryher or Tresco. From Tresco start from the beach below The Flying Boat Cafe and head south west along the beach to pass between the headland and Plumb Island. After you skirt around the headland continue south west to almost mid-channel using the sandbars to stay relatively dry. Then head north west to reach the quay on Bryher. See map below.

Getting there:

Inter-island boats to either Tresco or Bryher leave from St Mary's. Tresco and Bryher also operate their own boat services.

Visiting Tresco

Check out our island page for Tresco for more information.

What to do on Tresco 

Islands nearby

Whilst you are there why note explore the following islands

St Helen's

Annet

Other islands of the British Isles

We have explored nearly 600 islands in the British Isles and are trying to write them up as fast as we can. Check more here or contact us as we are happy to share our info.